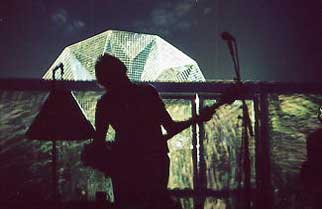 Thanks to Giacomo.Fiocchi & Luca Milioti  for the pictures on this page.
Video Clip. Silent clip of Flickering Flame from show (AVI format Zipped)
The night was intense and powerful for an Italian audience I think the last time Roger Waters played in Italy was in 1971-72 obviously a "MUST to see" show for all of us.
The crowd sang along in unison with Rog from the start of very powerful "in the flesh" till to "wish you were here"…..Snowy White was played half of the Wish You Were Here solo with guitar volume at zero :-(((.
Beautiful version of "Dogs" with synth solo played very well by Rog's son Harry….
I think Roger was in a perfect form and playing well ….This however was nor so for guitarists…particularly Snowy (maybe tired to play the same songs over the years) seemed to be demotivated .. this is only my impression. Clearly all are professional players and everybody has done their job well BUT I self expected something more.
I know .. I know these are not Pink Floyd but the comparison is inevitable.
Cester Kamen is not David Gilmour ……
Technical notes ….Kamen used Hiwatt guitar amp …the same as DG. 🙂
Thanks to Davide Romboli
---
SET I
In the flesh pt2
The happiest days of our lives
Another brick in the wall pt2
Mother
Get your filthy hands off my desert
Southampton dock
Pigs on the wing 1
Dogs
Set the controls for the heart of the sun
Shine on you crazy diamond part 1
Welcome to the machine
Wish you were here
Shine on you crazy diamond part 2
Interval
SET II
Breathe (In The Air)
Time
Money
The Pros And Cons Of Hitch Hiking, Part 11
(5:06 AM – Every Stranger's Eyes)
Perfect Sense (Parts I and II)
The Bravery Of Being Out Of Range
It's A Miracle
Amused To Death
Brain Damage
Eclipse
Comfortably Numb
ENCORE
Flickering Flame
---