All pictures on this page (Except where stated) are thanks to Gualmonte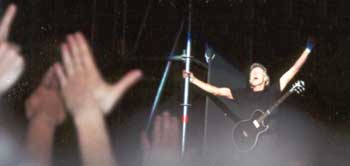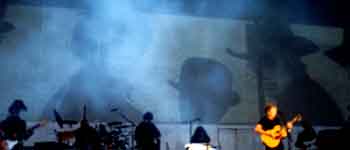 The show started at 8:10 p.m.. Unfortunately, at that time the sun was still there and we couldn't see the images behind the band.
I was next to the stage, so I could enjoy the show, contrary to the people who was sitting in the grandstand (the tribune) who paid 60 euros and watched the show from very far! Anyway, Roger showed us his happiness, and started the show, that was exciting, from In the flesh until Flickering Flame.

I really liked the versions of Shine On You 1&2, Money, Time, Brain Damage, Breathe (Yes, as you may have already understood, "Dark Side" is the album I prefer:))) ). But I was a little bit disappointed by the version of Wish You Were Here: While with Gilmour the song seems to open and elevate itself just before the refrain, with Roger the song doesn't change after the refrain, and doesn't totally express its power and impact.
Anyway, it has also been a great show of lights and images, behind the band.
What people (and I) liked the most was when he approached singing-talking with the fans, indicating with his finger a person in particular ("hey you! yes, you!" :))) ).
I really enjoyed the concert, and now I'm waiting for Gilmour's tour 🙂
Thanks to Gualmonte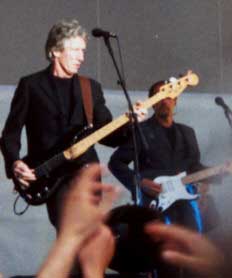 ---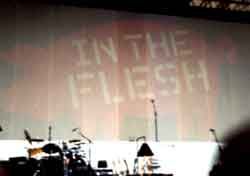 I have been a huge fan of Roger Waters since 1990, when I saw The Wall live in Berlin on tv. Before that I simply wasn't interested in Pink Floyd, I used to listen to other kinds of music. That night I realised that I just had to know them better and after a full immersion in their songs and albums they became my favourite band ever. I think Roger Waters is Pink Floyd at their best, and for me he is much more than my favourite artist, he's a man whose lyrics always move me and make me think. I missed the show in Milan because of a bad flu I caught a couple of days before, so I went to Rome and I saw the greatest show of my life.
I had paid 66 euros for a numbered seat which was kilometres away from the band, so I slowly made my way to the second row in front of the stage. I didn't miss the beginning of the show, unlike many people who were still queuing outside the gates when Roger and the band got on the stage. I think I will never forget the amazing feeling of having someone I've admired so much for years so close to me: I was singing my favourite songs and feeling so good, and in front of me there was Roger, all smiles and kind words to us. Unbelievable !!!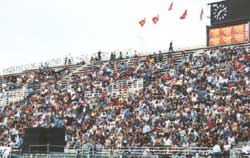 I didn't miss the other Floyds, Roger's band is great, especially Andy Fairweather Low, Graham Broad and Harry, and so are the 3 girls (their voices gave us the shivers and often brought me very close to tears). It looked like they were having a good time, during the break we spotted Andy Wallace taking pics of the crowd. I couldn't tell you which songs I enjoyed most, I liked all of them, I only wish they had performed more songs from Amused To Death, which is my favourite Rog's solo album by far.
Besides the absolutely amazing music I heard one thing struck me, Roger's attitude towards us. He kept on smiling and was very relaxed. He walked across the stage to get closer to us and we went absolutely crazy. We called him and waved and clapped hands shouting "Grande Roger !!!!" (grande means great. We weren't that original after all, and grande was the most frequent word we used talking about him. Another word we used a lot was "genius"…). He said our love meant a lot to him and said "molte grazie", many thanks, and we answered "Preeego !!!!", you're welcome. The wall between him and his fans is down, definitely. He is always been a great ( again) artist, but now I think he's even more than this, he's a great man.
After 3 hours the show came to an end ( you know, It was the greatest show on earth but then it was over…). Someone near me said "Let's stay here, perhaps they will come out again", but this didn't happen and we slowly left Flaminio Stadium.
A young man walking near me told me "I had been waiting to see him live for years, this is a dream come true". And that's what it was, a dream come true. Thank you Roger, we all hope to see you soon again in Italy .
Thanks to Mariangela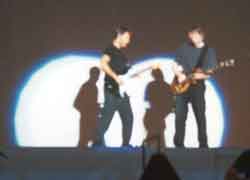 ---