All pictures & material on this page thanks to José Abellán
Projections of flying pigs, a gigantic hipnotizador crazy diamond… Roger Waters in front in the Palau Sant Jordi all imaginería of its 25 years of leadership of Pink Floyd 14,000 spectators who supported to him without blinking until, in the final straight line, the material of discs in solitaire lowered the tension beyond the due thing. Back Another had left brick in the wall and Money . It was a long concert and something decompensated. The first part overwhelmed the expectations with great successes with Pink Floyd in overwhelming quadraphonic sound (loudspeakers hung in several points of the ceiling). In second, Waters bet ingenuously by its personal repertoire. When, in the end, damage remembered Brain, Eclipse and Confortably numb , already was late, and the launching slips showed a dripping of desertions. The grave dug solito he when flame offered like only bis the recent Flickering . Until whistles were heard.
The publicity said: "Roger Waters, the creative genius of Pink Floyd". And that is what offered one first part that began with four appointments of The wall (beginning by In the flesh ) which they left to the assistants ironed in his seats. Waters enjoyed its totalitarian delirium like führer of the rock of masses, framed in projections of facist armies. Next to him, vips like Andy Fairweather-Low, Snowy White and P. P. Arnold worked in the boilers so that that sounded like a chain of high fidelity.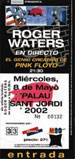 After a wink to The final cut arrived the moment from Animals . When Waters composed that disc, in 1977, no longer nobody had to close that it warned to him whenever the pot went away to him . And thus it left a work that divided to the humanity in pigs, dogs and ewes. In the Sant Jordi it was concentrated in both first, with a Pigs on the wing, part 1 and Dogs that recovered their dark original épica. Soon, the remote for Seth the controls the heart of the sun (1968), watched towards the most experimental and psicodélica era of Pink Floyd, and the video screen showed the original formation of the group, Syd Barrett including. Emotion.
The two parts of Shine on your crazy diamond more Welcome to the machine and Wish you were here sealed the first block with new images of Barrett (feeling of fault by its expulsion in 1968). And after the pause, Waters undertook a trip to Dark side of the moon that stranger's lead to the bassoon of Every eyes, solistas It's to miracle and other rescues. There everything finished. Like it was to anticipate, Pink Floyd noqueó to Roger Waters.
---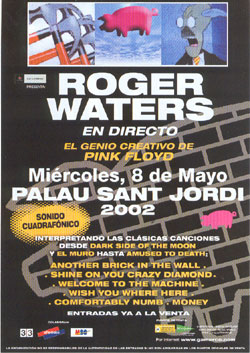 In The Flesh pt 2
The Happiest Days Of Our Lives
Another Brick In The Wall, Part 2
Mother
Get Your Filthy Hands Off My Desert
Southampton Dock
Pigs On The Wing, Part 1
Dogs
Set The Controls
Shine On You Crazy Diamond, Parts 1-5
Welcome To The Machine
Wish You Were Here
Shine On You Crazy Diamond, Parts 6-9
Interval
Breathe
Time
Money
5:06 AM – Every Stranger's Eyes
Perfect Sense part 1
Perfect Sense part 2
The Bravery Of Being Out Of Range
It's A Miracle
Amused To Death
Brain Damage
Eclipse
Comfortably Numb
ENCORE
Flickering Flame
---