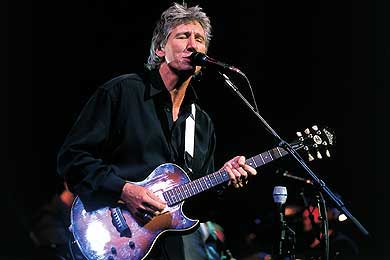 Because Waters has moved on from the years of nasty rivalry with his former Floyd associates. When he toured in 1987 in support of his solo album 'Radio KAOS', it was in direct competition with Gilmour, Mason and Wright's 'A Momentary Lapse Of Reason' tour under the Pink Floyd name. He stopped touring altogether after that, only emerging briefly in 1990 to do an emotionally charged rendition of 'The Wall' in front of 350,000 people next to the newly-breached Berlin Wall.
Now he is back with a world tour, and a show on at the Dubai Creek & Golf Club that promises to dispel interest in the supernova collapse of the band by reinvigorating the substance of the music they created.
Much of the material for the show comes from the Floyd classics Waters wrote. Songs like 'Mother', 'Shine On You Crazy Diamond' and 'Wish You Were Here' will be played not just by jobbing musicians filling in the spaces other Floyd band members have vacated, but by guitarists Andy Fairweather Low and Snowy White – the men that made 'The Wall' such a success in Berlin.
The songs will also be presented with all the stage spectacle Waters originally created for Floyd (often whip in hand) all those years ago, making it the most incredible performance Dubai has ever seen.
Elaborate large-scale video projections, theatrical set-pieces, and a 360-degree quadraphonic sound system – originating in the 'Azimuth' system Floyd used in the late '60s – will immerse audiences in an audio-visual collage rarely dreamed of in today's rock productions. But the addition of Waters' solo material means this won't be a tribute to a band that effectively died 19 years ago.
There are thousands of people in Dubai who never really listened to Waters after the demise of Floyd – a bit like the fate of David Byrne when Talking Heads split. Now they can get a taste of the trajectory Waters took after the band broke up, alongside the classic Floyd everyone wants to hear. It will be a sellout, for all the right reasons.
---
Ticket prices were UAE Dirhams 175 and 475 respectively for the general and VIP seats. Thanks Vinod Nagarajan