This show was great too, and there were many topics. Roger sang 5:06AM-Every Strangers Eyes with his REAL voice. Yes, he stopped the lip sync!! On Mother, intro of acoustic guitar was cut from this day. And the set list was changed. Set the Controls was played before Shine On 1-5! So Breathe was the 1st song on the 2nd set. I thought this worked very well on Japanese audience. And at last we could listen Each Small Candle as encore. Norbert played Sax on this song too. I could use my lighter. Absolutely Beautiful! I thought this is the best show in Japan tour. I never forget this day. I was at the 3rd row!! Yes, very near seat to Roger. When my wife and I waved to Roger, he smiled to us! Great moment!!
Roger forgot lyrics of Set The Controls and Amused To Death, but had no problem. All in all it was a fantastic show! After the show my wife and I and other friends went to the hotel Roger and the band members stayed and waited for them. We could meet PP Arnold, Linda and Snowy. But to take the last train, we had to leave for home. Later I heard that Roger came back to the hotel after we left there (only after 20 minutes, pity!!). Tomorrow will be the last chance to meet Roger. Thanks to Hideshige Harada
With thanks to Sohnosuke Imai
The Tokyo International Forum was built on the former site of the TMG in Marunouchi, a major business hub of Tokyo, and symbolizes a new area for the internationalization of Tokyo.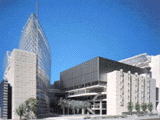 The Forum is Japan's largest convention facility and is equipped with a variety of halls, including 1,000 and 5,000 seat conference rooms, an exhibition space, and an information center –all of which have the most innovative equipment and technology. The Forum opened in 1997.