Pictures above show the Quebec stage (and a stagehand!) one day before the 30 July show. (Thanks to Werner Haider)
Venue Changes:
7/28
Syracuse, NY Landmark Theater
NOW RESCHEDULED TO:
8/10 Albany, NY Pepsi Arena
8/15
Columbus, OH Veteran Memorial Center
NOW RESCHEDULED TO:
Columbus, OH Schottenstein Arena
8/18
Pittsburgh, PA IC Light Pavilion
VENUE CHANGED TO:
Star Lake Amphitheatre
8/20
Baltimore, MD Pier 6 Concert Pavilion
VENUE CHANGED TO:
Baltimore Arena
8/22
Atlanta, GA Chastain Park
VENUE CHANGED TO:
Lakewood Amphitheatre
---
 Interviews for the tour
Rick Deyulio with Roger Waters mid April 1999
Roger Waters Radio Interview Friday 30 April 1999
Interview on Q101 FM Chicago 25 June 1999
---
---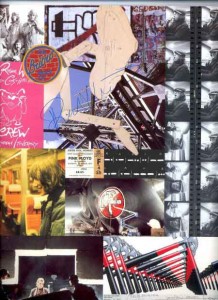 Above. What's a Rick Wright autograph doing in a Roger Waters tour page? Well Click Here for an amazing story about a meeting with Rick Wright at one of Roger's shows!
---
The Syracuse show was rescheduled to Albany, NY – 3 hours to the east.

Thanks to David Cross for the above scans.