All pictures on this page thanks to Jose Mendes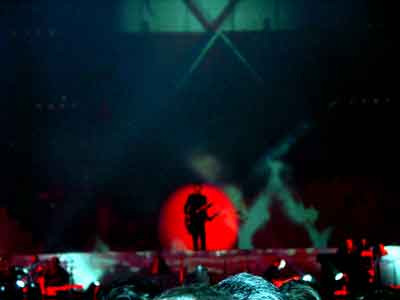 I just had a wonderful evening. Roger Waters played his first gig ever in Portugal and kicked off the European leg of the In The Flesh 2002 World Tour.
The sound was excellent, and we had an amazing show. At 9:30 PM there he was on stage and the audience went crazy… very loud. I'm kind of speechless at the moment. I don't think I will ever put into words my feelings about tonight's show except to say that my 18 years dream has finally come true.
Roger was in a very good mood, he thanked a lot, smiled a lot and said we were a fantastic audience. And tomorrow another show. :-))))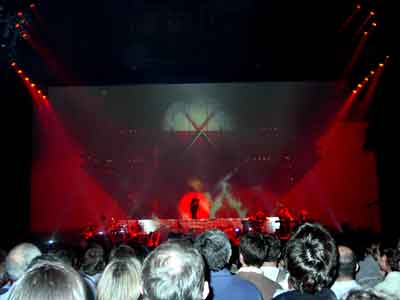 In the flesh pt2
The happiest days of our lives
Another brick in the wall pt2
Mother
Get your filthy hands off my desert
Southampton dock
Pigs on the wing 1
Dogs
Set the controls for the heart of the sun
Shine on you crazy diamond part
Welcome to the machine
Wish you were here
Shine on part2
Interval
Breathe
Time
Breathe (reprise)
Money
Every Strangers eyes
Perfect sense 1 and 2
The bravery of being out of range
It's a miracle
Amused to death
Brain damage
Eclipse
Comfortably numb
Flickering flame
I didn't meet Roger Today but I'll try tomorrow. Some friends of mine had the pleasure to attend the rehearsals yesterday and talked to Roger for a long time. I will try to do that tomorrow. I only met Snowy White today. He's very nice. That's it for now.
Review thanks to Jose Mendes
---
THIS WAS THE BEST CONCERT I'VE SEEN IN MY LIFE. I've seen many concerts but this one…, it's very hard to admit but it was better than Pink Floyd's concert here in Lisbon, maybee because Roger performed in a smaller hall (Pavilhão Atlãntico – 20 000 people)Pink Floyd performed in a stadium (60 000).can't say that there was a highlight in the concert because the concert was a highlight by itself. However I must say that when Roger performed "It's a Miracle" the whole pavilion was completely silent, and whem he played In The Flesh, Time, Shine On You Crazy Diamond and Confortably Numb, I almost thought that the pavilion would fall apart 🙂 . The line up of the songs was the same of the other concerts and he played Flickering Flame. There was two very important things in this concert, the first one is that on the contrary that is usual in the tour, there was no chairs in the pavilion, so this way we could jump and enjoy the music (the portuguese don't like chairs in a concert), the second and very important is that about 90% of the people gathered there were youngsters (I'm 24 years) and there were many people looking to have 17 or 16 years old, amazing. All of them were great performing.Man… I'm so happy you just can't imagine, I wish you were there to see. There's a portuguese photographer of rock music we call him "Cameraman Metálico" wich means in english "Metalic Camera man", he (looks a lot like you, but he has a beard), and he took two photos of Roger while he was performing In The Flesh, but he could not handle and started to head bang his head, he couldn't resist.
There are so many stories in this concert you just can't imagine
EPIC really EPIC
Review with thanks to Rui Rodrigues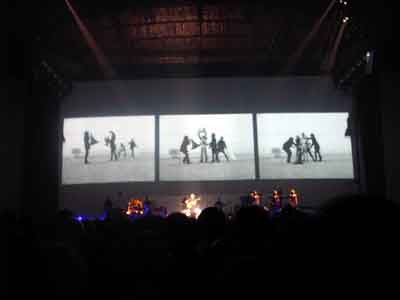 ---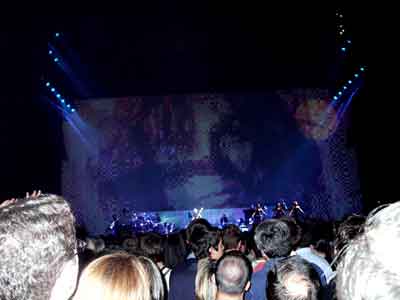 I am only 17, but Roger Waters has changed my life so much…i missed his american tour (don't ask how), but this year i was blessed with the opportunity to go to portugal to see Roger and that was pretty much the only reason for the trip. Although i went sightseeing and did all the normal stuff you do, I'm still sitting in shock right now, about 24 hours after the concert because of it. I took some pictures with my digital camera and they're very blurry…some there seem to be 2 people, but i figured anything that i can contribute ill do cuz this website has been great to me…its the reason i got there in the first place!
-Jessica Davidson
This next set of pictures were taken by Jessica. I think somebody must have slipped some LSD into the developing fluid!- Col
No gallery template found!
---
Last night I saw the most brilliant concert of my life. A dream come true, and Roger Waters made us all experience a musical and sonic trip that will stay in our memories for the rest of our lives.
The sound was the best that I've ever heard at any concert, including Pink Floyd (this one was an outdour concert, so we have to have this in consideration). The other ones that took place on the same pavilion were Yes, Jethro Tull and Supertramp. None of them presented to us such sound clarity and definition, and such elaborated set.
The running order of the set was the same than on previous shows, with Flickering Flame as the encore.
But in this leg of the tour a new singer was brought to the line up, Carol Kenyon replaced Linda Lewis.
Again, a truly magical concert, with eveyone enjoying the concert, even the solo material.
Thanks Roger.
Best regards from Portugal
Nuno Adelino
---
It was one of the best weekends of my life!!! Absolutely amazing!! I'm only sad because i did not take a photo from my encounter with Roger Waters in backstage before the gig !! By the way, Roger, hope you liked the portuguese history book!! It was an different gift i suppose, but it was offered with lots of admiration and respect from me!!
The show was amazing!! I just can not put in words what´s in my mind, even after 3 months!! It was the show of a lifetime!! I don´t want to talk in a specific view about the show, because everyone had already spoke about it!! i just want do say 2 things, that i don´t remember of being focus in another reviews:
– 1 – It was amazing how Roger Waters could make a spectacular show, the best of my and many others lives, after editing a DVD with almost the same show!! Just a genius can make this!! When we saw the gig, it was like we never saw the DVD edition!! Like something new and refreshing!! Because Roger is irreplaceable!!
– 2 – Roger Waters is not justa a genius!! He is one great performer, with a charisma and empathy with audience without equal!! And, above all, an excellente professional!! Only with hard work whe can achieve something!! That´s the first lesson of the best songwriter of the world.
With thanks to Joao Pinto
---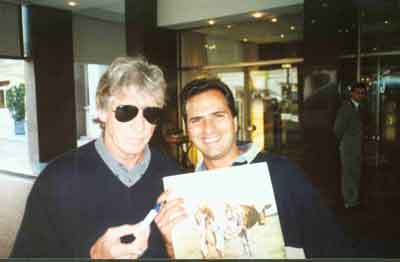 (Above) Thanks to Textolda