Pics thanks to Brian Currin
Firstly let me start off by saying that I have been a Pink Floyd and Roger Waters fan since the early 70s and I have ALL of their official CDs including obscure albums like 'When The Wind Blows' (a soundtrack album, half of which features Roger Waters and the Bleeding Hearts Band), 'The Body' (by Roger with Ron Geesin) and 'Works'. I also have a number of bootlegs, though I am not really a huge bootleg collector. So if you are expecting a totally unbiased and objective review — forget it!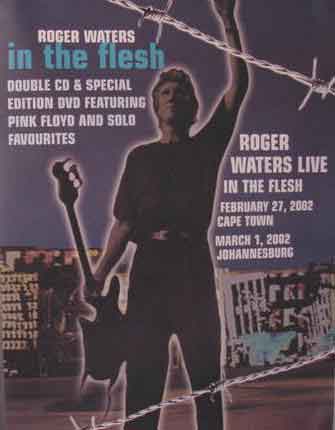 When I first heard about this tour in October last year, I bought my Golden Circle ticket straight away. I have never seen Pink Floyd live, though I have most of their live videos, and I reasoned that this Roger Waters gig would be the closest I would ever get to seeing Pink Floyd in the flesh, so to speak!
Before The Show: The press releases from Big Concerts before the show said that it would start at 8pm and end at 11pm with a 20 minute interval… and that's exactly how it happened, give-or-take a few minutes. I arrived at 7pm and wandered round the Bellville Velodrome saying "hi" to friends, buying the programme and obligatory T-shirt and just generally soaking up the atmosphere. I was amazed at the number of young people in the audience, especially later during the show when I heard them singing along to the lyrics. Roger (and Floyd) seem to have a very wide appeal across the ages.
8.03pm: The stadium went dark, BANG! fireworks went off, and Roger was in the spotlight, on top of a wall, shouting "Ein, Zwei, Drei", and for the next 3 hours I was in a different world. A world of my youth, a world of anger and turmoil, a world of hope and longing and a world of music and madness… Roger Waters was here in Cape Town on the first night of his World Tour 2002.
Images: The backdrop to the stage was a huge screen which was constantly filled with images, slide shows, and videos, which added greatly to the music. I was really impressed when during 'Shine On You Crazy Diamond' a gradually expanding image of Syd Barrett appeared on the screen and there was immediate recognition from the audience, most of whom were born long after Syd had already left the band.
Another great moment was the torpedo scene during 'Bravery Of Being Out Of Range' when Roger looks through an imaginary periscope and we see him aiming at an oilrig while 2 American voices commentate on the "game". And that explosion… wow!
Sounds: I was in the middle of the Golden Circle and there were speakers suspended above my head on either side. I seemed to be in the perfect spot for a full surround sound experience – like a giant home theatre! Dogs barked behind me, clocks ticked all around me, explosions in front me – it was incredible.
I love that fact that so many of the classic soundbites were used to enhance the songs and bring back the memories. The alarm clocks, the rhythmic cash register, the heartbeats, the voice-overs all brought a rush of nostalgia and added immensely to the enjoyment of the music.
On the original 'Amused To Death' album, Roger had wanted to use the voice of HAL, the computer from "2001: A Space Odyssey" that goes mad and has to be disconnected. Unfortunately he was not able to, but in the show it appears as he originally intended and we heard poor HAL saying "stop, Dave… I'm afraid, Dave…"
The Music: if you have the 'In The Flesh' live CD released last year, then you have 99% of this show. Only 2 slight differences. Firstly 'Shine On' flows into 'Welcome To The Machine', then straight into 'Wish You Were Here' (including that radio tuning interlude) and then the final sections (parts 6 to 9) of 'Shine On' are played. This is basically the whole of the 'Wish You Were Here' album in the right order just leaving out 'Have A Cigar'.
Secondly, the encore song is not ' Each Small Candle' which was new 2 years ago, but an even newer song titled, 'Flickering Flame'. The mention of "African Plains" during this song, brought cheers from the South African crowd.
Highlights: A highlight for me was the really long version of 'Dogs' which was originally known as 'Gotta Be Crazy' when first performed live in 1974 – it was renamed 'Dogs' for the 'Animals' album in 1977. I also really enjoyed the tripping 'Set Your Controls For The Heart Of The Sun' from 1968's 'A Saucerful Of Secrets' with a wonderful sax solo accompanied by slide show images of my favourite comic book hero, the Silver Surfer.
Graham Broad's drumming on the introduction to 'Time' was outstanding. And the dual (duel, maybe?) guitar solos by Snowy White and Chester Kamen on 'Comfortably Numb' blew me away. They climbed on top of the wall and traded licks and I hoped they would never stop, but eventually they did… stunning.
The Band: basically the same musicians as on the 'In The Flesh' CD with a few changes. Susannah Melvoin is replaced by Linda Lewis who has been around for years and sang on Bowie's 'Aladdin Sane' album amongst many others. Guitarist Doyle Bramhall II has been replaced by Chester Kamen (not a "mystery" guitarist as some reviewers have referred to). Keyboardist Jon Carin (who also played live with Pink Floyd on their 'Pulse' tour in 1994) has been replaced by Harry Waters, who is Roger's son.
11:02pm: I left exhausted and elated. OK, maybe he didn't play all my favourites. Where was 'Pros and Cons Of Hitch-Hiking Part 10, for example, and nothing from 'Radio KAOS'… but these are small gripes. We were entertained and treated to a master composer sharing his thoughts, his paranoia, his hopes and his dreams with us – and I left knowing that my almost 30 years of being a fan has all been worth it.
Brian Currin
---
In The Flesh
The Happiest Days Of Our Lives
Another Brick In The Wall, Part 2
Mother
Get Your Filthy Hands Off My Desert
Southampton Dock
Pigs On The Wing, Part 1
Dogs
Shine On You Crazy Diamond, Parts 1-5
Welcome To The Machine
Wish You Were Here
Shine On You Crazy Diamond, Parts 6-9 INTERVAL
Set The Controls For The Heart Of The Sun
Breathe (In The Air)
Time
Money
The Pros And Cons Of Hitch Hiking, Part 11
(5:06 AM – Every Stranger's Eyes)
Perfect Sense (Parts I and II)
The Bravery Of Being Out Of Range
It's A Miracle
Amused To Death
Brain Damage
Eclipse
Comfortably Numb
ENCORE
Flickering Flame
---
Musicians:
ROGER WATERS – LEAD VOCALS, BASS GUITAR, ACOUSTIC GUITAR
ANDY FAIRWEATHER-LOW – GUITAR, VOCALS
ANDY WALLACE – KEYBOARDS
CHESTER KAMEN – GUITAR, VOCALS
SNOWY WHITE – GUITAR
GRAHAM BROAD – DRUMS
HARRY WATERS – KEYBOARDS
KATIE KISSOON, LINDA LEWIS, P.P. ARNOLD – BACKGROUND VOCALS
NORBERT STACHEL – SAXOPHONES
---
If you told me three years ago that I would have seen Roger Waters live three times I would have been "amused to death". Unbelievably, that is exactly what has happened. After traveling to Baltimore in September 1999 to see him for the first time, all I had to do this time was travel to Cape Town (which probably cost me just as much as Baltimore) and Johannesburg (where I live). All the shows were fairly similar with just a few songs different (still too many Floyd tracks and not enough solo material). Being the first show of the tour, the Cape Town show was understandably the loosest. New guitarist Chester Kamen did most of the solo work, but if truth be told missed a few crucial notes (particulary during Dogs) but improved during the second set and ended off very strongly with the Comfortably Numb solo with Snowy. I elected to be seated at the Velodrome and was very impressed with the sound. Never before have I experienced quadrophenic sound live in SA. You could clearly hear all the sound effects and occasionally found yourself turning around to see who's dog was barking.
The second set was better once the band had warmed up and once they concentrated on Roger's solo works. Probably less stress on the band to have to sound like Floyd. Rogers voice was slightly strained and he said very little. Visuals were similar to the US show, but I particularly enjoyed seeing the rare Floyd footage during Set The Controls. The star of the show again for me was the amazing vocals of PP Arnold during Perfect Sense. For an encore Roger performed a new track called Flickering Flame. The performance was slightly rusty as would be expected from a new song that has not been performed live before.
All in all a solid and professional opening to a world tour.
Thanks Rui de Sousa
---
By Sandie Steel
From the opening pyrotechnic display on the dot of 8pm to the closing bars of Roger Waters's new "tune" as he described it, the exhibition of pure brilliance did not disappoint the huge crowd who piled into the Bellville Velodrome by their thousands on Wednesday night to see his In The Flesh retro show. The crowd, made up of all ages from baby boomers to teenagers who were not even born when Pink Floyd first hit the scenes back in the 60s, were enthralled and ecstatic at the sheer mastery of Waters and his band.
It was professionalism personified. They did Brick In The Wall quite early in the show, which set the scene for a seamless structure of Floyd/Waters classics, including Wish You Were Here, Amused To Death and Perfect Sense. As with all Pink Floyd songs, there was a slant towards war and death.
Large-scale video sequences, sometimes surreal, sometimes downright weird, underscored and accentuated the power of the music which was delivered via a state-of-the art 360=B0 quadraphonic sound system, and blew away the crowd.
One of the best special effects was the large round diamond disco ball that rose from behind the band during Shine On You Crazy Diamond and bathed the crowd in revolving light.
The lead guitar/vocals was supreme, as was P P Arnold, the female backing singer, with one of the sweetest voices around. And the lone sax player, Norbert Stachel kept the crowd mesmerised.
There were a few nice little touches, as well. During a section of Dogs (which sounded brilliant and full) Waters, Bramhall# and guitarists Andy Fairweather Low and Snowy White sat down at a table onstage and played cards for a while before picking up their instruments again to finish the song. (# Bramhall didn't play, the reviewer is referring to Chester Kamen)
The highlight of the evening (for me, that is) was The Dark Side Of The Moon, with some fantastic video graphics. The crowd went wild and begged for more.
There was only one encore, when the entire band returned to the stage to play their new song  Each Small Candle*, which had in part a true African feel. (* This song was actually Flickering Flame)
What a pity the Bellville Velodrome doesn't uphold the laws of the land and ban smoking, both nicotine and grass. Maybe everybody then would have been able to breathe easier. Even so, it was really, really good and well worth being choked with smoke!
---
Press Release No Truth To The Rumour!
There's definitely no truth to the rumour that tickets for these legendary shows are sold out. Close, but not yet!
Limited tickets are still available for both the Cape Town and Johannesburg shows. With only a week to go before Pink Floyd founder and former bassist, Roger Waters rocks South African audiences, those without tickets are fast running out of time to catch this musical legend live in action.
Roger Waters is returning to the stage for his first World Tour since he retired from Pink Floyd in 1983. He has rediscovered the love of being on stage and performing. "I have increasingly found myself directly addressing audiences, reaching out to them, if you like, in ways I hadn"t attempted before, or at least certainly hadn't in the bad old days when I'd have hidden behind any prop or device to shield myself from the responsibilities, and ultimately from the rewards of that relationship. The bond established between us, one which is very precious, and one from which I now derive tremendous pleasure".
At a Press Conference held at Abbey Road Studios, London in October last year, he was asked about the inclusion of South Africa in his Tour itinerary, "my music has gone all the way around the world. Under the new circumstances, I am looking forward to being able to perform in SA".
Pink Floyd in the early sixties and reached cult status with their extravagant and thought provoking shows in the early sixties. Now Roger Waters will be performing a cross section of music from Dark Side Of The Moon, which spent 15 years on the Billboard charts, and The Wall, which was written about the economic collapse of the communist system, to his solo albums, The Pros and Cons of Hitchhiking and Amused To Death.
Fans attending the concerts will be treated to the signature Pink Floyd show effects with a surreal video, sound and light show throughout. The show utilises elaborate large-scale video projections to create surreal twists, effects and psychedelic graphics featuring many of the iconic images from throughout Waters' illustrious 35-year career, such as flying pigs, brick walls, crossed hammers, and the prism and the rainbow.
TOUR ITINERARY
Wednesday, 27th February Bellville Velodrome, Cape Town
Show time 20h00 – 23h00
Friday, 1st March Dome @ Northgate, Randburg
Show time 19h00 – 22h00
NO SUPPORT ACT. SHOW IS 3 HOURS WITH 20 MIN INTERVAL
BOOKING AT COMPUTICKET
Tickets from R260, exclusive of Computicket service charges
Computicket Internet Site https://www.computicket.co.za/
www.computicket.co.za
Computicket Call Centre 083 915 8000
For further media information, please contact
MICHAEL ANETAKIS or LARA COHEN at BIG CONCERTS on 021 421 1111
Or Michael: 083 601 2542, Lara: 082 379 0002
michael@bigconcerts.co.za
lara@bigconcerts.co.za
Thanks to Brian Currin