All pics except where noted thanks to Dave Ward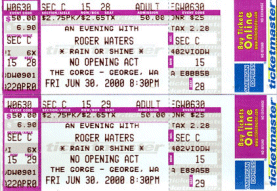 This is a spoiler. Don't want a spoiler? Skip down. Way, WAY down.
The following is my review of the 30 June 2000 Roger Waters show at The Gorge Amphithetre, George, Washington. I've written it to be thorough and, I hope, involving. I hope it will kind of transport readers there and give you some idea what it was really like to be there.

SETLIST FOR THE GORGE, 30 JUNE 2000:
In The Flesh / The Happiest Days of Our Lives / Another Brick in the Wall, Part 2 / Mother / Get Your Filthy Hands Off My Desert / Southampton Dock / Pigs On the Wing, part 1 / Dogs / Welcome to the Machine / Wish You Were Here / Shine On You Crazy Diamond
Set the Controls for the Heart of the Sun / Breathe / Time / Breathe (reprise) / Money / 5.06 AM (Every Stranger's Eyes) / Perfect Sense, Part 1 / Perfect Sense, Part 2 / The Bravery of Being Out of Range / It's a Miracle / Amused to Death / Brain Damage / Eclipse / Comfortably Numb/ Each Small Candle
BEFORE THE SHOW
A little preface. Washington State is a heaven for geologists and meteorologists. The distinctly different East and West halves are divided by the Cascade Mountains. Western Washington generally gets a lot of ocean air, so it remains temperate and gets a *LOT* of rain, resulting in the whole area of Western Washington being almost fully covered in vegetation, including the world's only temperate rain forest. Western Washington is fairly populated, but Eastern Washington is very sparsely populated. There's little rain, and the seasons vary from relatively quite hot summers to very cold winters.
And it looks like a wasteland.
Driving from Western Washington to Eastern Washington is a pretty bizarre experience. You begin with thick forests, mild rain, and 100% overcast skies, drive through the cloudy mountain pass with snowy mountain views, and in the space of just a few hours you find yourself in a barren wasteland, as dry as a bone except where artificially irrigated. When Rick Karhu and I made the drive from Bellingham to the Gorge, we started with rain and clouds, and found ourselves arriving to a relatively scorching, crystal clear day.
The Gorge Amphitheatre is perched on a rugged cliff overlooking the Gorge itself. The Gorge is the basin carved out by the Columbia river is it winds south through the Eastern Washington deserts. The arena is an incredible sight. A grassy lawn sloped down, down, down to a semicircle of chairs just in front of the dark scaffolding and veils of the stage. But when you look just behind the stage, it's a stunning epic vista of the Columbia river winding through the rugged cliff walls and barren slopes of the Gorge. It's breathtaking.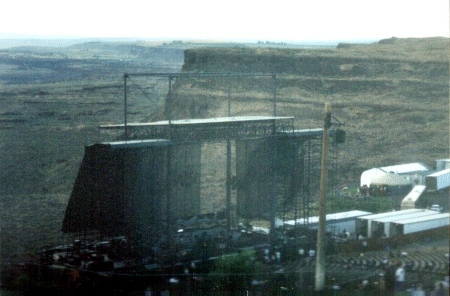 First, of course, Rick and I had to get in. I had a bag with me which I prepared beforehand. I put my Minolta X-700 and zoom lens (with a doubler) into the bottom. But I detached the zoom and doubler and slipped them into the inside of my jacket, which I rolled up and put at the very bottom of the bag. The Gorge allows cameras in, but not "professional" cameras. Anything with a zoom or telephoto lens is apparently viewed as "professional." On top of the coat and concealed lenses, I put the Minolta, some sunblock, a baseball cap, Rick's own little snapshot camera, and some cookies.
We went through the security line, and stupidly I mentioned the digital camera to the guy. If I hadn't told him it was digital, I'm sure I'd hove gotten through right then. But he told me digital cameras are not allowed, and I had to return it to the car. So Rick and I headed back.
After returning the digital camera, I went to a different security line with my Minolta and zoom & doubler lenses still concealed. This time the line was being checked by a cute blonde girl who seemed to be pretty casual and cheerful about the job. Excellent! I showed her the cookies, the sunblock, the hat, and "oh, I have my jacket in the bottom."
"Okay, go on through!" she said, and I was in, with camera and "professional" (quote unquote) lens. Rick followed through with no trouble at all.
We headed down the curving, hilly sidewalk. It's a longish walk to the top of the lawn. There was a vendor not far away. We stopped and got programs, and I got a shirt (the white one with the three photos). I asked about the pin of the pig, and was told the other two vendor booths had the pin.
Finally we reached the top of the lawn and I got my first look at the Gorge Amphitheatre. As I said before, it's breathtaking. I stopped and took a few pictures, then we headed down the lawn and found our seats. The seats were much closer than I'd expected. 15th row is actually much closer to the stage in the Gorge than it was in other shows I've seen. (I was in Row 12 at a 1993 Yes concert but was twice as far from the stage there at Key Arena than I was here at the Gorge in row 15.)
Just a minute or two after we were seated, Mike McCartney turned up! We gabbed for a while. Apparently another Echoesian, Ralph Foster, was there, but we were't sure where he was so figured we'd miss him this time. Then Martha Copeland showed up, so we all visited even more. Eventually Mike went back to his seat and Martha to hers.
I headed up towards another vendor to get that pin of the pig before the show began. On the way, I passed immediately behind the island where the projection equipment and mixing board were found halfway up the green. I looked up and saw rolled up cellophane. Hey, was that I what I thought it was? Yeah! Sure was! I looked closer, and it was the actual slides they project onto the screen behind the band.
The slides are approximately 4×5 inches in size and, to my surprise, they simply are rolled on a spool right out in the open. (I guess they must cover that area when there's threat of rain. I'm sure those slides can't get wet!) I could see the slide of the pink pig with the words "IN THE FLESH" on his side. Oddly enough, the screen was not up behind the stage–just a black mesh curtain–and no projections were on. I'd heard about (and seen pictures of) that pig slide being shown behind the stage before the show starts, but it was 15 minutes to show time and the screen was down, the projector off, and the slide not even spooled into the projector. Hmmm…
I got the pin of the pig, and the keychain as well, and headed back to my seat down on the floor where Rick was watching my bag and camera gear for me. (In retrospect, too bad I didn't take my camera and get a picture of the slides on the spool, but that would havebeen a big risk to take.)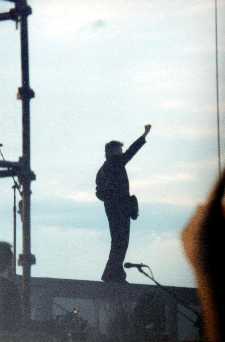 The sun was still up and the sky well-lit. Maybe the screen was down because of the still-bright sky. Yeah, I figured that had to be it. So we waited just a bit longer, and then finally, action on the stage!
P.P. Arnold, Katie Kissoon and Susannah Melvoin were the first I saw. They walked out into position, and just then I saw Snowy White emerge, pick up his (really beautiful) guitar and strap it on as Doyle Bramhall picked up his own guitar, as did Andy Fairweather-Low. At the same time, Jon Carin and Andy Wallace appeared behind their keyboards, and immediately Jon held down those low, murky chromatic notes that rumble at the beginning of In The Flesh.
I noticed now that Graham Broad and the drum kit were almost entirely obscured behind scaffolding from my view on the left side of the stage, but that was a small loss for being so close.
When I noticed Roger, he was already up the stairs and standing on the platform at the back of the stage.
Jon was still holding those low, rumbling chromatic notes on the organ. He was holding them down longer than seemed right to me. Now Roger was looking back over his shoulder. Any Fairweather-Low turned around and faced the back of the stage, and Snowy and Doyle looked back over their shoulders.

Roger stepped up to the mike.
"I think the show is about ready to begin…" he said, and the audience screamed. "No, no," Roger intoned the familar words, "Not quite yet."I KNEW this was something special, but wondered what was up. A technical difficulty?
Jon held those rumbly notes down still, and finally the band members turned around, and *WHAM* — the organ slid up and the first chord of In The Flesh slammed into us.
And right at that moment….
****RRRREEEEEEOOOOOWOWWWWWW!!!!****
A FU**ING BIG PLANE BUZZED JUST OVER THE TOP OF THE STAGE! The airplane buzzed directly over the lawn and swung up, arcing out of sight as the first chords of In The Flesh played. The audience screamed insanely for both the music AND the incredible surprise of the plane buzzing us.
For a few minutes I racked my brain trying to remember if any other shows had opened with the plane buzzing the audience, but I couldn't remember any, and started to think we'd just had a unique–and totally f***ing AWESOME–surprise, just for those of us at the Gorge show.
As ITF was played, I snapped pictures like mad. It was incredible after all this time to finally see Roger live. I only became a fan of Pink Floyd in 1987, and that was just when I began. I missed Roger's KAOS tour. In 1992 I waited and waited for word of a Seattle or Portland show for the Amused to Death tour, and didn't know until several years later that the tour never happened. Finally, eight years later, and 13 years after first becoming a fan, there was God himself, stalking back and forth on the platform, thudding out the bass and shouting "If I had my way…. I'd have all of ya SHOT!"
Utterly incredible. I don't care how many roios you've heard from the 1999-2000 tours. I don't care how many videos you've seen. I don't care how many facts you know, how many reviews you've read, or how sure you feel that you know the shows. If you haven't actually been to a Roger Waters In The Flesh show, you don't have a f***ing CLUE what it's really like! Only 48 hours ago, just before leaving to see the show, I posted to Echoes about how I'd been so exposed to roios and reviews and tour info that I felt I'd already seen the show many times. It's bullshit. If you haven't been there, in person, you can't even imagine. Forget it!
I honestly don't remember "The Happiest Days of Our Lives," and I'm not sure why. Perhaps it was just excitement overload. But I *do* remember "Another Brick In the Wall, Part 2."
All the bitching and complaining on Echoes about having to hear ABITW2 again is total crap as far as I'm concerned. Hearing the song live from Waters was an absolute killer. You know, I agree with the complaining when it comes to the Floyd version. I really think ABITW2 is one of very few things that the dehydrated Floyd just can not pull off well. But can Roger pull it off? You bet your ass. Forget the roios. When I listened to the tour roios, I wasn't too excited about the song. But when you're really there, it's a killer track. Roger ran back and forth at the front of the stage, first whipping up one side of the crowd, then the other, encouraging them all to sing along. It's unforgettable. As was Snowy's solo. I don't know why, but Snowy's solos with Roger just can't be captured right on tape or CD.
In person, his solos are big and delicious, and the TONE of his guitar… wow, that tone is just GORGEOUS. His guitar and gear set up has the silkiest, most lovely tone I've heard on a guitar in a live setting yet.
Incidentally, the old war movie had been playing on the television since the start of the show, and it continued until the break. I never realized before that the war movie is played on TV throughout the whole first set, and then 2001 is played throughout the whole second set.
Roger took off his bass and strapped on his acoustic. Mother was very good, but it's one of those songs that just went right by me. I think I was just enjoying the moment too much, and not concerned with locking it away as a memory.
But Get Your Filthy Hands Off My Desert is crystal clear in my memory. I'm really glad Jon Carin is adding the string part (and doing a knockout job with it). When the song began, some asshole behind me said, "Oh, this is great" in a really derogatory tone meaning "this is lame." If somebody's going to complain about a song they don't appreciate, they should save it until after the show rather than throwing out a bad vibe that can mar somebody else's memory of a song that maybe THEY happen to love.
Then came Southampton Dock. Yes yes yes! Beautfully done, but I spaced out against my will. I simply couldn't believe I was hearing it! See, Southampton Dock is just one of those particularly special songs for me, personally. I'd always wanted to hear it live, and never thought I would. Even knowing Roger was playing it during this tour, I couldn't accept the idea that I was going to hear it. So when it was played, I was so stunned that I just can't remember it well. I *do* remember Roger's vocal melody, and noticing that he's playing the newer melody, not the same melody that appeared on the album.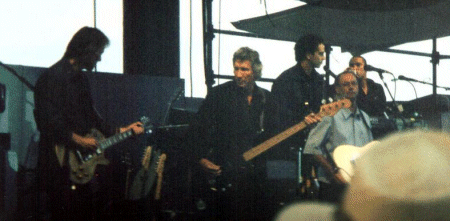 Pigs On the Wing, part 1 was lovely. For one strange moment, I actually expected a firecracker to go off. I guess that's a good sign that I've heard the Montreal 77 show quite a few times. 🙂 By now the sun lower in the sky, setting behind the barren hills on the far side of the Gorge, but the sky was still dimy lit. It was about dusk now. And there was still no screen behind the band, just that black gauzy mesh. If the projector was even on at all, it simply wasn't visible on the black mesh. The sky behind the mesh was still too bright even at dusk, and the mesh was too dark and too insubstantial.
As POTW ended, I watched Jon Carin pick up an acoustic. "Here we go," I said to Rick and grinned to him. He didn't know the setlist as well as I did, so I'm not sure he realized what song was next.
It was Dogs. All the great things others have said about Jon Carin are totally true. He was in control of the song for the majority of it, starting with the acoustic strums and first Gilmour's vocals, then handling the whole middle section on his own. My only regret was the lack of projections–I was looking forward to seeing the shot of the moon on the screen, and the big by the Battersea stacks. But it wasn't to be.
When the middle section came, the rest of the band put their instruments down. A stage hand emerged from the door in the middle of the wall behind the band and set up a table near center stage. The girls took seats on the couch. Another stage hand dressed as a waiter emerged with refillable plastic bottles on a tray which he served to the women. It's funny, but the girls and the waiter were all smiling really broadly during this. They guys played their card game, but I couldn't see anything of it–it was near Graham's drum kit, and so was obscured by scaffolding just as the drums were from my vantage point. Sadly, I can't tell you who won the game. I can just tell you that if Roger is God, the Jon Carin is *definitely* Saint Jon. Carin is a great combination of talent, ability, and control.
As the middle section wrapped up and the strumming acoustic re-entered, a strawberry blonde girl in front of me turned around and asked me what they were doing during that. I told her how they play a card game and keep a running score throughout the tour, and she just grinned.
Unfortunately I missed much of Welcome to the Machine. It wasn't due to overexcitement or a memory lapse. Something happened in our row further in toward the middle. A woman seated just past Rick was gesturing and shouting something. I finally understood: "We need to clear this row! Paramedics need to get through!"
We all cleared out as WTTM played, and unfortunately the distraction pretty much left me unable to listen to or appreciate the song. A few guys in white tee shirts–the paramedics I presume–went down the aisle, and I saw them lifting a man to his feet. The guy, in his mid 30s with a buzz cut and glasses, looked VERY much out-of-touch with reality. As the paramedics pulled him toward me, I noticed that the guy also had his lips clenched tightly and his cheeks slightly puffed out. Oh great! I stepped back, not particularly wanting to be vomited on. They took him past, and we returned to the row. Unfortunately asa result of all this, I just don't remember WTTM.
Wish You Were Here was a little strange. I don't really like hearing the opening guitar phrases played on an electric guitar. Doyle's style showed a little here (one of few spots). I didn't mind that though. It was just those opening phrases on an electric guitar that I just couldn't buy into. Once that was over and the song got going, it was really beautiful. It's different from the Floyd camp's version. I think the modern Floyds' version is gentler and sweeter, while Roger's version is a little more distraught in its emotional feel.
Shine On You Crazy Diamond was a knockout! The long solos have developed the song into a new form. It's now a bit of a blues jam number. Both Doyle and Snowy have really gained a feel for their role since the 1999 shows. The roios of the 99 shows always have this slight unease in their guitar parts, especially the solos, but now they've really grown into those old shoes Gilmour left behind. Mind you I missed Gilmour a few times, but nowhere NEAR as often as I predicted I would. Doyle and Snowy have really come a long way in the months since the 99 tour. I'm guessing they must have rehearsed between the sheduled recording dates last spring.
After Shine On was over, Waters told the crowd that it's been to windy for screen, and said the crew will try to raise it during the break if the wind calms down, and then we can get some pictures. It's nearly fully dark when the break starts.
During the 20 minute break, I noticed somebody wearing an Echoes shirt like mind. He was standing to the side of the stage just 20 feet fro me, so I went over and talked to him. Sorry, I've totally forgotten his name. Was it Ed? Anyways, it was nice to meet you, and I hope you had as good a time as we did!
As the break went on, the screen was raised behind the stage. The projector came on and showed the pig logo. The screen was billowed out towards us. Obviously there was still a good breeze blowing south down the Gorge, causing the screen to billow like the sail on a ship. The crew spent ten minutes aligning the images. Eventually the screen went down again. The wind must have simply been too much still. And now under my set there was sticky crap on floor. I didn't think much of it at the time, but would definitely think of it later… It was almost fully dark when the second set began.
Set the Controls for the Heart of the Sun featured the Silver Surfer projections. The projections were shown on the black mesh gauze. Obviously it would have been better on the screen, but now that the sky was dark, the projections were fairly visible on the mesh, if they were still a little dim. I don't know who played the solo, but he was playing either an alto or soprano sax. (It was much too small and too sweet in the high registers to be a tenor sax.) I have to say, I missed the going. It would have been a truly stunning addition if they had brought along a gong for Roger to bash. Even if they didn't light it aflame, that would have really added. But even without a gong, it was a wonderful version of a song I'm really glad I've now seen performed live. It's a track I never, ever imagined I'd ever see live.
Breathe is very nice, but does suffer from lack of Gilmour. Doyle has a wonderful voice, but I suppose it's just hard to accept any voice other than Dave's on the Dark Side songs. Around this time, I noticed on the TV on stage were the scenes from "2001" showing the side view of a wild boar.
Time and Breathe (reprise) both kinda went right by me. Again, not as striking without Gilmour, but very good. It's kind of sad that I have no recollection of Time, but to me its one of those songs that doesn't work without Gilmour's fingers on the guitar strings. Doyle and Snowy are both knockout players, and they've really taken to their roles, but Time is just one of those songs I can't really accept without Gilmour on guitar and vocals.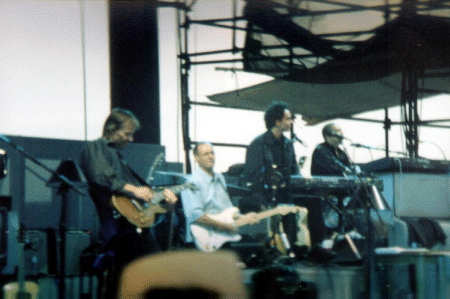 Money had *REALLY* fine solos from all three. Doyle did a beautiful job, but the kicker was Andy Fairweather-Low's solo–He *ROCKED*! He came out and just SLASHED away on his guitar, swinging his arms viciously much like Pete Townshend. I never realized Fairweather-Low had that in him. It was one of the pinnacle moments of the night.
Snowy's solo was very "sweet" in tone and melody, resembling an old British-blues solo (as fits his style). And there was that BEAUTIFUL tone on his guitar again. At the end of the song there was one of those unique moments. After singing "they're giving none away," Doyle started to do a bit of the falsetto vocals at end, but broke into laughter. He didn't move away from the mic in time either, so his laughter went out across the crowd on the amplifiers. 🙂
I don't understand people who actually don't WANT to hear Money. It's fantastic.
Every Stranger's Eyes. What can I say about this? It's got a very special, personal place for me, and I've always particularly wanted to hear either this one or "Go Fishing" live. It was heaven. Also, others have commented that the truck sound is overbearingly loud, but it wasn't anywhere as overwhelming as led to believe. It was actually mixed really well, at least at the Gorge show if not elsewhere.
Perfect Sense, Part 1 — It was pitch black night by the time "Perfect Sense" started, and the sky was filled with countless brilliant stars. You don't have any idea how starry the sky can be until you've seen it out in a desert, 30 miles from any signifigant light source. It was a stunning act that only God could have planned. And by "God" I mean Roger Waters, of course. 😉 As others have said, it was really nice to hear the HAL 9000 samples Roger wanted to use originally. Also, I believe it was during Perfect Sense part 1 that the screen rose up behind the band–and STAYED up! Yeah! We got to see the rest of the projections very nicely.
Perfect Sense, Part 2 was the high point of the show for me. Roger becomes so impassioned and animated, literally dashing from side to side of the stage, lifting his arms up, gesturing for the crowd to sing and get involved. Yes, the tape of the crowd cheering and singing along was played. But it served to encourage the REAL crowd who, believe it or not, DID cheer very vigorously and, yes, SANG ALONG! Not everybody knew the words, but it was clear that an awful lot *DID*, and they all joined in. It was truly moving.
Personally, I think a major theme of Roger's next album will be the message "get involved," and I think this is a minor appearance of that idea. I think Roger's moved out of his period of feeling alienated, and now is interested in building a close audience relationship *AND* putting it to a constructive use. Perhaps the next album–either the live or studio one–will benefit Amnesty International?
P.P. Arnold's voice is HUGE! So much volume, power and control. What an incredible singer that woman is!
The Bravery of Being Out of Range was great to hear! During the '99 tour I said at least once that I was really disappointed that Bravery wasn't in the set. I'm really glad it was added to the set so I got to hear it. Sure, it does lose a bit of its power when live; I'm not sure what, but don't really care. I wanted to hear it live, and got my wish. I *did* miss hearing What God Wants. Too bad it had to be dropped, but I don't think Snowy was ever comfortable with that Jeff Beck bit at the beginning, or with the rest of the Beck-isms, and the song always sufered from that on roios I've heard.
It's a Miracle is better in person than it sounds on roios. Hell, it's better than it was on the album! Roger's "KSSSH!" when the piano lid comes down is jarring and cool.
Amused to Death had unexpected graphics of wall of names behind the monkey with Bill Hubbard's name in the middle of the screen. It was moving to see Hubbard's gravestone at the end. It makes it more real, makes the audience–or at least ME–more aware that Bill Hubbard's story is a TRUE one, not fiction.
Roger made a speech about the magic returning, and how we've helped bring it about tonight. I believe he made that speech after the Amused to Death material. I don't remember the words, but I think somebody else is going to give us a transcript.
Brain Damage and Eclipse went went right by me, for the same reason Breathe and Time did. The Dark Side material just simply works better under Gilmour, Mason and Wright. No slight is intended on Roger, Snowy, Doyle or anybody else in the Waters camp. The Dark Side material just simply needs Gilmour.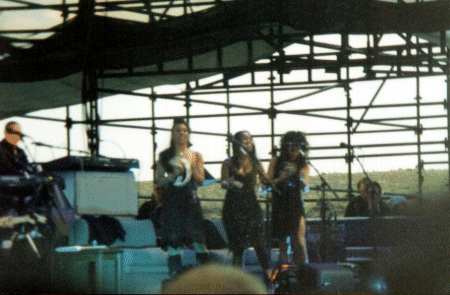 Comfortably Numb was fantastic! I was never all that impressed with the roios, and the photos from past shows aren't that visually striking. But so really be there and see Snowy soloing on the platform at the back of the stage is awesome, and the long solo while he and Doyle move towards each other and meet is really fantastic!
The final solo made it more clear than ever that these guys have REALLY mastered their job. They partly fill Gilmour's shoes, but they also make it their own. That really do a drop-dead fantastic job.
Roger stepped up to the mike and said, "Thank you" to the cheering crowd. The crowd kept cheering. "Thank you," Roger said again. The crowd just kept cheering. Roger paused, and said "thank you." It seemed like he was going to say something else, but he just said thank you several times as the crowd cheered, and then "thank you for coming tonight" and he and the band lined up, took a bow together, and then left the stage through the door at the back wall.
After just a minute or two the band reemerged. (This might be the quickest return to the stage for an encore that I've seen, personally. The other shows I've seen, the band was offstage for several minutes before returning. Here it was more like 20-30 seconds.)
Each Small Candle… Wowwww… It really has developed. I intentionally did NOT download any MPEGs of the 2000 tour version so I would be surprised. It has a beautiful new intro. It was especially cool to hear things that they were practicing on the warmup show on "HEIRW" but didn't use in the Kansas City 99 performance. (During that rehearsal, the women were singing a slow variation, "eeeeeech smaaaaaal cannnn-dle." That didn't turn up in the Kansas City 1999 rendition, but now it's in the song. Pretty cool!) At the end, Roger thanked us all for coming again.
AFTER SHOW
Rick and I decided to stand around near the stage and wait for the crowd to disperse a bit. As we were waiting, we heard somebody yell "Rick! Dave!" It was Echoesian Ralph and a friend. We all got to talk a bit, and then Martha Copeland turned up again. We wondered if we'd see Mike McCartney again, but we didn't.
After we talked for a bit, one of the concert staff asked us to move away from the floor because they need to clean the area. We all walked slowly up the lawn, having a nice visit, all of us raving about the show. Ralph speculated that the plane that buzzed us was the band's own plane, but I didn't think the band had a plane for the tour. (Turns out Ralph was right. Mike McCartney later told me more about why the plane buzzed us, and I'll leave that for him to tell.)
When we got to the vendor at the top of the lawn, I bought another tee-shirt, a women's shirt for my wife, Elisa. While I was there, another concertgoer edged up near the side of the vending booth. The vendor asked him to step back, and then went back to making the sale to me. As the vendor made change for my two $20 bills, I heard the other vendor, a woman, shout "Young bring that back right now or I'm calling security!" I looked over and saw the concertgoer carrying a lithograph. He meekly walked back, set it back inside the vending both, then ran away lest he be reported. The idiot was trying to steal one of the $75 lithographs.
We walked back to parking lot. It took Rick and I forever to find the car. When we came in we had carefully figured out which row were were parked in, but now the rows were broken up as people left. The parking area is just a grassy field, so there's little to mark positions except the occasional pole witha number and letter on it.
There were incredible skies on the way back to our lodgings at Moses Lake! I've never seen he Mily Way so brilliant in the sky.
When we got back to hotel, I was reminded of the sticky substance that I had noticed on the floor during the show but thought nothing of at the time. As I started to inspect my concert memorabilia, I realized the bottom of my bag had soaked through with the sticky crap on the floor. I pulled out our programs and the things were both f**king DAMAGED!! The sticky junk, which smelled like 1/3 alcohol and 2/3 soda pop, has soaked through my bag and damaged the bottom edges and corners of the programs. It was one blight on otherwise incredible evening.
Saturday we returned home (over 200 miles) to Bellingham. Elisa and I took my photos in and had them developed. I shot up 3 rolls of 24 exposure 400 ASA Kodak film during the show. I took a total of 75 pictures. Unfortunately, just 23 of them turned out to be viewable. I had forgotten one of the rules of photography: when you are using a telephoto or zoom lens, you have to use a faster film or longer exposure. I was not only using a zoom, but had a doubler on top of that. So much of the film is badly underexposed. One full roll is useless. But I can't feel TOO bad–the 23 shots I got are pretty nice.
I hope the review isn't too long. I wanted to write something more involved than people have been giving. I wanted to really take readers "there" and capture the event as best I could. Hope you liked it!
Take care,
Dave Ward
"For my father and my brother it's too late, But I must help my mother stand up straight"
(Above) We are indebted to the lovely Annie Keenan for allowing us to share her photos with you all.  Sadly Annie passed away with her beloved dog Max on October 29 2001. May these pictures continue to please others as Annie would have wished.
---
The Journey There
==================
NOTE -> Why this gig is advertised as Seattle I'll never know. The gorge is located in central Washington about 3 hours east of Seattle. The only plausible reason I could see to do this is because there is absolutely nothing resembling a large city anywhere closer to the Gorge then Seattle. Spokane is about 2 hours further east, this place is in the boonies folks!
I hit the road with my traveling party at about 930am and we made good time to the Canada/USA border and then towards Seattle. I had never been anywhere in Washington state then on the coast, so let me tell you I had no idea what to expect. First of all the climate changes!!
Vancouver to Seattle -> Coastal, Wet, Green Cascade Mountains -> Rocky, Cold, Wet Rest of the Way -> Barren, Dry,Hot!
When all is said and done by 1130 we were heading up into the Cascade mountain range. After a few stops for food and supplies we were in the Columbia River valley and experiencing the sunshine and heat that we had been missing all day. I couldn't believe this was the same state. Mind you in BC (where I'm from) once you leave the Greater Vancouver area and enter the northern Okanagon region there are very similar climate changes. Finally at around 400pm we hit the nearest thing to town near the Gorge, Ellensburg. By 500pm we were pulling into the Gorge campsites where we were spending the night. All in all about 6 hours of road time from Vancouver BC -> The Gorge.
The Venue
============
Wow! The Gorge is a naturally formed amphitheater overlooking a Gorge which is carved out by the Columbia River. The stage faces away from the river and if you were on the stage you would easily be able to see the beautiful view and the river and gorge. From the crowd you can not see the view but from the grass seating I'm sure you would be able to. The campsite is perched about a mile away from the venue on top of a cliff. There are no trees just stars and grass, we all knew that we'd be awakened by the sun very early due to the lack of shelter. The assigned campsites were little more then plots of grass where you can park your car and pitch a tent or two. No fire pit, just grass.
When we finally got out of our car and began to set up camp and have a beer or 6 😉 there was multiple campers blasting Roger or PF music from their sites in preparation for the show. The guy next to my party was playing Fearless as I got out of my car, followed by Not Now John. My guess is that there was close to a few thousand campers in the site…very packed, I was reminded of Woodstock or some other outdoor festivals. We quickly set up camp and grabbed a few 'road pops' and headed down to the venue. After the long walk we were through the gates and I was off to the beer garden to find some other Echoesians with my trusty Harvested T-Shirt in tow.
Hunt For Echoesians
====================
I was planning to find a few familiar names and faces when I got the beer garden and found no one! Jason Lane?? Dave Ward?? Rick Karhu?? Martha Copeland?? Ralph Foster?? Stef Roberts?? So I perched on the grass with my friend Mark and had dinner and a couple more beers and just as I was getting ready to leave I spot a Radio Kaos T-Shirt. Martha! Good thing I had met Martha a few years back or I wouldn't have noticed her. We chatted for a bit and wondered where everyone else was before I headed off to finally check out my seats.
My friend Mark and I got down to our 6th Row view and admired my handy work on the Ticketmaster.com WWW site. Very close to the right side of the stage. Wonderful. I scanned the crowd again for familiar faces. I knew Rick and Dave were in about Row 15 on the other side….hmmm… ah there were those 2 ugly mugs. I headed over to say hi and see how things were going. Just as we were chatting Martha walks up. Chatting some more I remembered that a friend of mine who works for a Seattle based magazine was covering the show. So I said my goodbyes and headed off to look for him. I found him in the media tent and was told that the professional photogs were allowed to shoot the show for the 1st 4 songs (ITF, THDOOL, ABITW2, MOTHER). Since we were sitting so close the stage he said he'd come talk to me at some time during the show or intermission.
The Show
===========
I saw 2 shows last year in Quebec City and Montreal. So here is my assessment of the set list this year in comparison to last year in a song by song format:
IN THE FLESH – Same performance wise. Roger did a good Gary Yudman impersonation as he was waiting for something. Whoa! A jet buzzes the crowd at low altitude before the show. Really cool!!! The grass seated folk must have been feeling that plane.
NOTE!!! – During the first intermission I talked to a media friend of mine who was covering the show. He told me that after he had completed his 4 song photo pass he was taken with the other photographers to the media tent to sign some release forms. During this time Mark Fenwick addressed the photographers quickly. One of them asked about the plane and Fenwick confirmed that this was the touring plane of the band and that it was done in compensation for the fans since the screen was thought not to be used due to the wind. So I hope this ends all the speculation. This is straight from Rog's manager's mouth.
HAPPIEST DAYS / ABITW2 – Crowd went nuts, but all in all the same performance as last year. Great opening 3 songs though I must admit. The crowd was electric after these.
MOTHER – Fabulous I hope Roger never drops this from his live shows. Doyle's guitar solo was much better then last years show.
DESSERT / SD – Dessert is way better now. Roger sings it identical to the album and the song now has the orchestral accompaniment just like the album as well. Much much better. SD is similar in performance to last year.
POTW / Dogs – Wow…really good.. again a high point for me. However spectacular Jon's keyboard work was this time around in the middle section it was nothing compared to last year. Another electric response from the crowd. 🙂
WTTM – Great! My friend said this was his favorite song of the night. Very similar in performance to last year.
WYWH – I love the song… Roger can't sing it though.. I'm sorry.. This is a Dave song and it always will be… its just not the same. If Rog tours in 2001 he should drop this IMHO.
SOYCD – Much much better then last year. The band is much tighter and the transition into SOYCD6-9 is more smooth. Snowy and Doyle rip up the show with their jamming. Wow! Amazing set closer… unfortunately the backing screen still hasn't been raised due to wind, so no image of Syd looking over the crowd.
STC – Great to say I've seen this song live. Graham does some good mallet drumming to impersonate Nick. Ho hum sax solo. Still fun none the less.
STM / BREATHE – Great, the guy next me elbows me and says "just like the album huh!!" I nod… very good work here.
TIME – In spring 1999 if you told me Roger was going to do this song in his 99 and 2000 tours I would have laughed.. I would never see this as a Roger song but man it rocks with Roger singing it too…amazing.. the crowd goes bananas.
MONEY – Way way way better then last year. The band is tight, I'll say it again. Andy F-Low's solo was scorching. Previous reviewers were right as well.. the sax solo was dead on note for note like Dick Parry's on the album. Roger was smiling the whole time as he played. Again the crowd goes bonkers.
EVERY STRANGERS EYES – Yes he lip synchs.. I saw it… doesn't matter.. a great live song… just as powerful as last year.
PS1 / PS2 – Similar to last year. The crowd loved this one. Another one Roger should never drop from his set list.
BRAVERY – Great! Yeah I'm glad they added this! I just wish WGW1 was still on the set list. Oh well. This was a good call on Roger's part none the less. However, the bridge still needs work, though I don't know if I agree with Ron Toon's assessment of adding a sax solo <shudder>.
ITS A MIRACLE – Wow! Man I love this song way more live then I do on the album.. its my favorite Rog solo song and this performance was fabulous. The screen is finally pulled up for this song.
AMUSED TO DEATH – Ditto.. amazing.. these 2 songs should never leave his live set. Amazing.. I'm almost in tears as Alf Razell's voice ends the song and Bill Hubbard's headstone is projected on the screen.
BD / ECLIPSE – A great closer, similar performance to last year.
CN – Good but still..its not Dave… nuff said
ESC – Boy has this song evolved.. Much much better then KC last year… its great. Jon Carin offers a lot more to this song now as does Snowy and Doyle. This is great. I can't wait to hear the album. Great closer.
All in all the band is much tighter then last year. They seem more confident. Susannah Melvoin is good addition to the band.. she soloed with Roger on Bravery backing vocals and sounded great.
Post Show Report
=================
I needed to get back to the campsite as I had been on my feet for the whole show and was sore. Let me tell you there isn't much regulation at the Gorge campsites… music was blaring til all hours of the evening. Fights broke out. Riots with the security occured. I awoke at 7am with only 3 hours of sleep to find a port o potty burned to the ground next to my site!!!! The guys next door were still up partying at 7am!
My buddy and I took a long 7 hour drive home to Canada and I crashed out on my bed for a few hours before I was fully recovered.
As I said earlier this show was much better performance wise then the 2 1999 shows I attended. However, nothing will compare to my experience at my first Roger Waters show in Quebec City.
Hope you enjoyed my review,- – Mike
With thanks to Mike McCartney