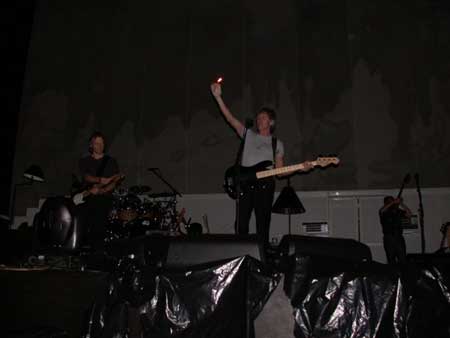 All pictures on this page (Except where stated) thanks to Edison Vaz Melonio
AFTER THE STORM CAME THE CALM! MARCH 15 WAS A TERRIBLE DAY IN SÃO PAULO. IN THE AFTERNOON, A STRONG STORM CAME DOWN IN THE REGION WHERE THE STADIUM IS SITUATED. IT WAS VERY WINDY TOO. IT CAUSED LOTS OF TRAFFIC PROBLEMS ALL OVER THE CITY. AT THE STADIUM, SOME DAMAGE WAS CAUSED, INCLUDING A LIGHTING TOWER THAT WAS DANIFIED. THE ORGANIZERS WORRIED ABOUT THE POSSIBILITY OF THE CONCERT BE CANCELLED . BUT AFTER SOME HOURS EVERYTHING WAS REPAIRED, THE WEATHER WAS BETTER AND FINALLY THE SHOW WAS CONFIRMED, WITH A DELAY OF 30 MINUTES. AT 10:00 PM THE SHOW BEGAN AND THE PEOPLE THAT HAD SUFFERED TO GET THE STADIUM WERE REWARDED WITH A BRILIANT PERFORMANCE OF ALL THE BAND.THE "RAIN WATERS" WERE REPLACED BY "ROGER WATERS".
EACH CHORD, EACH SOLO OF GUITAR,KEYBOARD OR SAX , ECHOED AS A DIVINE MUSIC IN EVERYONE'S EARS. IT WAS GRATIFYING LOOK AT ROG'S FACE AND REALIZE THAT HE WAS FEELING WELL TO BE THERE PLAYNG TO A CROWD OF 25,OOO ENTHUSIASTIC FANS THAT HAVE WAITED MANY YEARS TO SEE THEIR IDOL PAYING THEIR FAVOURITE SONGS! ALL THE SHOW WAS OF A HIGH LEVEL. IT'S DIFFICULT TO CHOOSE A SPECIAL MOMENT, BECAUSE ALL THE THREE HOURS WERE A SPECIAL MOMENT . THE SOUND WAS PERFECT, THE IMAGE PROJECTIONS WERE WONDERFUL. A EMOTION LIKE THAT IS DIFFICULT TO EXPRESS IN WORDS. TAKE A LOOK IN THE DOZENS OF PICS THAT I'VE TAKEN AND TRANSPORT YOURSELVES TO THE MAGICAL WORLD OF ROGER'S MUSIC!
EDISON VAZ MELONIO.
---
Roger, I went to the Pacaembú stadium last weekend and I'm still out of my mind. I'm Brazilian and I'v waited for this moment all my life. The feelings and emotions were unforgetable and will last forever to me. It is gratifying to meet a man who shares the same thoughts as me. We Latin Americans have suffered many years of repression and thought control during several dictatorships, you, Roger, through your songs is our liberty scream. Sometimes I've feel like an E.T. in this world controled by "lunatics", only your art can relieve me and put some sense to my days. Maybe one day your art definitively help us to put down the wall built by these "lunatics" who scattered famine, misery and war around the world.
The sound, images, effects, yourself and the band were perfect. Your twilight is being marvelous and your art will go on to the eternity.
I hope to watch you again in the future wherever around the Planet. Thank you for the show. Review by Roberto Gubert Rocha
---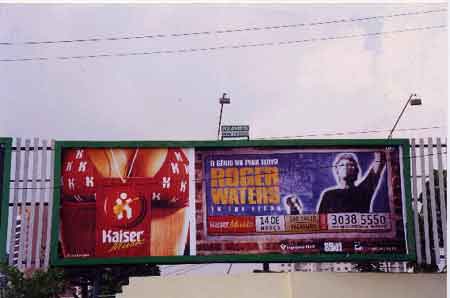 In The Flesh
The Happiest Days Of Our Lives
Another Brick In The Wall, Part 2
Mother
Get Your Filthy Hands Off My Desert
Southampton Dock
Pigs On The Wing, Part 1
Dogs
Shine On You Crazy Diamond, Parts 1-5
Welcome To The Machine
Wish You Were Here
Shine On You Crazy Diamond, Parts 6-9
INTERVAL
Set The Controls For The Heart Of The Sun
Breathe (In The Air)
Time
Money
The Pros And Cons Of Hitch Hiking, Part 11
(5:06 AM – Every Stranger's Eyes)
Perfect Sense (Parts I and II)
The Bravery Of Being Out Of Range
It's A Miracle
Amused To Death
Brain Damage
Eclipse
Comfortably Numb
ENCORE
Each Small Candle
Musicians:
ROGER WATERS – LEAD VOCALS, BASS GUITAR, ACOUSTIC GUITAR
ANDY FAIRWEATHER-LOW – GUITAR, VOCALS
ANDY WALLACE – KEYBOARDS
CHESTER KAMEN – GUITAR, VOCALS
SNOWY WHITE – GUITAR
GRAHAM BROAD – DRUMS
HARRY WATERS – KEYBOARDS
KATIE KISSOON, LINDA LEWIS, P.P. ARNOLD – BACKGROUND VOCALS
NORBERT STACHEL – SAXOPHONES
(Above) This set of pictures were kindly provided by Jefferson Lobato Noraes (Fersion). Roger was leaving Sao Paulo on his way to Caracas and these pics were taken at the airport.
Thanks to mailto:beato@integral.br
Bonus pics. Taken on both the 14th & 15th March