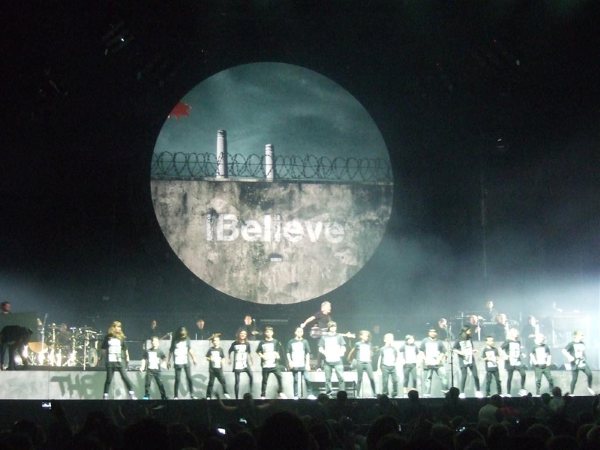 It was an all seating show tonight which i was thankful for, after 14 hours travelling i wasn't looking forward to standing up on my feet for 3 hours on a concrete floor!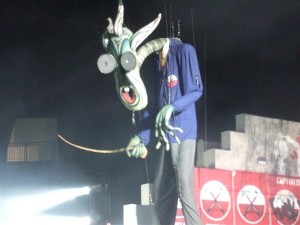 Within 5 minutes of us taking our 15th row dead centre seats i heard the flash photography warning come across the PA in some foreign language and knew the show was about to start.
Even from the Spartacus talking i could tell the sound was going to be great tonight and the opening bars of in The Flesh confirmed this! The sound was incredibly clear and it was loud!! louder than I've heard at most of the European shows. A lot has been talked about the last few shows between people who saw some of the US shows and people who saw the European shows too and we all agreed that for some reason or another the sound has definitely been turned down. There's just not that feeling of bass in your chest at certain parts of the show! Tonight WAS different though, i could feel Grahams drums in my chest from the get go, Roger vocals were crystal clear through the mic, you could even hear his breath sometimes as he breathed in before singing the next line. Dave's guitar was also crystal clear and you could hear every note perfectly.
Kevin and i looked at each other with huge smiles on our faces, tonight was gonna be good!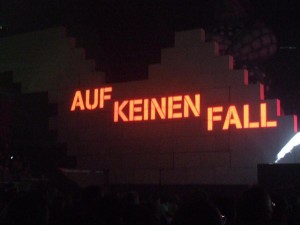 I didn't take a lot of pictures tonight as i didn't have my good camera with me however this did enable me to concentrate on the music and visuals themselves and just shows that its true what Roger says, you miss so much of the show watching it through a 2" camera screen. Something the guy 2 rows in front of us will never realise as he filmed the whole of the show on his digi cam, having it screwed to one of those small hand held tripods and holding the trip with his hand high for the entire show!
The crowd whist good were still a touch subdued and remained seated the whole show, even when Roger took the stage for the first time there was very little excitement generated on the floor, they did get a little more into it for the second half though. people keep asking me which is the best show I've seen, its very hard to say just one as some are good for the sound, some for the performance, some for the crowd etc Tonight was my 82nd Wall show and i can honestly say that tonight's show was definitely the best for the sound but not for the audience.
People also ask me if i get bored seeing it so many times and do i still see new things ? each show really is like the opening show for me and not only do i see new things at each show but i hear new things, Tonight was no exception.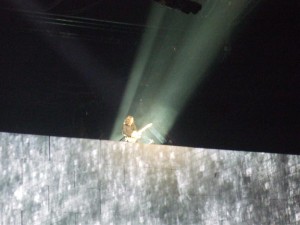 I was a little apprehensive about hearing the new ending for Another Brick part 2, id heard it on you tube but wanted to hear it in person before i made comment. Its different for sure, its not like something that has been played before and re done to work in with the song but its a totally new composition. As much as i do like it i just don't think it fits in how and where its being played, yes its only 45 seconds of music out of a 3 hours show that's different and no the second and third guitar solos are not on the original album but they seemed to fit so much better than what's being played now. You have 30 seconds of soft keyboard music and acoustic guitar and them the rumbling loud subway train comes blasting through again, at least remove the second subway train from the projections! (which i know will be hard due to the whole reason for it being there) I do like it a lot and its like hearing some new music from Roger, dies it fit in with what's been shown and played before hand though ? personally i don't think so.
Kevin mentioned to me earlier that the inflatable Mother was now cross eyed! i hadn't noticed this before and I'm not sure how or where this happened but he was right!! i also noticed that Grahams drumming has totally changed during Goodbye Blue Sky, he's now playing like a military type drumming at the beginning and during the song! whilst been a subtle change it sounds so much different and is very noticeable.
I'm not sure what language the "no Fucking Way" is that appeared on the left side of the wall as they talk several different languages in Switzerland but Kevin said it meant nothing much at all really.
Kevin commented on how he had noticed Roger spitting on the floor as he was sat on the wall at the beginning of One Of My Turns, i hadn't noticed this before, but sure enough about 90 seconds in he lent over and spat right on the stage. It was then that i looked over to Kevin and realised what we were doing, we are two grown men, sat on the edge of our seats in silence for 90 seconds mesmerised and watching for a 67 year old man to spit on a stage and the second he does that we turn to each other and say "yup there ya go , do you see it" WTF!!! lol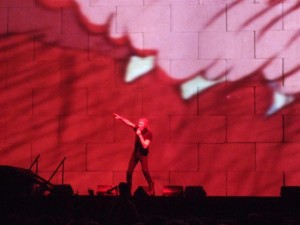 I also noticed the backing singer tonight during Don't Leave Me Now, when the inflatable wife comes down and starts moving her arms back and forth and the singer sing "oooohh babe, ooooohh babe" they all in unison move their arms up and then down and then up the same way the wife is!! i love this fricken show and this is just one of the reasons why, and one of the reason i say "no" every time when someone asks me if i get bored of it!
There were a couple of girls sat in front of us who it was obvious knew Robbie as every move he made and every time he looked over towards them they waved and got a little crazy (in a good way) as they came back to their seat for the second half we had a little chat and one of the girls was Sylvia whom id seen posting on Robbie's facebook earlier that day while i was travelling to the show. She had seen the show in LA and had flown over to Switzerland to see the show. It was great to meet you and hope you get to the show tonight! Elzira from Brazil came to sit in the two empty seats in front of us for the second half of the show too and it was great to have people around who weren't just corporate guests in free guest seats there for a free night out!
The second half sound was just as good and the crowd were a little more lively as Roger came out for his second shot at In The Flesh. Dave K had mentioned to me the other week that he has started to tone down and not move around as much when he was playing onstage outside of the wall. he said this was due to all the other not moving about and everyone being still most of the the time, one comment Dave, STOP IT!!! start moving again, get some hair flicks going, bend that guitar neck, get into it man, we miss it all, your the only one (apart from Roger) that looks alive during the second half!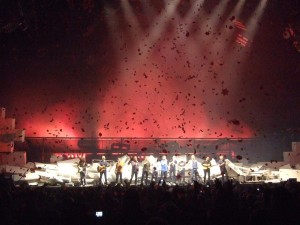 Run Like Hell brought most people to their feet but they sat straight down at the chanting of "Hammers, Hammers" through the surround speakers at the end, which incidentally Kevin and i spoke about and think the whole Hammers, Hammers goes on a little too long for our liking, it wouldn't be too bad if it did actually get the crowd going and chanting but it doesn't and never has so far! I'm not saying don't do it just don't do it for over 60 seconds!
The wall fall was unusual tonight, the top couple of rows fell forward and then there was a delay as the sides fell backwards but the middle section stood still and all alone! it wasn't until probably 10 seconds later that the middle section itself fell forward and still left a lot of bricks "unfallen"
The band came back out to a great response for outside The Wall, but then it was over! My 82nd show was complete, it had taken me 3 buses, 1 plane, 1 train and 14 hours to get here, was it worth it ? damn right it was and id do it again in a heartbeat!
Review & above images thanks to Simon Wimpenny
---