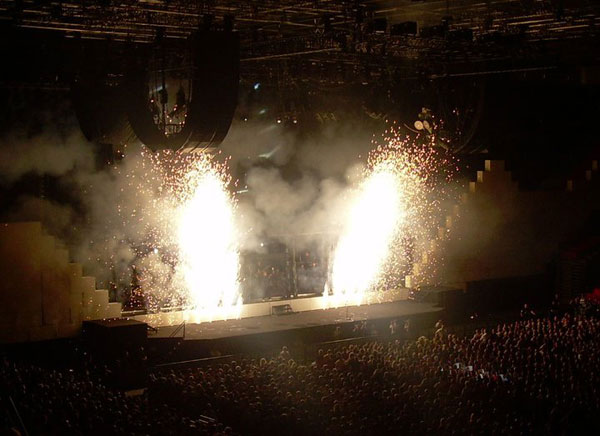 So last night I went to see The Wall again, I was going to go to the second night at Manchester that got cancelled, I had been given a refund for that one, and after having such a great time in Dublin, I thought we should see the show from further back to take in all the visuals.
Got to the venue in good time, and had another look at the merchandise, was not pleased that they were charging 30 quid for a T Shirt that I paid 40 quid for last time must be the recession….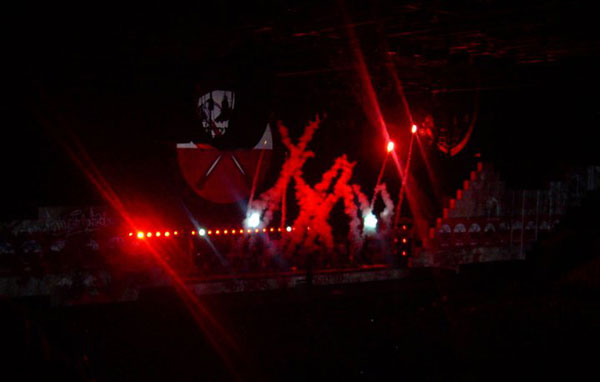 Show started about 8.15 it was very much louder than the one in Dublin, as has been mentioned before by Simon W (and that on day 2 they had added more PA), the sound effects were much louder than expected. Roger was a bit more subdued tonight, not much banter, Liked the Fear Builds Walls on the back of the Kids T Shirts didn't notice that before, maybe its been added recently?
I'm really surprised that more hasn't been mentioned about the addition of Another Brick in the Wall part 2a, a nice little piece that musically tips its hat to the Pros and Cons and lyrically a tribute to Jean Charles de Menezes. I think some just didn't get it.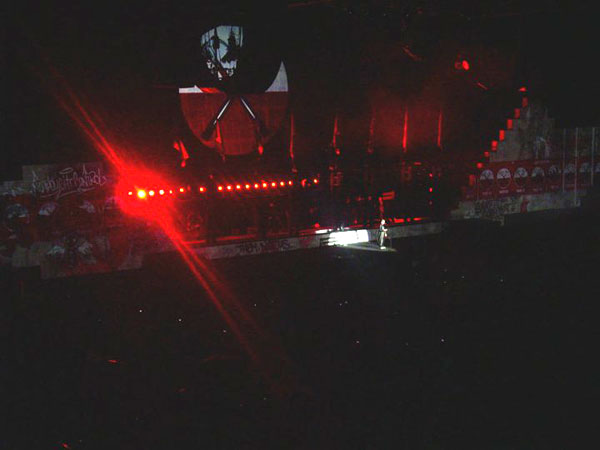 The 'No Fucking Way' graphic in Mother had more applause than anything else tonight, maybe there was a lot of ex longbridge staff in tonight.
Also spotted the Boxing Cats later in the show!
Noticed a few bits of lip sync again, that I didn't before, I think roger may only be lyp syncing bits here and there rather than whole songs like has been suggested by some.
Nobody home looked like a smaller hotel room, are there 2 sets of 'walls' so to speak depending on venue Size?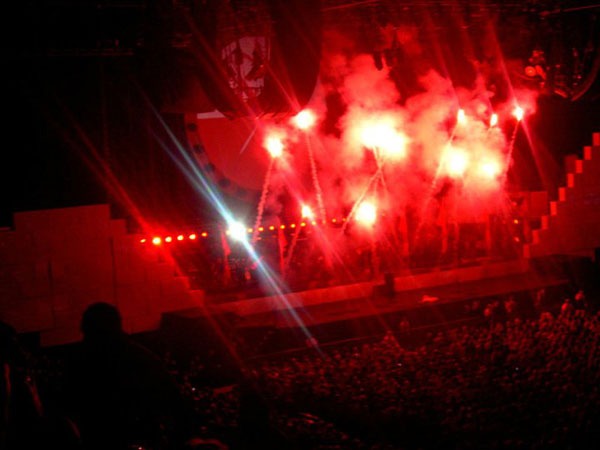 Second half was great to see the projections in full, The Trial Sequence, really is an amazing piece of work with the mix of new and old visuals, noticed the voice of the wife was in a faux French accent, has that always been the case on this tour or another tweak? Again most of the boots I have listened to of this tour, I tend to err skip after Run like hell. And on the subject of Run like hell, Roger is always so animated on this and hes having great fun, makes it one of the key moments of the show. As does the few bits of random piano in the middle that maybe a tribute to Sisyphus?
In summing up I'm glad that we went again the Nia is a bit of a crappy arena to be honest, not in the same universe as the 02 in London. I am tempted to maybe do Oz I just feel really sad now, that if this is to be Rogers swan song, with David having little to no interest in playing live, this may well be the last time I ever get to experience any form of Pink Floyd live, I feel doubly sorry for Nick Mason that's always wanted the band to play, and been unable to make it happen for all these years.
A Great show tonight, with just a hit of sadness at the end.
Above review & pictures thanks to Matthew North
---
Videos from this concert have been removed as Pink Floyd claim copyright on them