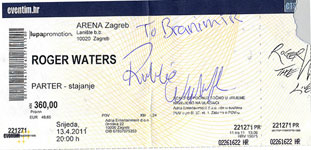 Above pictures & ticket scan thanks to Branimal!
---
Well, where do we start…?
This time travel, car and weather were perfect, five of us on the best highway in Europe, with Sara saying immediately: "Daddy, play The Wall, please!" It took just 4 and half hours drive to Zagreb. My brother's flat is perfectly located, just across Arena Zagreb. Just a look on 24 trucks and 6 bus-hotels makes shivers down the spine. This is how it looked from the flat.
I immediatly went to meet a Lupa promotion PR manager (let's call her Miss S.) to see if there is any chance to give Roger three T-shirts I made for him and to ask for signature on my The Wall album from 1979. (which was actually bought in Sydney, Australia for me by my cousin :-)) I entered Arena and suddenly I was inside, watching final constructing of the stage. Unfortunately, I was strictly warned not to take any photos. Miss S. said that she would try to arrange delivery of my gift to Roger. I hung around for some time and took pics of the trucks and buses for the crew. Some of them have very amusing names like this one.
I talked to some of the crew and then a crew manager came with food and drinks for them. I asked if I may take a photo and on pure cockney English he said "Yeah, 25 Euros for each photo!" He was joking, of course, and while handshaking said: "I'm Boris." What a guy!
Now, who is Spartacus?
Miss S. said that Roger would not be there soon, so I went back to flat for final preparation and about 7 p.m. with my wife and children payed another visit to Miss S. who said that she gave T-shirts to Roger's managment but for the signature I'll have to come back after the show.
On first check point security didn't allow me to come in with Sony Cybershot, so I went to another entrance where I had no such problems. We entered Arena and many other fans were staring at us. I don't know why.
We took our seats very close to the stage, some 20 meters.
Arena was packed, sold out, some 17.000 fans. Then it started. First I have to say, sound was brilliant, just how I like: loud, fat and clear. I made some photos and videos but I was constantly under pressure from guards so I had to do it seamlessly, which affected quality. Now, maybe I'm imagining, but when in one moment Roger came to the right edge of the stage some 15 meters from us, I stood up with my hands up, so did my family, Roger stared at us for couple of seconds, and showed thumb up. My older daughter vows that he looked at her. I hope I have it on video. Lights were not very strong on him in that moment, so it's really possible. From very first moment it was obvious that Roger was giving his best.
A special moment came when children from Antun Gustav Matoš orphanage performed on ABITW part 2. When they left Roger said in Croatian: Children, excellent performance!
Then came Mother. I haven't noticed this happening before on any other show in Europe: on the left side of the wall was NO FUCKING WAY and on the other side it was written in Croatian NEMA JEBENE ANSE. Something was wrong because it should be ŠANSE, but software probably did not recognize that letter Š that was missing. Anyway it was fantastic surprise for everyone, so I hardly recorded it but someone has uploaded it already so you can catch a glimpse of it here on 4:36.
It all went so well that intermission came in a minute. Everything was so good till the end that it would take really long time to express atmosphere in Arena. When it was over I saw Sara crying "Does it have to end?". After the show we went to Miss S. to see what happened to my T-shirts for Roger and The Wall album. After some time there she was holding my album. I saw nothing on front page and said: "Never mind, I know it's hard to make it." Smiling like Gioconda she said "Roger has your T-shirts, look the cover inside."
To Mimo and Tonći – Roger Waters
NO WAY!!! I couldn't believe it! And he saw the writing on the top of the cover MIMO & TONĆI that I wrote 31 years ago just in case if someone would not return album to me saying "It's mine, not yours!" I was only hoping he would sign it, but he saw our names and wrote it. I don't remember how did I get to my brother's flat. Fortunately, it's 200 meters away.
Next day, five of us sat into car and went home. Leaving Zagreb, Sara said: "Daddy, play The Wall, please!"
Now, specificaly!
Crowd was absofuckinglutely fantastic. Except of few hardasses using flash in the beginning but not later. I could say I'm proud of Arena Zagreb audience. It was visible that Roger was touched with welcome. There were many fans from Hungary, Slovenia, Italy, Serbia. Bosnia, Austria, I even saw a bus from Poland.
THE BAND
Graham Broad:
Plus: accurate, strong, excellent sound
Minus: I didn't like drums in CN, a little bit too many notes.
Snowy White:
Plus: fantastic sound of his Les Paul, very functional playing
Minus: perhaps he should participate more in solos, seems like Dave K. took them all
Dave Kilminster:
Plus: what a player, guitars sound much better then I thought, mindblowing second solo on CN, second hardest job was on him – to replace DG's guitar
Minus: sound of classical guitar on Goodbye Blue Sky and Is There Anybody Out There?
Jon Carin:
Plus: every note where it should be and not where it shouldn't. My favourite keyboardist.
Minus: none
Harry Waters:
Plus: excellent playing, great, fat sound of his Hammond, Leslie slow – fast activation brilliant, showed that he is not in the band just because he is Waters
Minus: perhaps he should shave
G. E. Smith:
Plus: one of those guys you don't notice much, but if you would turn him off nothing would sound right. King of Telecaster, no one, and I mean no one has such a sound on Telly.
Minus: I don't remember any
Venice & Jon
Plus: sound great, excellent colaboration with Robbie
Minus: none
Robbie Wyckoff:
Plus: THE hardest task of them all – to sing David Gilmour's parts. And did he do it well? No, he did it FUCKING well. Too bad he wasn't there in 1979 to sing Young Lust and Waiting For The Worms.
Minus: he looks too good.
Roger Waters:
As I was before, now and again I'm convinced that he was sent on Earth by some alien force with task to make this planet a better place. No other species could do it better.
Was he looking for us?
Well, see you in London, my friends, on May 17th, exactly on my first anniversary as AFG member!
Review & above pictures thanks to Mimo
---