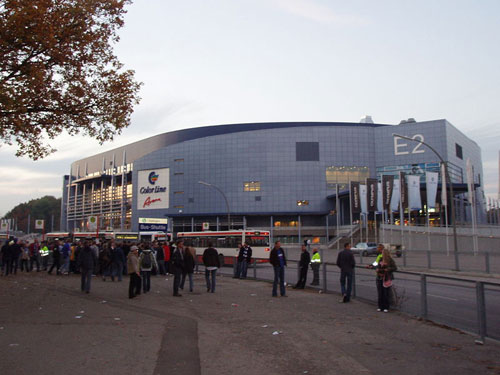 The show has been starting at 8:15pm in most of the venues in Europe but both Zurich and tonight were 8pm dead on the button.
Sound was great tonight, not as good as Zurich but it you hadn't been to Zurich you wouldn't know any difference (if that makes sense) and Roger continues to spit on the floor when sat on the lower part of the wall (much to the upset of Kevin).
I have to say that the kids on Another Brick tonight were the worst I've ever seen at any of the shows. They came out and lined up and just stood there and clapped, they looked like they were there because they had to be and didn't look to be enjoying it one bit. I did wonder if the German people are a bit too serious for this type of thing? The crowd were ok but as Thomas had told me earlier, the German crowds are always quiet (i bet that's not true at the Berlin shows!) Another little thing I've been meaning to mention is to watch Roger and GE for the last minute of Young Lust, they just jam together and move in time with each other really close like Roger used to do with Andy Fairweather Low a lot.
At intermission Elzira and Berto came to sit next to Kevin and I and the empty seats around us, of which there were about 20! George and Sabina also came to sit next to us, they had driven over for the shows and arrived late so I hadn't had chance to see them before the show.
Second half was as good as ever performance wise, I do wish you'd start to move about a bit more again though Dave, during Run Like Hell. Said track brought the crowd to their feet for the first time alas it didn't last as they all started to sit down at the beginning of Waiting for the Worms.
Review & above video thanks to Simon Wimpenny
---
Videos from this concert have been removed as Pink Floyd claim copyright on them