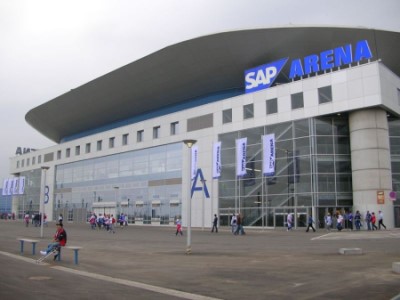 ---
Today (June 3rd) was finally the first german show of Roger Waters The Wall. Together with Hannes from Austria and Uli and his wife Jenny, I've been to the first of 2 sold out shows in the SAP-Arena in Mannheim.
After a short travel of about an hour we parked our car in a housing area nearby to avoid additional parking costs and the well known traffic jam in Mannheim at the end of the concert.
My expectations for this evening were really big and I can't really believe, that more than 30 years have already passed since this very special February 15th, 1981 in Dortmund. Because of videos, reviews and comments I had a clear image of the things to come and hoped to become intoxicated for almost 2 hours (without alcohol or other drugs!).
The runthrough of the show is pretty well known and so I won't talk about this isssue. But from the very start of the show, it was clear that the technical side of it took several quantum leaps in the last 30 years and you could see open mouths all over the place. Also the sound was crystal clear and had a real 3D feeling.
I've been in row 8 about the middle of the wall and some of the visual effects during the show almost "hit" my body. Because of the short distance, it was sometimes impossible for me to see everything on the the wall and to follow Roger with my eyes. So for a better understanding of the whole piece of art will be the show in Duesseldorf, that I will attend on June 18th, when I will be seated a little bit more in the back of the arena.
An obviously well-tempered Waters did his statement for eternity. Who could top this event? It's no more a concert, it's a show with a top performance of everybody involved. Not only in terms of the music, but also in terms of sound, stage and visuals. A gigantic machinery that reached the goal exactly, but also emerged emotions. Not only because of the "good old times", but also becauce of the actual references of the show.
Waters did it (again): He rouses his audience and provides his message loud and clear. A wonderful idea was the "Fallen Loved Ones"! He projects not only pictures, but also names, birthdays and dates of death. Very impressive! And what could you say about the video during "Vera"? The girl, that sees her father again and her stunned reaction: These pictures will burn into your brain and you won't forget them!
To sum it up: A technically brilliant and even more emotional evening with a Roger in best form, who fixed the standards for all shows to come in astronomical and unreachable heights.
Review thanks to Hans-Jürgen Müller
---
---
Videos from this concert have been removed as Pink Floyd claim copyright on them