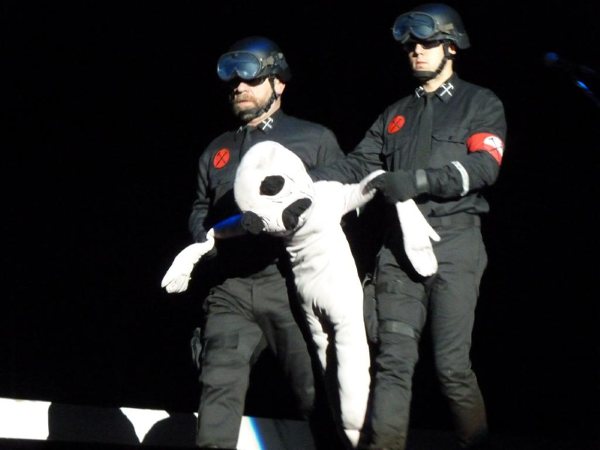 From the second the pyros went up at the beginning of In The Flesh the we knew the crowd were gonna be great, even the first 30 seconds they were a lot louder than any of the six nights in London! Roger and the band looked so so happy when they heard how the crowd were, i know for a fact that they love an enthusiastic crowd as much we do!
For most of the first half Kami and i stood up the whole time, a lot of people behind stood up but id say it was probably 50/50 with standing and seating crowd, one thing WAS evident though, the crowd were into singing the lyrics! The first half seemed to fly by (always the sign of a good show) In the USA when Roger usually sings the line " 13 channels of shit on the TV" he held the mic out for the crowd to sing. Tonight was the first time on the whole of the European tour that he had done this, i turned to Kami as soon as this happened and told her this, something that Roger later made reference to at the end of the show. Run Like Hell was amazing, never seen as many people clapping and having fun at a show since the show in Philly last year.Even GE Smith was smiling!
The wall came down in two sections tonight and every brick fell forward of the stage! we got a great amount of "wall wind" and the roadies had to work twice as hard to clear the stage in time for the band to come on for Outside The Wall.
Review & above images thanks to Simon Wimpenny
---
Above images thanks to Joe McGuire
---
Videos from this concert have been removed as Pink Floyd claim copyright on them