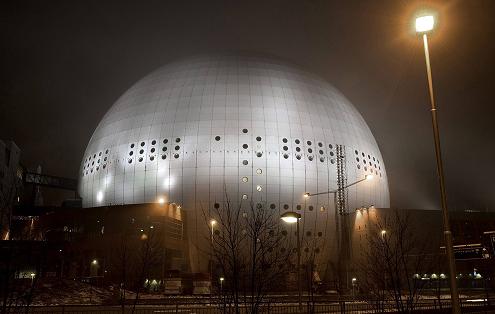 Kevin and i had decent seats tonight, 20th row on the floor slightly to the right of the stage. As i looked on the floor for my seat the place was nearly empty, it was a 7:30 start tonight and it was nearly 7 now, where was everyone ? I said hi to Jon Joyce and wished him well for the show and then took my seat and people watched for 10 minutes.
Robbie and Pat came over for a chat for 10 minutes and we started talking about the technical problems in Oslo. Robbie said that Roger took it all in his stride was so professional about it, i started to tell them how the Roger of "old days" used to act with his ranting and raving about security and fireworks and stuff!
The guys headed off to get changed and i wandered down to see Anders and Johan who were front row centre tonight thanks to the excellent Roger Waters pre sale. I saw Dave K wandering around and he and i had a chat for 15 minutes before i headed back to my seat and he headed off saying he had somewhere to be, he was at the Wall gig, where did he have to be ? he should have come watch it with Kevin and i, he would have seen his fan club sat behind us!:)
It had been two weeks since I'd seen a show and Kevin was complaining it had been two days! As the Spartacus intro came on i turned to Kevin and said " i feel like I'm back at home now, this is just like putting on a pair of old shoes, I've missed this so much in the last two weeks" During the Spartacus into they have now started putting the spotlights on in time with people saying "I'm Spartacus" so as each person says that on the pre recorded tape a spotlight picks someone out in the crowd, this works really well. It looked like the two guards who bring pink onstage are now permanently doing this onstage now and not in front of the stage on the floor, this also works a lot better as everyone gets to see what's going on!
I noticed what i think was a new graphic during Another Brick part 2, it could have been there before but i haven't seen it, that's nothing new though with a show of this size is it ? Also noticed that the words projected on the wall during Mother are now in different languages! hadn't noticed this before and presume they must have started doing this over the last couple of shows that i had missed.Also the now regular "No Fuckin Way" writing in the countries language was projected on the left side of the wall. Roger has also changed the date when he talks about performing The Wall in London for the second time around and now says 1981 as he should have done.
The venue is a perfect globe and whilst Trip can usually sort the sound out in most venues this was i think an exception, there was a LOT of echoes bouncing back from the rear of the hall, if you turned your head so one ear was facing the stage and one the back you could hear two voices, two guitars, two drums etc all within milliseconds of each other but it was there and audible for the first time on this tour that i had heard. What was incredible though was the quad sound, due to where our seats were i think we were right in the middle of the "sweet spot" and I've never heard quad like it! the helicopter at the beginning of Another Brick sounded incredible.
Performance wise it was incredible, the band seem to have got even tighter if that's possible and even not having seen the last 5 shows i could tell a difference from the last one i had seen in Poland!
Roger is now using the chair on stage to sit down during One Of My Turns, sitting down to sing most of it then standing up, taking the chair in his hand and throwing it across the stage when he's done.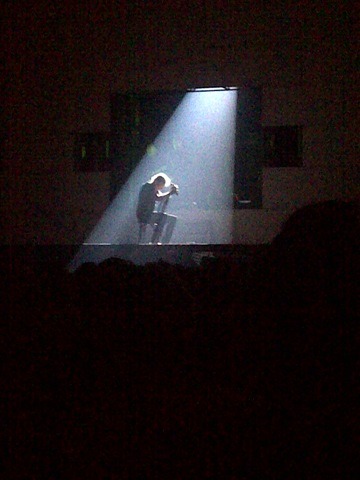 Intermission came and went and Hey You sounded different tonight, as soon as the vocals started Kevin and i just looked at each other, something wasn't right, neither of us could figure out whose voice it was singing! it just sounded ever so different for some reason, towards the end of the song it was clearly Rogers voice but the first part didn't sound like Robbie or even Jon Carin, very odd, I'll get to the bottom of it and let you know though.
Rogers taken to "freezing" onstage in another part of the show now and at the end of Vera he freezes for a good 30 seconds before starting to sing Bring The Boys Back home, its cool but there's a fear of it being over done now!
On the row behind us all night were a bevy of Swedish blond models! (The Scandinavian branch of the Dave K fan club according to him!) id say at least a dozen of them, all with hospitality passes on and all texting and facebooking away on their iphones and blackberry's during the show! Comfy Numb did grab their attention though and brought not just them but everyone to their feet in awe! Whenever Robbie appeared on the wall the girls would go crazy, clapping and cheering and shouting to him! The crowd had been very relaxed up to this point with everyone staying in their seats for the first half and up to now in the second half. During the first half Roger tried to get the old "thank you" " no that YOU" thing going but it just didn't happen, he tried it twice and just gave up!
I noticed that at the beginning of Run Like Hell and Waiting for the Worms they are now pumping the "hammers, hammers" chanting through the rear quad speakers, even this didn't get the crowd going much, although i have to say everyone looked to be having a great time during Run Like Hell.
The wall came down at the end in spectacular fashion, the first section of three rows all falling forward and then the second section of the remaining rows teetering on going backwards then forwards but finally all falling forward in one big section!
It was a fantastic show tonight with a few sounds echoes due to the venue, a pretty laid back crowd but an incredible CN solo by the only Dave that should be mentioned while this tour is going on! There were a couple of other nuances/changes that i noticed but cant remember them at the moment, i will and I'll add them as updates when i do!
Above review & pic thanks to Simon Wimpenny.
---
Videos from this concert have been removed as Pink Floyd claim copyright on them