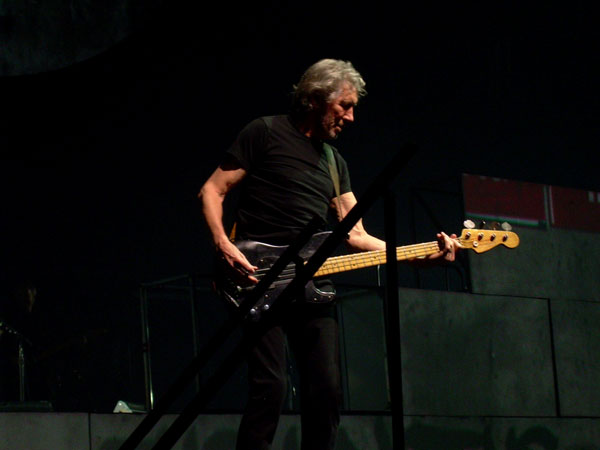 So we get to the 02 Arean Dublin, from the outside looks like an old factory. We were well early and I had the mishap of falling over a paving slab and hurting my finger, something Lee-Anne found highly amusing. There was only 1 pub nearby called the Green Room, total rip off, 10 euros for a coke and a cider! Still it passed the time, they were showing the bootleg DVD of floyds 87 hanger rehearsal.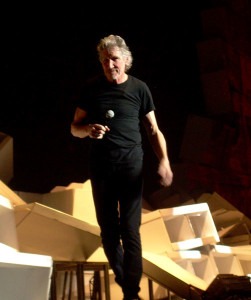 We ended up right at the front of the queue, there are very few shows on the wall tour that have standing, so once we got in we were on the barrier. Very happy with this.
The wall is going to be massive, there is a mannequin on stage with Rogers coat on it, and I spot Dave Kilminster showing someone around the stage.
The show was delayed by 15 minutes, I guess because of the Obama visit. I'm not going to give away too many spoilers here but the opening was quite spectacular with amazing effects and fireworks. The sound was crystal clear and not too loud.
Roger looked happy, all the way through the gig he was saying that he was a miserable git 30 years ago and now hes very happy. Strange to think there are only 2 people on stage that played the original wall shows (Roger and the ever dependable Snowy White). The attention to detail was what impressed me the most, as a brig goes in an image appears on the brick. Some thought provoking images of people that have died in war, more were projected during the interval, Roger really has though long and hard about this show. Its NOT the show about the washed out rock start that the original show / film was about, its about now, its about Afghanistan and todays issues, this show could have been written today.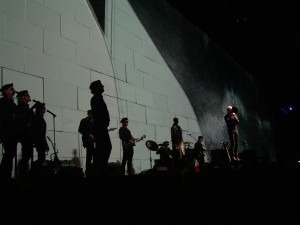 Its not all doom and gloom though, its about musicianship of the very top end, Dave Kilminster is every bit as good as David Gilmour, hes probably the best 'NEW' guitarist of the last 20 years to be honest.
Roger has schoolchildren on stage for the chorus of Another Brick in the Wall, how cool must have that been for them, this is something roger started at the Live Earth gig in 2007.
Second half was all about the projections, so magnificent, Comfortably numb has this amazing but where roger punches the wall. Then they all re group on stage for the Run Like hell / Waiting for the Worms section.
The the wall falls down, the security don't want any hands over the barrier, I did want to punch a brick but couldn't quite reach oh well!!
This is the best gig you will ever seen yes it really is.

Above review and images thanks to Matt North
---
Videos from this concert have been removed as Pink Floyd claim copyright on them