An AFG Exclusive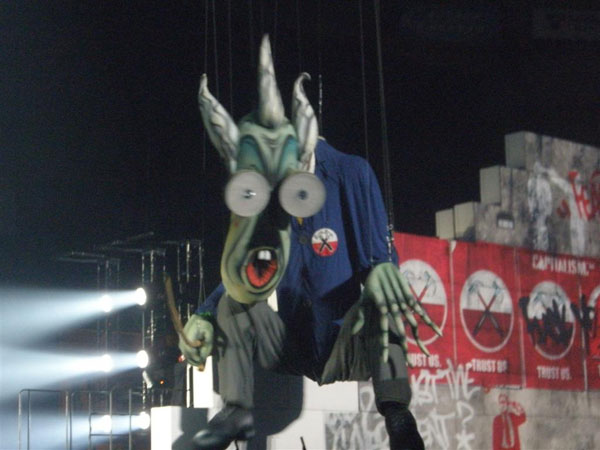 By Johnny Valenzuela
Greeting fellow Floydheads.  I suppose I should introduce myself first to put this story into proper context.  My name is Johnny Valenzuela, affectionately known as "Johnny V".  I have worked in radio – either on air as a DJ or behind the scenes as a producer and/or engineer – roughly since 1985.  Throughout the years, I have been extremely fortunate to work for, with, and along side just about everyone in Rock And Roll I could have ever dreamed of, with Pink Floyd and Roger Waters being at the top of my list (ok, and Peter Gabriel too, but that's another story).  The brothers Floyd have been my A-Number-One band since I was a pre-teen, and without question The Wall was a life-changing album for me when it came out in 1979.  Eleven years later, in 1990, I was in Berlin for the Wall concert, making sure the radio broadcast made it across the Atlantic to the U.S.  This was the first time I met Roger Waters.  He was, frankly, much nicer and congenial than I was expecting at that time, and he's been nothing short of a gentleman to me with every subsequent broadcast I've worked on for him, and there's been a several.  The two In The Flesh radio specials I did with him and Jim Ladd in 1999 and 2000 are still among the highlights of my entire broadcasting career.  I mean, me, Johnny V, just another way-too-into-Pink Floyd fan like you, and yet there I was at Roger's house in The Hamptons recording him and Jim.  Oh, and I took them and several band members all out to dinner that night too.  And then, one year later, I met up with Roger in The Bahamas to record another interview, and yes, took him out to dinner afterwards.  As I said, they were true highlights of my career, and both times, Roger was fun, funny, relaxed, and just a wonderful human being to be around.  Definitely not the Roger Waters I first came to learn about when The Wall first hit my turntable!
But enough about Roger and me.  Fast forward to Tacoma, Washington, December 11, 2010.  "The band arrives for sound check at 5pm, so your window will start around 5:30."  This is what I was first told by my point of contact within the Roger Waters production world.  My friend (and by pure coincidence, friend since high school days), Aimee, had secured the opportunity for me to interview virtually everyone in Roger's band for The Wall tour.  Yes, I did submit a formal request to also interview Roger himself, but not surprisingly he passed.  See, back in those national radio syndication days, when the company I worked for could offer coverage to hundreds of radio stations nationwide with just one interview, there was more than a fair chance that even the reclusive Roger Waters would agree to a sit-down.  But these days, one little radio station in Sun Valley, Idaho, and the biggest fan site on the web just doesn't carry the same weight.   I know this, and was not expecting even an acknowledgement that I had asked, but I figured it can't hurt to ask, so I did.  Maybe the memories of those great nights out in The Hamptons and The Bahamas was enough to elicit an "oh, I remember JohnnyV", which perhaps is why I did at least get a nice response to my request.  "I'm afraid we'll have to say no, but enjoy the show."  No problem, no worries, and indeed, no surprise.
So I arrived at the Tacoma Dome around 5:15, thinking I might get lucky and hear a taste of sound check.  It was pouring rain the entire drive, and upon arrival I was told that the band too got stuck in the rain and weren't there yet.  In fact, they were held up at the Canadian border leaving Vancouver, where they had played the night before.  This is where things could go bad: late for sound check but still have to sound check, still have to eat, still have to change, hmmm, guess who might get shut out on his interviews?  Well, in the meantime while we awaited the band's arrival, I was escorted to one of the tour buses, where I got to sit down and talk to two of Roger's long-time production people.  First up, Tim Myer, the main guitar tech on the tour…
---
Interview with Tim Myer
After Tim, I was just about to start interviewing Colin Lyon, Roger's bass tech since the original Wall shows in 1980, but then a voice came over the radios.  "The band has arrived.  Repeat, the band has arrived."  So, Colin and I scurried into the arena to await the band's entrance.  While we waited, Colin showed me all around the stage.  We went under the stage first, where he showed me all the intricate hydraulics that support the wall (and ultimately tear it down), as well as the system for the front stage.  Weaving throughout was the most elaborate run of power cables I have ever seen under a stage for a single band.  I still can't believe a crew could tear down and set this entire stage up in under 24 hours.  But that was just the beginning of the tour.  Next, he took me onstage.  There I stood, looking in awe at the back of the wall (once the stage is built, they have to put up the entire wall to calibrate the projectors, then tear it down and ready it for the show).  I cannot describe the feeling as I stood there in Roger's spot onstage, looking out through the wall portal at the empty arena.  Surreal.  But wait, there's more.  So, as I was standing there, the band walked onto the stage to start their sound check.  Colin pulled me back a few steps into "the chicken run", an area just behind the musicians where all of the guitar amps are placed.  It is shielded by dark glass, so one can see out from inside, but the audience can't see in.  Luckily for me, the door was propped open, so there I stood about 5 feet behind Roger as he sound checked "Mother".  Again, surreal.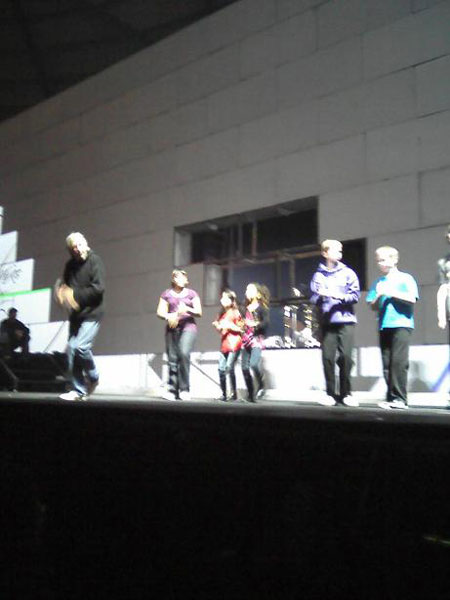 After a quick run through of "The Show Must Go On" and "Run Like Hell", Roger, Jon Joyce, and Kipp Lennon rehearsed the kids for "Another Brick In The Wall Pt. 2".  That was a delight to watch.  Jon is so good with the kids, and Roger clearly loves this part of the show.  These particular kids in Tacoma were quite good, and it was evident on Roger's face that he was pleased from the start with them.
Once all of this was done, the band headed to their dressing rooms, and Colin and I headed back to the bus to resume our interview.  Realizing that I now had limited time to interview the band, my interview with Colin was brief:
---
Interview with Colin Lyon
---
Once Colin and I finished up the interview (and a cold beer), we headed back into the arena.  I wound my way through the backstage dressing room area and finally found the main wardrobe room, where Aimee was waiting with the first of the band members to sit down for an interview, G.E. Smith:
---
Interview with G.E. Smith
After G.E. finished, Aimee asked if I would be interested in interviewing Jon Joyce.  Realizing that he had already been interviewed for A Fleeting Glimpse, I was just a bit hesitant, but then thought I should, and perhaps I could come up with some questions not yet asked of him.  I was escorted to a dressing room that Jon shared with the Venice guys (Kipp Lennon was in the room for a good portion of the interview).  The room was conspicuously marked "Pumpkin Launchers", so my first question was set up for me…
---
Interview with Jon Joyce
After Jon's conversation, I left the "Pumpkin Launchers" suite and went back to the wardrobe room, where Snowy White was awaiting his turn at the mic:
---
Interview with Snowy White
Just as Snowy was getting up to leave, Robbie Wyckoff happened to come into the wardrobe room.  Robbie is new to the Roger Waters camp, so I had never met him before, and frankly knew very little about him.  When Aimee asked him if he would like to be interviewed for a few minutes, I think it caught him just a bit off guard, as it did me.  He said "sure", and sat right down.  It was apparent very quickly that Robbie is as nice a guy as the rest of the band, and our rapport fell into place immediately:
---
Interview with Robbie Wyckoff
Once Robbie and I finished our conversation, Aimee went to find "Killer", better known as Dave Kilminster.  She brought Dave back to the wardrobe room and said that we were closing in on show time, and the band always has a private assembly beforehand, so this might be it for the interviews.  On the Dark Side tour, Dave was one of the few band members I didn't interview, so I was pretty eager to get a good talk in with him.  Again, rapport developed quickly, and the interview felt very comfortable almost immediately:
---
Interview with Dave Kilminster
As soon as Dave and I finished, Aimee said for us to come to another dressing room where the band was going to assemble for their "sacred time".  We walked down the hall to a larger dressing room, where Harry Waters, Jon Carin, and Graham Broad had already gathered.  Thinking back to the Dark Side tour again, I had interviewed Jon and Graham on tape, but I only got Harry's interview down on paper, so I thought that if I only have a shot here at one of them, I'd make it Harry:
---
Interview with Harry Waters
Harry and I also talked Grateful Dead tapes for a few minutes, but then I thought maybe I could grab one more interview.  The Venice guys and John Joyce had now also entered the room, so I could tell the band's "sacred time" was upon us, but I knew I wanted at least to talk to Jon Carin a bit about the late Richard Wright, so I quickly sat down next to Jon and started:
---
Interview with Jon Carin
With Jon finished, I whisked myself over to where Graham was sitting and said "Graham, do we have enough time?"  As I asked that, Robbie and GE came into the room, leaving only Roger left to join the assembly.  Graham thought about it for a moment, and said "yeah, well, I think, maybe, um, you know, Johnny, I think we're just cutting it too close."  It was as gracious a decline as one could ask.  At this point, it was 10 minutes to show time, and there was still the band's pre-show ritual to do – a gathering to which only the inner circle is privy to – so it was time for me to leave backstage and join my friends at our seats in the arena.  It was time for the "professional" to have a rest and the "fan" to come out in full force.  I thanked everyone, said "have a great show", and left for my seat.  Another career highlight for me, successfully logged into the memory bank, and into my audio recorder.
And yes, we had a great show.
Johnny V
---
A Fleeting Glimpse wishes to express our appreciation to Johnny Valenzuela for arranging and conducting these interviews exclusively for this site.