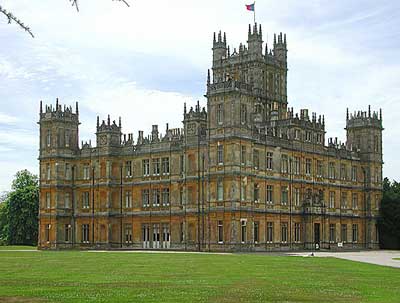 Highclere Castle – Newbury Hampshire UK – Countryside Alliance Benefit
Highclere Rocks, is a picnic concert that was held at Highclere Castle Hampshire 4.pm – 11pm
Got to the gig about 4:30pm, its was FULL of people with tables set up with food all over them walking round in green wellingtons and barbour jackets drinking champagne and eating salmon and cucumber sandwiches! We didnt see any other fans at all! most of the crowd stayed back at thier tables and chairs in the fields surounding the stage I'd say there were only about 1500 people round the stage.About 6 feet from the stage to stop anyone charging it was a 3 foot highwhite wooden picket fence! I kid you not.
Roger and Nick came on at the same time after Clapton had done his 30 minute solo set, Roger wearing his trademark jeans, white shirt and blue blazer, however this time he had a long wool scarf wrapped ropund his neck, BRIGHT pink in colour.
They played WYWH and Comfy Numb, probably the worst versions of each I've ever heard but thats what you get with "house" bands! Clapton was fantastic on the last Comfy Numb solo, he just didnt go on long enough though.
Roger then came back on as the band started to play Bob Marleys "Get Up Stand Up", he walked over to the percussion stand and was offered a tambourine, he refused it and picked up a half empty beer can and a drumstick!!! He then proceeded run round the stage for the whole track banging the can to the music! the can wasn't mic'ed so you couldnt hear it but i dont think he was bothered one bit. As he kept hitting the can beer would fly out of the open end onto the stage! By the end of the track the can was crushed.He also came on with an acoustic and strummed along with Clapton to the track Cocaine.
Whilst it wasn't the best performance it was certainly entertaining and the 4 of us had an excellent day out.
Thanks to Simon Wimpenny
---
Acts booked included The Band Du Lac featuring Gary Brooker, Brian Ferry, Mike Rutherford, Andy Fairweather Low & Paul Carrack. With special guests Eric Clapton, Roger Waters, Georgie Fame, Nick Mason, joined by Brian Ferry.
The concert will benefit the Countryside Alliance. Roger has supported this organisation in the past and received much criticism from fans, as the Countryside Alliance is known to favour fox hunting.
The last time Roger performed at a Countryside Alliance event back in 2002 it drew fierce resistance from many of his fans. The Countryside Alliance are known to condone fox hunting, and Roger's agreeing to perform at the 'Whip Craic' show drew the ire of a large section of his fans. At that time, A Fleeting Glimpse conducted an online poll, that resulted in 81% of those who voted being opposed to Roger performing for the Alliance. The debate at that time was quite heated, so much so that Roger made a direct statement in response to the Fleeting Glimpse poll, and the opposition of many of his fans.
---
Roger Waters, Nick Mason, Eric Clapton ♫ Wish you were here (U.K. Highclere Castle, 2006)