The show was really good. At least as good as the show at Arrow Rock which I also attended. Arrow rock was an open venue with a much larger crowd. Ahoy is a hall which hold only 10.000 so overall a much better view and more intimate.
As it was exactly the same show as the rest of the tour there's not really much to add for a review. same set list, same films, the flying astronaut etc. etc. highlights certainly were Leaving Beirut, Sheep and of course DarkSide. Leaving Beirut seems a bit of a cheap emotional concept, but somehow it really works very well. At the end the crowd really gave it the biggest applause!
I also noticed that Leaving Beirut is the only song where Andy Fariweather Low got to play a solo. The rest of the show he was very much in the background doing his thing.
Roger seems to be having a lot fun on this tour and he certainly knows how to entertain the public with simple gestures. Walking to the side of the stage while mimicking the lyrics and waving and spreading his arms to the audience and mimicking the vocals. Works great!
As for merchandise, there are the obligatory (but some great!) T-shirts with new design of the DarkSideOfTheMoon prims (in purpel, pastel colours) but I especially like the tour book. It's wrapped in an LP sized sleeve (just like the old vinyl), also in the pastel purple, and contains all the lyrics of DarkSide, some great pictures (from very old up to live8) and and interesting interview with Roger on DarkSide. The only thing missing in the tour book is the usual overview of the dates and venues of this tour.
About the lip syncing, I can´t say it´s very obvious. If you didn´t know about it, you´d probably never had noticed. At least, after the Arrow Rock show I have had had yet another great evening; there´s nothing that can beat the atmosphere of a live show with a great performer as Roger.
Thanks to André Terhorst
---
Set List
FIRST HALF: In The Flesh, Mother, Set The Controls For the Heart Of The Sun, Shine On You Crazy Diamond, Have A Cigar, Wish You Were Here, Southampton Dock, The Fletcher Memorial Home, Perfect Sense parts 1 and 2, Leaving Beirut, Sheep.
SECOND HALF: Dark Side of the Moon.
ENCORE: The Happiest Days Of Our Lives, Another Brick In The Wall (Pt 2), Vera, Bring the Boys back Home, Comfortably Numb.
---
Thanks to Bert Stronks. Stacks more photos are on BERT'S SITE
Thanks to Martin Van Haften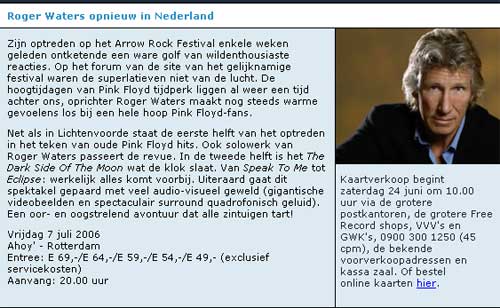 Roger last performed at this venue on 15 May 2002. You can read review of that show.
This date was originally set aside for the Premiere of Ca Ira in Poland. That will now take place on 25th August.