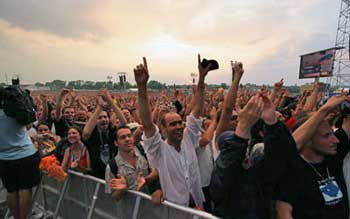 I was at the July 14 Roger Waters show and he once again delivered an over-the-top performance, Roger being in tip-top shape. Part 1 of the show with Laurent Voulzy was equally dynamic despite the on-and-off rain, which was completely gone by the time Roger and his band started.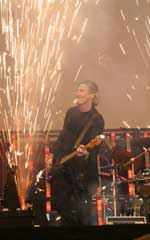 The playlist was similar to what he played in Hyde Park from a review I read, and the musis was loud, fine tuned and electric! The encore was Wall Pt 2, Bring the Boys Back and Comfortably Numb. Roger had the "Leaving Beirut" song in Part 1 of his show, a nice tribute to peace and a condemnation of the Iraq conflict.
Roger made a special mention to dedicate the show to Syd, as he had died just a few days before. "Which You Were Here" and Shine On were very emotionnal for all, but mostly for him.
The only low point was for the Magny-Cours organizers who completely screwed-up the parking access, and cars were stranded for hours on that tiny N7 road for miles, with several hundreds missing Voulzy. It took us 2 and a half hours to trickle only 5 km from Nevers to Magny-Cours, as they funnelled cars inside the Grand Prix venue. The FIA and Grand Prix organizers get a ZERO for logistics, and their only grace is for having booked Roger in the first place. It was also Bastille Day, making traffic worse.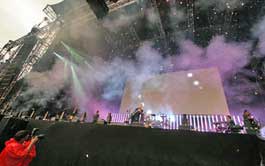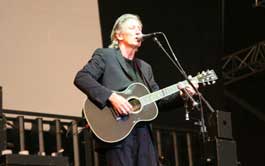 Above review and images thanks to Paul Marquis
---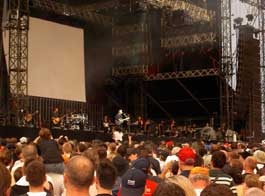 After Paris 1984 and Paris 2002, my third Roger's show with my "always rock n'roll" father Gérard in this warm French National Day. My father took me to my first concert at eleven years old (I'm 33 today) and the singer's name was… Roger Waters.
After the road, the traffic jam, the rain… the concert.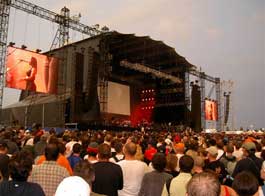 The band began the show at 21h20 and we had to run to find our places. Unfortunately, we have been very disappointed ! I think I was one of the first to buy the tickets and we had the worth seats (right/under). 166 EUR to see Roger playing on a screen : F*** ! The more expensive tickets I've never buy, before U2 and the Rolling Stones ! I think french promoters and FFSA just thought about MONEY and took Roger fan's for SHEEPS… But we change 3 times of seats to have the best conditions as possible.
And the concert ? Just a word : FANTASTIC. With certainly the best sound I' ve never heard in a concert. It was clear, strong but not too loud.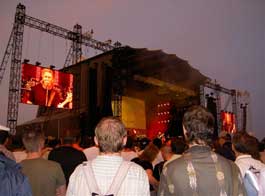 My favorite moments ? Sheep of course, On The Run & Time. Perfect sense, Have a cigar and Comfortably numb were excellent too. I think there have been a technical problem on Us & Them with Jon Carin's microphone. In my opinion 3 songs were not so intensive than the others : Mother, Leaving Beirut and Vera.
Like a lot of others Roger's fans we saw several times he was singing in playback… But Roger is Roger and we can excuse him 😉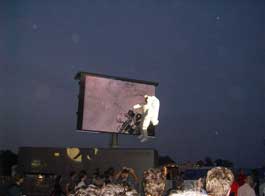 The band was perfect and the second part with Nick Mason and Graham Broad on the drums was exceptionnal.
In 2002, I thought it was my last Roger's show in Bercy but this 14th July finish this "tryptique" and give me the little hope to see him another last time (but not in Magny Cours !). But it will be certainly "la quadrature du cercle" like we say in french…
Thank you Roger and see you soon !
Review thanks to Benoit Nayrac
Images thanks to Kathy and Mike Sumsion
---
Set List
In The Flesh, Mother, Set The Controls For the Heart Of The Sun, Shine On You Crazy Diamond, Have A Cigar, Wish You Were Here, Southampton Dock, The Fletcher Memorial Home, Perfect Sense parts 1 and 2, Leaving Beirut, Sheep.
SECOND HALF: Dark Side of the Moon.
ENCORE: The Happiest Days Of Our Lives, Another Brick In The Wall (Pt 2), Vera, Bring the Boys back Home, Comfortably Numb.
---
Nick Mason is confirmed to play on Dark Side Of The Moon at this concert. Rick Wright was also invited along, but has had to decline as he will be starting on his new solo album as soon as he finishes touring with David Gilmour.
The show is scheduled for the Friday night, after the F1 practice sessions