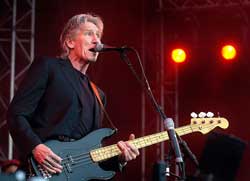 Christian L. Q sent these pictures in that were taken by himself and Kathrine Q. In an early report Christian said that it was an amazing concert, and that he was dead centre very close to the front. He said the turnout was about 23,500 people
Christian also added "And for the record; No sign of lipsynching at all. Even evidence of the opposite. This is not true on "Have a cigar", on this he might or might not have been synching, but I think not. The sound was great, loud enough, but not too loud and the crowd (from where I was standing) was great."
---
Set List
FIRST HALF: In The Flesh, Mother, Set The Controls For the Heart Of The Sun, Shine On You Crazy Diamond, Have A Cigar, Wish You Were Here, Southampton Dock, The Fletcher Memorial Home, Perfect Sense parts 1 and 2, Leaving Beirut, Sheep.
SECOND HALF: Dark Side of the Moon.
ENCORE: The Happiest Days Of Our Lives, Another Brick In The Wall (Pt 2), Vera, Bring the Boys back Home, Comfortably Numb.
---