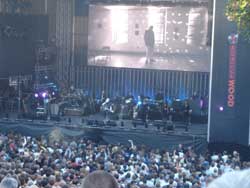 After seeing Roger in Oslo last night, I'm starting to think that there might be a lot more lip-synching than we want to believe… The man can't even talk without the voice cracking up on every second word, but when singing it sounds fine all the time.
It was still a nice show, but I hand it to whoever it was saying it was more like a very good Pink Floyd cover band.
Snowy was impressive though. He is so much better than on the last tour. The Spaceman was fun too
All in all a bit mediocre, and IMHO not even in the same league as Mr Gilmour's tour.
PS! Jon Carin is good, but maybe someone else should sing Us And Them? His voice just doesn't fit that song.
Thanks to Tor
---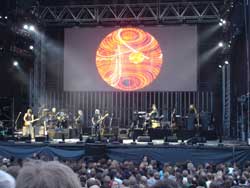 He obviously lip synched in Oslo last night as well on some songs. I couldn't stand see him lip synching 'Fletcher' , so I went to get more beer after 'Southampton Dock'. 'Fletcher Memorial Home' was like listening to 'Echoes' or 'TFC' version over the speakers. The entire 'Sheep' was lip synched as well. I was pretty far back when he did 'Have A Cigar' , so I couldn't see if he lip synched it or not, it sounded genuine though. Another bad thing was that it was totally bright outside, sun hadn't even gone down when the show started. There were no round Mr- Screen, or the "fire rings".
Highlights were the entire 'DSOTM' , 'Leaving Beirut' , 'Shine On…' (a tear came in the corner of my eye), 'Perfect Sense (pts.1&2)' (funny with the spaceman that wouldn't go up) & 'Comfortably Numb'. 'WYWH' was pretty decent as well, allthough I prefer it played in it's original way, like Gilmour & co does, and not the hybrid versions. It was pretty good after a few beers of anyway.
Really good show, but the one in 2002 was better, obviously because the only song he lip-synched then was the high part in 'Every Strangers Eyes'.
Thanks Joker
---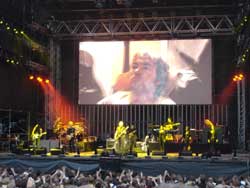 Set List
FIRST HALF: In The Flesh, Mother, Set The Controls For the Heart Of The Sun, Shine On You Crazy Diamond, Have A Cigar, Wish You Were Here, Southampton Dock, The Fletcher Memorial Home, Perfect Sense parts 1 and 2, Leaving Beirut, Sheep.
SECOND HALF: Dark Side of the Moon.
ENCORE: The Happiest Days Of Our Lives, Another Brick In The Wall (Pt 2), Vera, Bring The Boys Back Home, Comfortably Numb.
---
Thanks to Henning
Thanks to Snusmumeriken