All show pics thanks to Fujirich
I thoroughly enjoyed the show…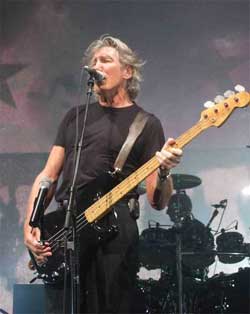 Setlist same as usual… Sound thoughout was really good… Shine On and the pictures of Syd brought tears to my eyes… there was some lip-synching: it didn't bother me in the slightest. Roger introduced Leaving Beirut, started off saying "now comes the controversial bit"… in my section the cheers significantly outnumbered the boos. Pig was awesome.
I was kind of surprised that they built Nick's drumkit from scratch during the intermission, rather than having it rise up, or roll in or something… was quite entertaining to watch the crowd of people involved in the process.
Before starting DSOTM Roger introduced Nick and they hugged front of stage before Nick took his seat. DSOTM was excellent, Kilminster was good, but I found his guitar sound a little too raw for my liking… I have to say I missed Gilmour a lot more during this performance than I did Waters when I saw the 1994 version.
Roger brought a bunch of kids on for Another Brick – think he said they were from the Boy Scouts. They were all dress in "Fear Builds Walls" T-shirts. They probably were singing the chorus, but I couldn't hear them over the Islington schoolkids from the tape.
And sorry, but I still maintain that doing Comfortably Numb without DG is just silly.
Review thanks to sysyphus
---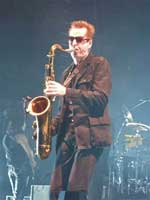 On night 2 of Roger's stint at MSG, my seats were stage right, as opposed to stage left on Tuesday night. It gave me an interesting contrast on sound and visuals.
Upon entering the arena, the video feed welcomed you once again with the old (circa WW II?) radio pumping out an interesting mix of tunes, with the arm entering the frame occasionally to have a sip of scotch, drop a cigarette ash, or to change the station (read: ABBA).
There were many late comers to this show, people were still taking their seats well into the first set.
As the band took the stage, it seemed the mix started off on a weak note, at least from my vantage point. The low end was considerably weaker, most noticeably on the drums, however it did improve as the set went on. I seemed to have a better sense of the quad system at this location, also.
Roger donned his usual black attire, however, to me he looked a bit fatigued, and he had a hint of a sunburn, I would assume aquired from activites out at his East Hampton playground… Also his voice was noticeably gruffer, and he kept putting his hands to his chest, as if to indicate a cold, or allergies, or what have you.
Katie Kissoon had a new hair look, I guess it was a wig, Aretha Franklin influenced, perhaps. On Tuesday she wore it long.
No mention of 9/11 this evening, but the crowd sang along to the chorus with as much earnest as Opening night.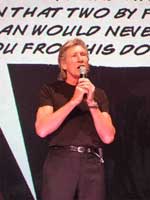 Notably, there were few, if any, boos this evening after "Leaving Beirut". This is Andy Fairweather- Lows time to shine, filling the otherwise bland song with some very crafty guitar work. The storyline of the tune is decent, conveying the "don't judge an entire nation of people by the action of a few" , but the repetitious melody and the lyrics lack the depth that Waters is otherwise capable of delivering. His contempt for President Bush is obvious here, as well as on the floating Pig : (IMPEACH BUSH is scrawled across it's ass).
The set remained the same, with the exception of Roger bringing out a group of 15 young boys from a New York club to sing along on Another Brick. Donning "Fear Builds Walls" shirts, their choreography was reminiscent of a gospel choir, with fists pumping the air during the chorus. Roger shook hands with all of them before they left the stage, to a kind round of applause.
The Dark Side set once again featured Roger's old friend and former bandmate Nick Mason , and they shared a warm embrace before the set began. Each song was performed well, the only notable slip was Roger singing the first line of "Brain Damage" a third time, but the band picked up on it and it passed almost without notice.
To sum up, I felt the opening show had a bit more energy overall, if that's at all possible. Saying that, this is a show not to be missed, maybe the last time we will see this historic epic performed in it's entireity by Mastermind himself.
On to Jones Beach on Friday night!
Review thanks to Casey Carney
---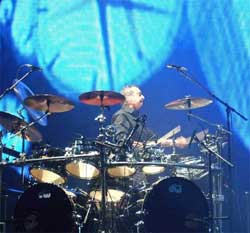 I had scored front row tickets right on the center aisle, and when first getting there thought it might be too close. With the stage at about 5 feet high, when seated in the first row you really can't see much of the stage. But once the show started, we found that leaning up on the rail gave us a great view without blocking that of anyone behind. I've sat close before, but never in the front row. I was initially worried about sound (we were actually in front of the speakers!), but it turned out to be no concern. Everything sounded great!
No need duplicating the reports on the set list. But the unique thing about being that close was to watch for all the interaction between the band during the show, all the expressions while they were playing, to see the satisfaction on their faces on their individual solos (when appropriate), or the result of a number being finished successfully. You really get a feel for how cool it must be to perform at that level and how much fun it must be when everyone has a good night.
Roger especially seemed to be in a terrific mood. His songs and lyrics may qualify him as the "gloomiest man in rock" – but he was anything but last night. He had big grins almost all night. He seemed totally into almost every tune; very animated with every lyric and every big lick on his bass. He really played to the crowd, constantly moving around all over the stage, looking directly at many people, frequently mouthing "thank you" for coming to the show. We definately had direct eye contact with him and shared a smile more than a few times. He may have a renowned history for some bad behavior with fans in the past, but last night he was genuinely thankful to the everyone for showing up and sharing a great night.
And a great night it was! If there were any technical gliches or lip-synching, it wasn't terribly obvious nor detracted from the show. I would have liked to see a little more time given to Snowy and Andy, as I think they can more than hold their own with anyone. Dave was a very capable frontman on guitar, but in some ways I like Snowy's smoother style – I just think it fits the Floyd tunes better. But that's just my $0.02 – your mileage may vary.
The real special and unexpected part of the evening were the boys coming out to help perform "Another Brick in the Wall". Roger positively doated on the kids as they lined up and got ready, helping with direction throughout the song. The kids couldn't have been cooler about the whole gig. Roger stood at the mike and sang during the lyrics, but moved aside and let the kids have the stage dance at other times. He had the biggest, sh!t-eating grin on his face throughout the whole tune. It was one of those things that could have been problematic – but came off beautifully.
Anyway – it was an amazing experience to be that close. Talk about sensory overload!
Review and all show pics thanks to Fujirich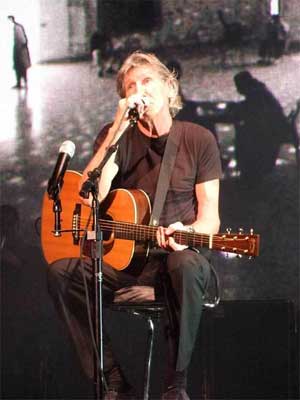 ---
AMAZING, AMAZING, AMAZING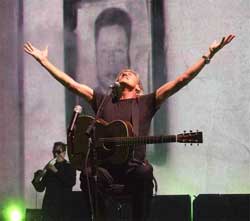 Best concert experience that I have had, hands down. You know the set-list- so there is no need to detail that…
Some thoughts- I was surprised that the concert started on time, I was walking to my seats around 8:13 and the show started (I was expecting the 8:20 time!) Oops- 🙂
I was in floor seats in section 6 and the sound was amazing, as were the visual effects. I was a little nervous at first because the crowd didn't seem as excited as I was…..but that did change.
People sat down, as they often do, during Leaving Beirut and other songs they didn't know towards the end of the 1st set in my section. But, they were still interested.
I did not hear one boo from anyone around me during the "controversial" parts of the show. I heard many cheers. (including myself!)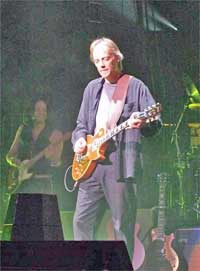 I find it laughable that people are "bitching" about the political nature of some of the songs. Distrust of authority, specifically government, is a prevalent theme of both Roger's solo work, and Pink Floyds. Hello?!?!
And the talk about being offended that Roger would diss US politics so close to the 9/11 anniversary is also laughable– go ahead, be offended, but please try and sit down to read the history books (or the news)……..I am not even going to waste my time in addressing that one…
Please people, stay home (or go see Justin Timberlake or something…) so there are more seats for the rest of us!!!! Ok, now stepping down from the soap box….
Roger Waters is a creative genius……and the band sounded great.
DSOTH was absolutely stunning. I was in awe……. Although it would have obviously been great with Gilmour— it fulfilled all my wishes and so much more. The crowd was going insane– way more lively then the first set.
The encores were also amazing……everyone singing and enjoying the experience.
They also did an amazing job with the sound- I have been too many concerts at MSG and this was tops as far as sound quality.
A++++++++++++
Review thanks to Leah
---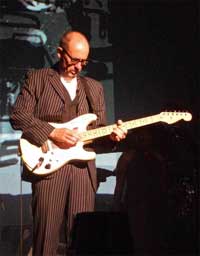 I've seen lots of concerts, and have loved Pink Floyd since high school (1970's!) but Wednesday night was my first Pink Floyd related show.
I don't have much to add to what's already been written, just to say that this was one of the very best concerts I've ever been to, and definitely the best sound quality I've ever experienced.
I thought the 1st set a little laid back, even with a rocker like "Have a Cigar." The opener, "In the Flesh," was awesome, and while the rest of the 1st set was undeniably good, something was missing. I can't really put my finger on it, I thought maybe one had to be high on pot to appreciate it more.
I'm glad I was forewarned, by reading the other reviews, about "Leaving Beriut." I enjoyed this song very much, but not so sure I would have if I wasn't prepared for it.
The second set, however, was a different story. The intensity level soared, and it was amazing. DSOTM was done so perfectly that in some spots I started to feel tears well up in my eyes. It WAS Pink Floyd. (During "Money" I remarked that I missed David Gilmour's presence, and I felt his absence on one other occasion, can't remember, but other than that, it WAS Pink Floyd! To me, anyway)
Did it go by fast! I remarked that it reminded me of the old days when an album couldn't be more than around 40 minutes long, because it was on vinyl (DSOTM is 43 min, I think). "Another Brick in the Wall Pt. 2" was fantastic, accompanied by a boys choir, and they did a great job, they were well rehearsed, and their presence fit with the lyrics, of course. "Comfortably Numb" was great as well. I can't believe how great the sound quality was, especially considering we were in a huge arena. It's the best I've ever experienced.
Review thanks to Jed Gelber
---
New York Post Review MAN AND 'MOON' PUT N.Y.C. BACK IN THE PINK
By DAN AQUILANTE
ROCK REVIEW:
ROGER WATERS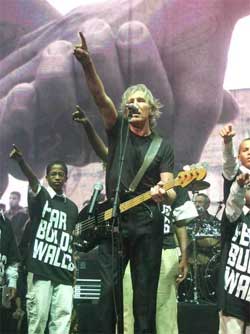 IT'S been more than 20 years since "Dark Side of the Moon" has been performed live in New York, but at the first of two Madison Square Garden concerts Tuesday, former Pink Floyd star Roger Waters brought the legendary album to life in a spectacular production.
The bassist and co-founder of the iconic psychedelic British band offered the classic 1973 album (which has been on and off – mostly on – the Billboard charts ever since) in its entirety – the whole second half of the three-hour performance.
The surprise was not the video, lighting and special effects that folded into the music with rehearsed precision – that's always been Pink Floyd's concert signature. Rather, it was how well "Dark Side" and other PF hits have stood the test of time.
Waters' antiwar songs are still relevant today, and "Dark Side" 's underlying theme to challenge authority was enthusiastically embraced by the sold-out crowd.
There was no soapbox preaching by Waters, yet he made his points very clear: Roger Waters doesn't like President Bush.
The video accompaniment to "The Fletcher Memorial Home" featured Bush's photo alongside a rogues' gallery of the world's most notorious tyrants and dictators. A truck-size flying pig blimp that floated in the Garden sported graffiti such as "Impeach Bush Now" on the swine's rump and "Fear Builds Walls" on its flank.
Whether you agreed with his politics (some cheered, others screamed "F – – – you" and booed), Waters' music was certainly provocative and challenged the intergenerational audience. The intellectual interplay between the man and his fans was the stuff most artists would die for.
Waters' voice was good, but it isn't what it was when "Dark Side" was pressed in vinyl. He sang best when he was working the bottom with his bass guitar in hand. He was less at ease vocally when he accompanied himself on an acoustic 12-string guitar, as he did on "Mother."
Still, Waters, who quit Pink Floyd 25 years ago, proved he hasn't lost the Floydian concert aesthetic, from the quality of the performance to musicianship to special effects at this historic staging of "Dark Side of the Moon."
dan.aquilante@nypost.com
---
Set List
FIRST HALF: In The Flesh, Mother, Set The Controls For the Heart Of The Sun, Shine On You Crazy Diamond, Have A Cigar, Wish You Were Here, Southampton Dock, The Fletcher Memorial Home, Perfect Sense parts 1 and 2, Leaving Beirut, Sheep.
SECOND HALF: Dark Side of the Moon.
ENCORE: The Happiest Days Of Our Lives, Another Brick In The Wall (Pt 2), Vera, Bring the Boys back Home, Comfortably Numb.
---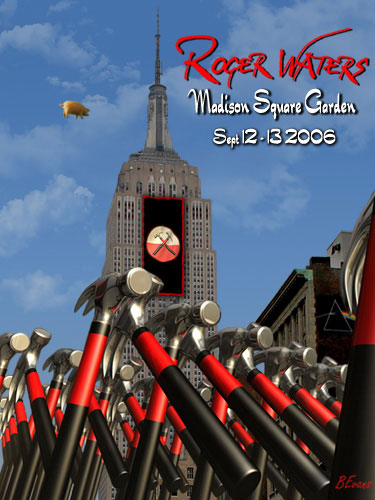 Wallpaper! Our graphic artist Bill Evans has come up with this absolutely brilliant wallpaper for Roger's MSG shows. To really give your computer a great new look, click on the above image, and when you are presented with the larger image, simply right mouse click and 'Set As Background'
---
Nick Mason is confirmed to play on Dark Side Of The Moon at this concert.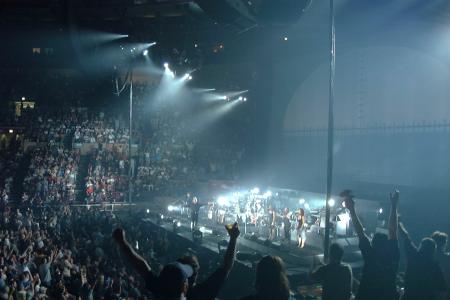 Roger at MSG in 2000
You can read reviews of those shows and see more cracking pictures HERE | HERE