All graphics (except where stated) thanks to Alex in Moscow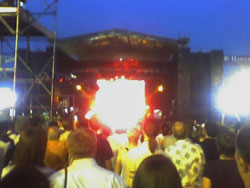 It was unforgettable night, The only disappointing thing was the audience. Not only they didn't sing, they didn't let me to sing asking me to shut up, because they paid much money for tickets.
Though I had a rather cheap ticket (3000 roubles = 100 euros), I sat at 12000 roubles seat and on the second half on 25000 rouble seat, which was 10 meters to stage (I could see strings on his bass).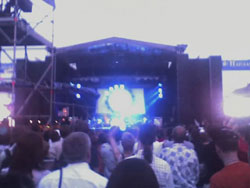 The standing crowd was not in front of stage, but on the left, so Roger often went to the left, so they could see him better. "What are you doing over there?"- he asked after "Mother". On "Breathe" he took off the stage (!) and went to the crowd, playing bass, which was the most unpredictable thing during this show. I ran towards him. But for security I could touch his bass.
Well, music was at the top. It was nice to see Roger singing on "Us and them". When he returned for encore, the crowd finally went wild, and everyone sang "Another brick in the wall". Snowy extended his guitar solo here.
Sadly he didn't speak Russian at all, but was very talkative in English 🙂 , unlike on the other shows I heard from this tour.
Thanks to Leonid Gourov
---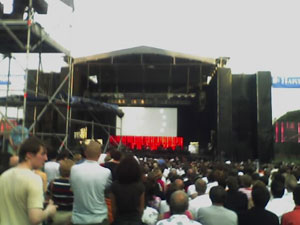 Set List
FIRST HALF: In The Flesh, Mother, Set The Controls For the Heart Of The Sun, Shine On You Crazy Diamond, Have A Cigar, Wish You Were Here, Southampton Dock, The Fletcher Memorial Home, Perfect Sense parts 1 and 2, Leaving Beirut, Sheep.
SECOND HALF: Dark Side of the Moon.
ENCORE: The Happiest Days Of Our Lives, Another Brick In The Wall (Pt 2), Vera, Bring the Boys back Home, Comfortably Numb.
---
Thanks to Pavel V. Samorukov
This show was originally scheduled to take place in Red Square (See pic above & at top). Due to an official Kremlin ceremony on that day, the show has been moved .
2 hours before the show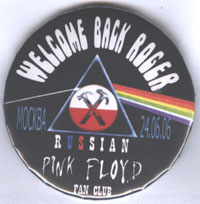 Roger at his press conference in Moscow on 23 June
Taken on the 21st & 23rd June
The stage is set (well almost!) Taken by Evgeny (aka darkside) on 20 June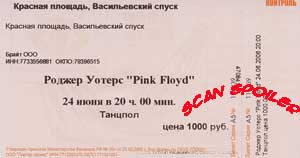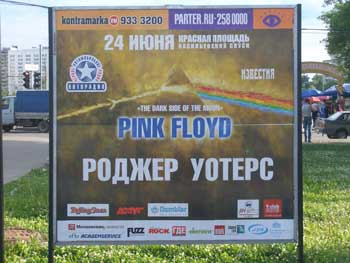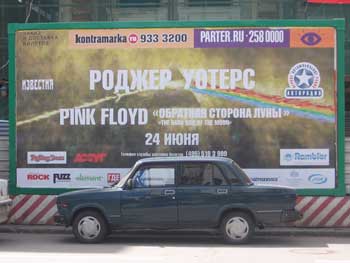 The last time Roger performed in Russia in 2002, he played at the Olimpiski Arena. Be sure to check out the show reviews and a bunch of pictures at our 2002 Russian Tour Room
---
MEDIA