Tonight was a good show, although it was marred by several glitches. For starters, Snowy made a few rather obvious mistakes during guitar solos. I suppose many people might not have noticed this, but being a bit of a player they stuck right out to me. Second, Roger's mic was apparently not turned on until after the first bit of a verse (after "you're going to go far!"). To make matters worse, Roger's acoustic guitar pickup malfunctioned at the beginning of Southhampton Dock. A tech came on stage and fiddled with the guitar while Roger was trying to play it (it was emitting loud cracks like someone was hitting a mic). Roger stopped playing once the rest of the band had joined in, and pretty much gave up playing guitar for the song. Then, during Sheep the fire system went a little crazy again. The left side didn't successfully fire once I think. The right side did about 50% of the times it should have. Even the fire jets on stage seemed to have a few mis-fires. And finally, during Nick's drum solo intro to Time, the one of the microphones was messing up again and instead of drums we heard loud cracks which were clearly a problem.
The pig, under threat of arrests once again, did not fly into the sky tonight. Despite the glitches I had a very good time. I must say that sitting much further back from the previous nights, the surround speakers were overpowering at times. Also, the sound mix of Dave's lead guitar seemed to be significantly higher, as I reached for ear protection during a few of the solos whereas Thursday and Friday there was no problem. The crowd seemed to have a good time, and there was a ton of people smoking joints and tobacco. Everyone cheered when Roger said "There's one smoking a joint!"
I must say that the young lady singing in the Great Gig in the Sky was phenomenal all three nights and got huge cheers from everyone. Also I really enjoyed Andy Fairweather Low's parts in Leaving Beirut, and he does a great job on the rhythm section of Have a Cigar.
I'm glad I got to see Roger and Nick for three nights, and David and Richard for two nights. That's 2.5 Pink Floyds if one Pink Floyd is the classic lineup. That's a hell of a year for a Floyd fan like myself!
Review thanks to Kurt Lawson (Special thanks to Kurt who has provided reviews & pictures for all three nights at the Bowl)
---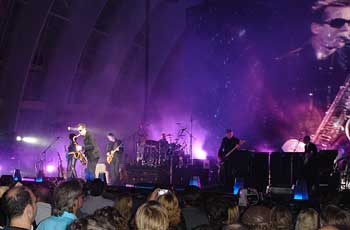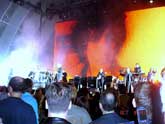 Ok, third show of the tour at this venue and I was expecting a tired band with a dull crowd because of all the reviews I had read. On the contrary, it was a good show and the crowd was cordial and up on their feet for the encores. Other than the technical things you've already read about the show was very well orchestrated. I loved the solos of all of the band members, especially Carol Kenyon's Great Gig in the Sky. Ian Ritchie was fantastic and Dave Kilminster was surprising as I have the 'In The Flesh' DVD and expected less. At times it seemed, from my seats, that his guitar solos weren't loud enough though. I couldn't tell what the clicking noises throughout the show were from but I didn't let it get to me as I was 6 rows back at the Hollywood Bowl and hearing the music I love with a passion played to perfection by this fantastic set of musicians. When sitting so close you don't see all of the visuals that were available so you miss out on some things but the expressions of each of the band members was great to experience, they really look as if they have found their calling and were having an absolute blast playing. The only glitches seemed technical as the performances were spot on. As for lip synching … well, maybe in Sheep, but I didn't really care, it sounded great from the band. When Roger spoke he did sound a bit horse.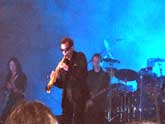 My personal favorite performance that night was Leaving Beruit. I can't believe the passion that Roger put to it. I don't share his political feelings completely but I respect his freedom of speech enough to listen intently. I also loved when the butcher went by and 'high fived' my friends on the edge of the pool. And a note, I felt the guy on the screen who was kicked back, smoking, during 'Comfortably Numb', looked like a young David Gilmour … interesting ….and during that song some 'idiot' jumped up on to the stage and threw both arms up and yelled 'Yeah!' then jumped down. He was right in front of us so we all helped grab him for security. No one let him ruin their night though.
The only real downer about the night was not getting to use the back stage passes I had after the show. We followed my contact's advice to get there and were at the gate where we had to be but they only let the 'movie star' Rosanna Arquette and her friends in. We had the same passes !!! What the f*#k! It just show's that it's who you are and not who you know. Oh well, another time … the show was still fantastic in my eyes and ears and I get to see it all again in two days!
Review and pictures above thanks to Gina
---
Set List
FIRST HALF: In The Flesh, Mother, Set The Controls For the Heart Of The Sun, Shine On You Crazy Diamond, Have A Cigar, Wish You Were Here, Southampton Dock, The Fletcher Memorial Home, Perfect Sense parts 1 and 2, Leaving Beirut, Sheep.
SECOND HALF: Dark Side of the Moon.
ENCORE: The Happiest Days Of Our Lives, Another Brick In The Wall (Pt 2), Vera, Bring the Boys back Home, Comfortably Numb.
---
Pre Show
Nick Mason is confirmed to play on Dark Side Of The Moon at this concert.
This concert was originally scheduled to be held in Las Vegas.