The show was good! The extra treats were bubbles for Set The Controls and a few other songs. They blew from the top of the stage and bubbled out to the crown and floor not to much though. Also a inflatable lite up pig was walked around which really looked pretty cool.
As for lip syncing I only notice during Have A Cigar where Rogers voice was booming and he hardly moved his mouth. But he did a great job on singing. Also a track tape started to run before Money and I think it was the band as a group or Rogers voice but the tape sang the word Money and no one was singing it, it was clearly a tape of some kind maybe for extra back up.
As for the screens the show was changed and the Syd part was a bit blurry I liked the European screen show more then the new changes. After Leaving Beirut the crowd Booed because of the Bush reference, lol. I clapped. 🙂
The highlight was PP Arnold's solo WOW it was amazing!
Thanks to Robin
Thanks to Robin
We just returned from the Roger Waters concert at PNC in NJ.
The show was terrific with many highlights including: Set The Controls…., Have a Cigar, Shine On…Sheep…DSOM…Another Brick…
The crowd reaction to the song Leaving Beirut was interesting. I don't know how the fans in other nations reacted, but there was a mixed reaction in NJ. I would say the majority of us clapped and agree with Roger's stand on issues such as the Iraq war, but there was a percentage of the crowd who made their disagreement known by booing the song and then chanting USA USA. I was glad to see that after the different emotions were expressed, we just got back into the show (free to express our differences, no hard feelings). I personally enjoyed how this was followed up by Sheep.
I am going back to see Roger again in NYC next week. It will be interesting to see the reaction to the Leaving Beirut as MSG.
Thanks to Bob Evans
---
I would first point out that he led into "Another Brick In the Wall, Part 2" with "The Happiest Days of Our Lives" in the encore. And on the booing after "Leaving Beirut," yes there was some, but for the most part when Roger was protesting the actions of the United States and British governments (for example, shaking his head and mouthing "No fucking way" after the lyric, "Mother should I trust the government?" from "Mother") there was cheering.
I think the places he chose to do shows (northeast, west) are mostly pretty liberal, although his shows in the midwest and the south (Virginia, although it will probably be mostly a DC crowd) might prove interesting in this regard.
Also of note: September 6th was Roger's birthday, which he acknowledged by saying, "It's a pretty good way to spend my birthday." The inflatable pig that came out during "Sheep" somehow got away from the handlers when they brought it out into the law section and it flew away into the night sky. At the end of the encore, Roger asked, "Now where the Hell has my pig gone?"
I'd also like to point out that the venue was positively mobbed. It took forever to get from the highway to the parking lots and I heard several people comment that they've never seen the place so crowded.
Overall, it was a great show.
Thanks to Aaron Katz
---
The Pig flew away! Don't know what happened, (neither did Roger apparently) but somehow the inflatable pig got loose from it's handlers and was last seen floating off into the sky heading towards the almost full moon.
It was an amazing sight, and a pretty intense send off for Roger's birthday. At the end of the show he made a comment … "What happened to my f**king Pig?!" I think he was just as amazed as the rest of us. But it was a great show, and he looked truly happy to be there.
The Beirut song was awesome, and Bring the Boys Back Home made me cry. Thank you Roger. It's too bad there were people who booed the song, but freedom of expression is what this country is supposed to be about, and as the other reviewer wrote, people quickly got back into the show and the music. I was taken over by Mr. Waters' compassion, sensitivity and artistry and would urge anyone who hasn't seen a show on this tour to go.
Thank to Irene Nowakowski
---
Just a note from the lawn of the 9/6 PNC show. the pig made it to the top of the lawn and flew off. a spotlight was on it for a good 10 minutes before it disappeared to the DSOM. i don't think the escape was planned. roger commented about the "loss of (his) f*@#ing pig" at the end of the encore. we work in the holmdel area, so we're still waiting for news of its touchdown.
Thanks to Marty Joyce
---
"What did you do with my fucking pig?"
I was front row center at Roger Waters's 63rd birthday party last night (September 6th) at the PNC Bank Arts Center. Wow what an amazing evening!!!
The set list was the same as the European Tour but there was a couple of little surprises.
I have to say being that close to Roger was unbelievable. He was in excellent form and the sound was amazing, crystal clear! I am amazed at the energy that man has for his age. I didn't notice any lip-syncing at all. Roger was only a few yards away from me! A previous review noted that there was a voice playback in the beginning of Money, untrue. PP started singing a little early.
Every song was a highlight for me even Money and Another brick kicked ass!
I was bombarded with bubbles during set the controls and shine on being right next to the bubble machine!
Then comes Leaving Beirut, many booed after this song. A guy behind me started yelling at the stage and called Roger an asshole because "our boys are dying over there" but my friends out on the lawn said that it was well received. So it just sounded like a lot more people then it really was. I don't understand the American mentality, completely uninformed and propagandized. This administration and the Christian right have hijacked our country from us and these people support them. Are you nuts? Where are our jobs going? India? These guys don't give a shit about us! At least Roger does. I don't like GW, never did! Don't you dare tell me that Roger doesn't care about our boys because he opposes GW and the war. He wants them home with their families. Now that's somebody who cares! Everything that GW touches turns to shit. If people left the show because of this song, it was only a few.
Sorry about that. Now on to sheep…
It took a minute for things to settle down. During the Lord's Prayer, I noticed people turning around and Wow! The Pig!
A guy dressed up as a butcher, complete with knives, was walking around with the Pig attached to him. Then, according to my friends on the lawn, the pig was sent to the moon!
Great Set!
The second set was Dark side performed perfectly. I was a little disappointed that Roger was only going out to the left and right edge of the stage all night. Then during Comfortably numb, Roger comes out to the edge of the stage directly in front of me and sings the last verse of the song. I am stunned!!!
Before leaving the stage he points at the lawn and says
"What did you do with my fucking pig?"
Thanks to kaosradio
---
We got there around 2:30 & set up the grill and all. Talked to a few people who had been there since 11AM – they had not heard any soundcheck. We took turns going back and forth up to the gate to see if we heard anything, but gave up around 4:30. If he soundchecked, it must've been really quiet.
Now, I've made pretty clear what I thought of the audience at Gilmour's show. So the first thing I was trying to gauge in the lot was what kind of people we had there. I walked around and spoke to quite a few people. Most everyone was very cool and looked to resemble the crowd I remember from 1999 – very into the music, including his solo work, and just seemed to be good people. Talked to a few people who share on Dime as well. I was really hoping to find a taper but couldn't find anyone who was.
Now, I knew this wouldn't last long. Around 6:00-6:30 is when the "other" crowd shows up. I say the "other" crowd because you could tell the vibe was starting to change. Suddenly, I saw: a) lots of people wearing what looked like expensive designer clothes or business suits and had cell phones or Bluetooth headsets glued to their heads, or b) people pulling up in large SUVs blaring Kanye West and acting like they were at a Limp Bizkit show. With one group of people I spoke to, Sheep came up in the conversation. A dude in the group said (seriously) that he never heard of it, and asked if it was recorded after The Division Bell. I looked at my friend Matt, who had to walk away because his jaw literally hit the floor. I hoped this was an isolated case…nope.
Anyway, those experiences didn't ruin the day for me. Weather held up, good food & alcohol, and met some good people. We head in around 7:40. I grab a program book (VERY NICE, by the way – it's in an album-like sleeve). They had some really nice looking shirts, but my cash flow was limited. We hit our seats about 7:50. The seats are practically empty. At this point, we're saying "we're sneaking down in front!" No chance – the PNC "SWAT Team" are in full force, adding yet another buzzkill to the day. We find out later what we figured to begin with – scalpers bought up the auction seats, and most of them just ended up not selling them because they couldn't make a profit. Thanks again Ticketmaster, looking out for your customers again.
Around 8:15, the place starts to fill up. At 8:25, the backdrop movie begins playing. If you haven't heard about it, you will dig it – it's a nice intro to the show. It's a Wall throwback, but in a good way. The Man hits the stage around 8:35 (8PM SHARP, eh??). I went in assuming that the setlist wouldn't change so my disappointment wasn't too great. The sound was crystal clear and the band was tight. Set The Controls was excellent, but this is where people started walking out. I guess they never heard of it. Those same people came back for the WYWH material, but as soon as he started the Final Cut stuff, there was a mass exodus. Say what you want, but I was stunned. How the f*** do you walk away from Fletcher Memorial Home? He did Southampton Dock as it was on the album, and it was beautiful. Perfect Sense was absolutely intense, I'd almost say it was the highlight of the night.
Leaving Beirut – most of the accounts of what happened are actually inaccurate, at least from where I sat. Rog said a little something about the war before the song that seemed to stir a few people. He did the song (which was very good, really). When it was over, the cheering/booing mix was about 70/30. Whoever was booing was eventually drowned out. I heard ONE guy trying to start a USA, USA chant, but no one joined him. I didn't understand – the song is anti-war, not anti-America. No one booed when he bashed Tony Blair in the song. The reaction didn't seem to bother him at all – in fact, knowing Rog, he probably liked the reaction. 😉
Sheep was un-f***ing-believable. THE PIG!!! It flew right over our heads! If you told me that half the people didn't know the song, I wouldn't believe you. But I saw it with my own eyes – very few people cared in my section. He took a 15-minute break. I have to say he didn't talk to the audience much at all. A note about the whole lip-synching thing…his face was up on the screen for much of the night. I watched closely many times to see if I noticed anything. Since everyone's account is apparently different now, I'm not 100% sure they're seeing what they think they are (or if I am, for that matter). Fletcher and HAC…definitely at least for sections of them, but beyond that, I can't say that I saw anything suspicious, and being a musician for as long as I have, I'd like to think I can tell.
DSOTM – It was thoroughly enjoyable, and LOUD. Much louder than the first set. The quad setup was nice. Sound effects bounced all over the place, the backdrop films were nice. Did he pay DG to use the original Time backdrop?? Money had the backdrop from Live8 with the spinning record. Us and Them was absolutely beautiful. Great Gig in the Sky was nailed perfectly. All I said to myself at the end was – it was incredible, but for me, I wish he did Animals or TFC instead. For the message he was putting forth with these shows, they would have been far more relevant. Most interesting part was – suddenly, the seats were more packed for the second set than the first. But why be surprised about that now…
He came back out for his encore rather quickly. ABITW2 was…ABITW2. Vera was really, really nice, and I was surprised how many people sang along to it. In the most puzzling aspect of the night, the end of Bring the Boys Back Home was also met with some boos. I don't know why, but if you're booing the sentiment of wanting the troops coming home…well, I have nothing to say. The evening ended with CN – but of course, most people started heading to their cars around when Vera started. As he said goodbye, Rog says "Hey, what did you do with my f***ing pig!!!" Priceless. A terrific evening, but it's an example of how a crowd can nearly deflate the whole experience, as they did at DG's show. I will say that overall I enjoyed the 1999 show more – better setlist and better crowd.
Thanks to Norm Verdolina
---
Set List
FIRST HALF: In The Flesh, Mother, Set The Controls For the Heart Of The Sun, Shine On You Crazy Diamond, Have A Cigar, Wish You Were Here, Southampton Dock, The Fletcher Memorial Home, Perfect Sense parts 1 and 2, Leaving Beirut, Sheep.
SECOND HALF: Dark Side of the Moon.
ENCORE: The Happiest Days Of Our Lives, Another Brick In The Wall (Pt 2), Vera, Bring the Boys back Home, Comfortably Numb.
---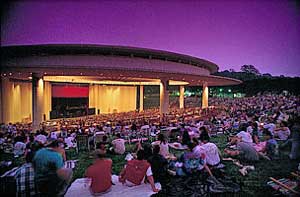 An open-air venue tucked into grassy Telegraph Hill that is specially designed for live concerts. The center has a capacity for 17,500 guests in the ampitheatre, 7,000 in the open-air pavilion and an additional 10,500 on the surrounding lawn.
---