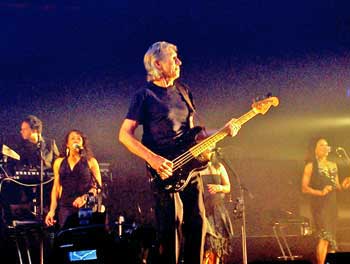 I thought it was very good even with the (very obvious) lip-synching at times, and to try to call it technical assistance would be ridiculous. It did not bother me as much as i thought it would, as i guess going into the show knowing it was going to happen cushioned the blow.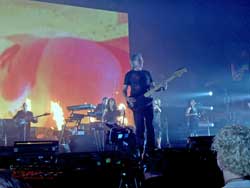 What was really disappointing is no Nick Mason who was supposed to play. his interview on Thursday verified he was playing and the other rock station that was broadcasting from the venue up until the show began said come see 2 Pink Floyd members perform. Puzzling????? My other disappointment was no lasers, even though i knew that going in.
A couple of my friends asked me if he was LSing and a few seemed to be unaware or oblivious to it. Like i said above, it was great to see the creative genius. My 4 friends that also saw Roger on the ITF tour agreed with me that last nights show was not as good musically, but had much more to offer visually.
Review thanks to Mikek
---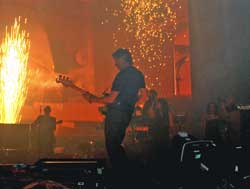 The show was great but I definitely noticed some lip-synching. After all he is 63 years old and that is to be expected.
But the visuals were good and I the band played well.
The highlight of the show for me was hearing Fletcher Memorial home. I love that song and they jammed it. It's good to hear things other than the typical PF song.
During his solo stuff you could tell people would sit down or go get another drink. That just gave me a better view of the stage!
The wife and I had a great time and the show did not disappoint.
Review thanks to Madcap
---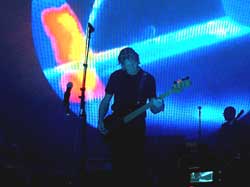 Hey went to the Palace of Auburn Hills last night !!! what a show …what a venue.
Great great times! Roger came out at 7:45 pm and the show started. He opened up with one of the best renditions of in the flesh i have ever heard.
Roger was in Terrific form and was smiling all night long…He really enjoyed himself, as did the crowd.
The audience was very loud when they should have been and very quiet during the more intimate songs like mother , southampton dock etc…
The setlist remained the same as every other show.
I can't speak highly enough about the talented musicians he has with him on this tour. Dave Kilminster totally rocked! He gets so much into the music and sounds SUPERB especially in Have a cigar, Sheep and Any colour you like! WOW.
The ladies all looked and sang very well…They all get a chance to show off there vocals. NICEY NICE!
Darkside went way to quickly and after 2 hours and 40 mins it was OVER.. ..
GET TO SEE ROG TOMORROW NIGHT IN TORONTO>>> only downside to the Detroit show was no Nick Mason…especially after he said on the radio he would be playing with ROGER but nevertheless the show went on and went very well.
Review thanks to Chris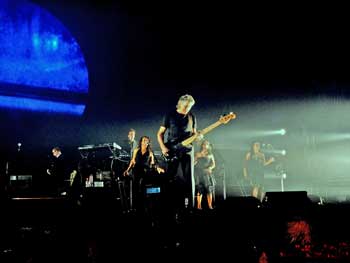 ---
All above show pictures are thanks to Matt Alford (aka Deejay 'TEMPTED' from radiokaos.com) You should check out the WEBSITE for more great pictures!
---
Set List
FIRST HALF: In The Flesh, Mother, Set The Controls For the Heart Of The Sun, Shine On You Crazy Diamond, Have A Cigar, Wish You Were Here, Southampton Dock, The Fletcher Memorial Home, Perfect Sense parts 1 and 2, Leaving Beirut, Sheep.
SECOND HALF: Dark Side of the Moon.
ENCORE: The Happiest Days Of Our Lives, Another Brick In The Wall (Pt 2), Vera, Bring the Boys back Home, Comfortably Numb.