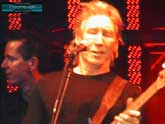 Despite the fact that the only Swiss show on this tour was in Locarno – resulting in an four hour car trip – it was without any question that I will not miss this show. After this 4 hour ride by car we made a quick hotel check in and headed for a restaurant for dinner.
We entered the venue one hour before the beginning of the show and headed for some good places to watch AND hear the show. The Gig started exactly at 8.30 with "In the Flesh". It was not quite dark at that time so the first few on-stage-films were not clearly visible. This was a pity especially during "Set the controls" showing pictures of the early Floyds. But in facts it's not the films that count but the Music. And the Sound quality was extraordinary.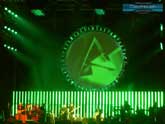 Not only Snowy White und Andy Fairweather Low were in a fantastic mood, but also "Dave 'The Killer' Kilminster" – of which I didn't know what to expect from him – did a perfect job on stage. Backstage he again paid tribute to his nickname, as he accidentally bumped into Ian Ritchies Sax. Here is what Ian wrote in his personal Blog:
"On the way to the stage Dave ( The Killer ) Kilminster accidently bumped into my saxophone and bent the octave key out of alignment. Luckily I noticed this before my solo on 'Shine' and swapped my trusty 1950's Selmer Super Action for my equally trusty 1962 Selmer Mk VI. Dave lives up to his name and is now a saxophone killer as well as the bane of the guitaring community ( Snowy )!"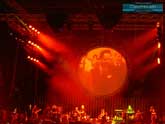 After "Set the controls" that had already sent my mind back into the early Floyd years they played "Shine on". For all of us, this was a very emotional moment as Syd died the week before. Especially with the pictures of "young Sid" that were displayed onstage. This was our personal farewell to Syd, well knowing that his mind is free now, and that he is now going to Shine- and Rock on in Heaven with all the other great Musicians that have already left us.
After a fantastic performance of "Have a Cigar" Roger shortly mentioned Syd and that the next Song is dedicated to him followed by "Wish you were here". But my personal emotions were heavily more intensive during "Shine on" than during "Wish you were here".
Until the first break, one great song followed the other, mainly "The Fletcher Memorial Home", "Perfect Sense" as well as "Leaving Beirut".
After the break it was time for the "Dark Side of the moon". Another fantastic performance in it's entirety whereof I most enjoyed "On the Run" und "Any Colour you like".
After "Dark Side" we were getting an heavy "The Wall"-Feeling during the encores especially for the audiences-highlight "Another Brick in the Wall Pt2". But my personal highlight was without any question "Bring the Boys back Home".
Unfortunately, Nick Mason did not show up at this gig, I suppose he stayed at Magny-Cours for the rest of the Weekend, but Graham Broad is a very fantastic drummer too.
The location, in the city centre of Locarno, was very special. Surrounded by buildings with balconies and those privileged people that had a seat on those balconies. I suppose this special location was the reason for not using any pyros during the show as seen on other pictures of the same Tour-leg. I know, it is all about the music an not the films or pyros, but well timed explosions with smoke and fire always provide another special kick -> He fires one, yes there goes two, both fish are running, the rig is going into a prevent defense, will they make it, I don't think so…
Best wishes from Switzerland, until next time when "we'll see you on the dark side of the moon"…
Above review & images are thanks to Oschti
There's more on THIS SITE plus a review in German
---
Set List
In The Flesh, Mother, Set The Controls For the Heart Of The Sun, Shine On You Crazy Diamond, Have A Cigar, Wish You Were Here, Southampton Dock, The Fletcher Memorial Home, Perfect Sense parts 1 and 2, Leaving Beirut, Sheep.
SECOND HALF: Dark Side of the Moon.
ENCORE: The Happiest Days Of Our Lives, Another Brick In The Wall (Pt 2), Vera, Bring the Boys back Home, Comfortably Numb.
---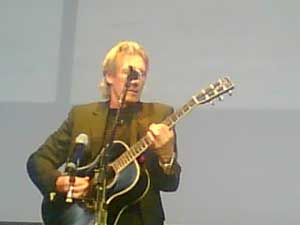 My son Marco & I were right up front of the stage, only about 2 meters away. Roger was fantastic…laughing …dancing…the show was extremely good… I' m really in another world again… We even see got to see the sound check and we're over the moon…
Above pictures & comments thanks to our dear friend Bibi Goumaz
---
These shots are from the sound check with thanks to Stanley Maumary  many more on his site
---
I think Roger was overwhelmed by the audience. He said something like "Thanks so so much, you were a great audience and it was a pleasure to be here" after that there was a loud applause and screaming, then he wanted to prevent the applause and said "No, no, really" (sounds a little bit weird but you'll have to be there to know what I mean) "I see you in the back in there" (he pointed with his fingers to some guys who had a huge banner with "Thank you Roger" and others with "Shine On" etc.) I think he was near to tears that evening…
Comments and above pictures thanks to Michael Hofstetter
---
The images above were taken at the soundcheck. The one in the middle was taken when photo contributor Marcel and daughter Marlies ter Ellen, caught up with Jon Carin.
---