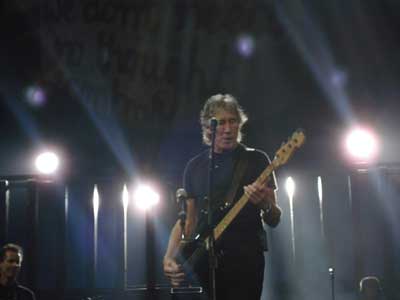 It took a while for me write down about what I felt in the Istanbul concert.
I was there at Kurucesme Arena with two of my friends two hours earlier before the concert, to be able to have a good place for viewing the stage best, with a bit of embarrassment if we are seen by our students as the three respectable elderly lady professors of the university.
I will be 47 next Sunday. I was 15 when I first heard the tunes of The Dark Side of the Moon, at the first year of high school in 1974, and I was totally fascinated what I heard, and since than there became no one single day I did not listen the incredible sound of Pink Floyd.
The Arena is on the shore of the Bosphorus, a perfect spot for such a big pleasure, has been filled by over 17.000 people who succeeded to find ticket, which was a real challange.
We have preferred the boatline to arrive with my friends, which was the right decision for being there early. On boat, I became the eye-witness the very unpredictable profile of the audience; the three generations of families; grandparents, parents and grandkids nearby father&son or mother&daughter compositions. Even more touching, a lady who is having chemotheraphy was there.
Yes, that was the very first live performance of Pink Floyd in Istanbul, and our excitement was beyond control; it was a meeting I personally was waiting for over 30 years.
The performance was superb, not to loose our place, we were driven standing for five hours into our spot on the side of the sea, without even going to toilet, I did not have any idea I could do it again, which I did not since my twenties.
We were rewarded by Roger, he did not spare his tenderness and concern, and I got a response whensoever I sent my kisses. He definitely changed my view over being elderly, now I know it is possible to be seen gorgeous after sixty. Or, is he one of those lucky ones?
Of course, we all sang all of the songs as loud as possible, even I found myself holding my left fist up when he was singing Leaving Beirut.
Now, I really do not know, does he ever have any slightest idea, how he let three boring academics find back their revolutionary soul again? I loved the irony when I shouted we don't need no education, and the bitter taste, when I repeated the lyrics -the dream has gone, I've become comfortably numb. Is there anyone who can repeat those words without that bitter taste of a sad confrontation, in such a genuine pleasure?
One more lovely detail was to see a group of ladies coming from Iran with their hairscarfs among the audience. Roger Waters, if you could know what you are capable of…
Thanks to Nese
---
Thanks to https://www.pinkfloydturk.net/
---
Set List
FIRST HALF: In The Flesh, Mother, Set The Controls For the Heart Of The Sun, Shine On You Crazy Diamond, Have A Cigar, Wish You Were Here, Southampton Dock, The Fletcher Memorial Home, Perfect Sense parts 1 and 2, Leaving Beirut, Sheep.
SECOND HALF: Dark Side of the Moon.
ENCORE: The Happiest Days Of Our Lives, Another Brick In The Wall (Pt 2), Vera, Bring the Boys back Home, Comfortably Numb.
Thanks to Borges