WE ARE ADVISED THAT THIS SHOW WAS NEVER SCHEDULED BY ROGER WATERS MANAGEMENT
Update – 14 July
We are please to report that most, if not all refunds have now been made.
Update – 13 July
We are advised that this is the sequence of events.
8 – 10 July Solex Plus promised to refund money. – Some refunds given.
12 July Solex Plus promised to refund money – On turning up messages read "Refunds will be available on 13 July"
13 July. Phone calls to Solex Plus are being met with 'there is no money today, try tomorrow'.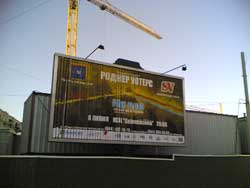 This information was supplied by Ivan Sedlovsky . A Fleeting Glimpse has not verified this information but understands it to be true.
Here's what we know about the show that never was in Kiev.
A show was promoted widely in Kiev and on the internet, claiming that Roger Waters would perform his Dark Side Of The Moon Tour in Kiev (Ukraine) on 8 July 2006.
Tickets were sold, and we assume the Olympic Stadium was booked, as it appears that at least one giant advertising hoarding was erected at the stadium. (See above)
About a week before the scheduled date, this site received an email from somebody who said he was representing the promoters of Rogers show previously held in Moscow , who were also promoting the Kiev show. The email stated that the Kiev show had been cancelled, and asked us to publish this news on A Fleeting Glimpse. It's our policy to always try to verify as much information as we can, so we urgently emailed Roger's Manager to confirm that the show had in fact been cancelled.
Roger's Manager immediately replied, and told us "There is no Roger Waters show in Kiev and more importantly, never was". We then published this news on site.
The promoters representative then contacted us again, to advise how people who had purchased tickets could obtain refunds. That information was placed on this site, and appears directly below.
The promoters have advised Refunds of money for the tickets will occur 8, 9 and on 10 July from 11-00 to 19-00 in the cashboxes NSK "Olympic".
You can obtain entire information about the recovery of tickets on the telephone: (+844) 234 33 99
The promoters give their apologies about the inconvenience.
Source Concert Agency "Soleks Plus".
We then started to receive emails from people who had been trying for refunds. Saying things like "People are trying in vain to return tickets & get back their money". One email stated " I was in Kiev on business last weekend and tried to get the money back, after some 2 hours the ticket office ran out of currency so everyone was told to come back the next day. On the Sunday we successfully managed to get a refund".
Another stated " about 38,000 tickets were sold in Ukraine on this 'concert'. But only about 10% of people could get refunds". We are not sure if this is still the case.
In another development, rumours started to surface about possible negotiations for a concert in Kiev in September. (One report claiming it would be a Dark Side Of The Moon Concert, another claiming it would be Roger's opera Ca Ira!) Of course. we checked this out with Roger's Manager again, and here's the reply. "Neither MFM Ltd. nor anyone associated with Roger Waters is negotiating with Solex Plus for Roger to perform in Kiev in September or any other date."
So, that is the situation as we know it. We really feel for Roger's fans in Kiev, but on the information we have, neither Roger or his Management are in any way to blame for this sad state of affairs.
Pictured below are some of the fans queuing for refunds at the Olympic Stadium
We wish to thank Ivan Sedlovsky for the pictures and assistance with this story, and to Simon Gibbons for additional information.