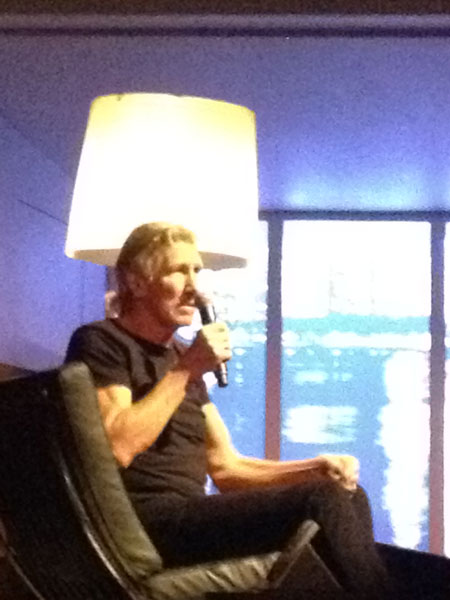 Last night was concert number two in Melbourne. Basically had the same seats as the night before, although was even closer to the living room where Roger pops out for Nobody Home
And saw some of the old familiar faces, in particular the wonderful Kevin, who is up to his 230th(ish) Waters/Gilmour/Floyd show, still selling T-Shirts and, amazingly, managing to get a seat in the Front Row!!
Won't bore you with the details, but a couple of points of interest
Took my 78yo father and 76yo mother. My father proudly claimed to all those around him that he had seen Pink Floyd in the same venue 24 years ago and was the only one who wasn't stoned, which cracked them up.
Roger did not sing, and did not bring the microphone to his mouth, for the first few lines of the judges verdict in the trial. Didn't stop the lyrics coming out over the PA though. Hmmmmm
The attention to detail still stuns me. During ABITW2, when all the focus is on the kids, there is video of a guy coming out (in shadow form) grafittiing "we don't need no education" on the wall, then walking all the way across the stage Look for it in upcoming concerts, it is in the bottom left corner, near where the wall pops out for nobody home .
Did the version of Waltzing Matilda. A hoot, having 12,000 people sing along and Roger having a ball, singing with a typical English approximation of an Australian accent
So, I have tonight off, before another two gigs.
Above review & picture thanks to Tim
---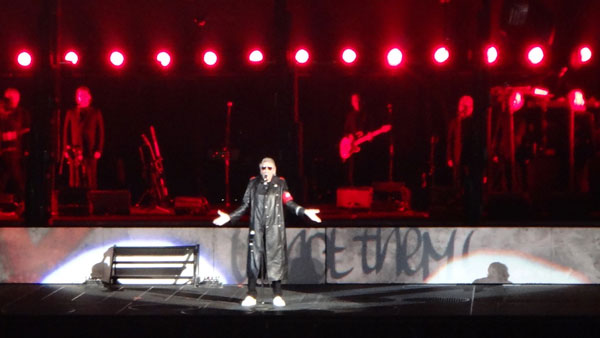 My last (for now) concert out of 4. Another great night, unfortunately I've found that the more you see the quicker the night goes. I can honestly say that the last two nights have shown to me that the band are enjoying the smaller venues more than the large ones, the intimacy of the Melbourne venue compared with Perths really showed during the last few songs, Roger and the band seemed more thankful and the audiences appreciation really shone through.
We got Waltzing Matilda tonight which was great, what a way finish my Roger Waters experience, this tour was officially announced the day my son was born on 11-4-10, (AFG announced it much earlier though) since that day I have been following every gig in this website and it is hard to believe that for me it's over for now.
This is without doubt the best concert experience I've had, I've shared it with different family members and friends each night, each loving it in a different way. What an amazing journey.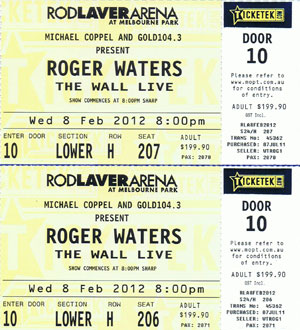 Above review, pictures & ticket scan thanks to Dean Anderson
---
---
Videos from this concert have been removed as Pink Floyd claim copyright on them