Apparently nothing wrong with the hated venue Burswood Dome!!
We spent too much time grumbling about it being indoors, not knowing it was designed to be indoors!
Spectacular show put on by Roger Waters. These guys have technology equivalent to NASA's, but don't muck about going to the moon. The pinnacle of power-point presentation.
An 80 metre wall, 5 x 3-lens projector modules out front, somehow giving perfect synced images on an 80 by 20 m screen, light show behind, and perfect sound!
The wall gradually builds in front of band in first half with only disappearing windows left.
Later, band is hidden and Roger and his shadow sing and move in front of massive video collage.
Images of people are shown on each brick, or individual bricks black out, or move… until you are not sure if the wall is really there or not? Spent half the night shaking my head in amazement.
The band is slowly rebuilt in front of the wall in 2nd half before exploding to bits as a finale… A spectacle – without making you feel the twisted darkness of the movie.
Well done Roger and thanx..
FredD.
---
Thanks to Brad Noack
---
I have never had so much anticipation before a gig in my life, it has honestly felt like a lifetime since AFG announced this tour back in early 2010. Within the first few seconds of In The Flesh though, I knew it was well worth the wait, what an opener!
The nights performance went so well that it's hard to believe the guys have not played since mid July last year. The sound was good initially but as the night went on it just got better and better (i.e. louder), it had me wondering if this was a common thing with the gigs that the second half was louder? From where we were sitting (12 rows back, right of centre) even the crappy acoustics of the Burswood Dome couldnt be heard (no echos), a testament to the sound tech guys! This theory will be put to the test tomorrow night when we are sitting much further back.
The only glitch I caught was when Roger sang the opening lines of One Of My Turns but his mic was off, we didnt hear the line 'Day after day' but he was very quick to reach to his belt and sort out whatever problem occured and he didnt miss a beat. Highlights for me had to be Empty Spaces and The Last Few Bricks, Dave's howling guitar was mindblowing on these songs, as well as Comfotably Numb of course, Dave tore it apart, what a legend! Also, Nobody Home and BTBBH hit a nerve for me, I still have 3 more gigs to see so I may still amend this top 5. When the wall came down, a large section of it fell backwards but otherwise it was still pretty cool and the projections were superb, I am looking forward to seing them from further back tomorrow night when I can take in the whole show a bit easier.
This gig was definitely the best i've seen, thanks to the band and Mr Waters for a great show which must go on.
Above review & pictures thanks to Dean Anderson.
---
27 January 2012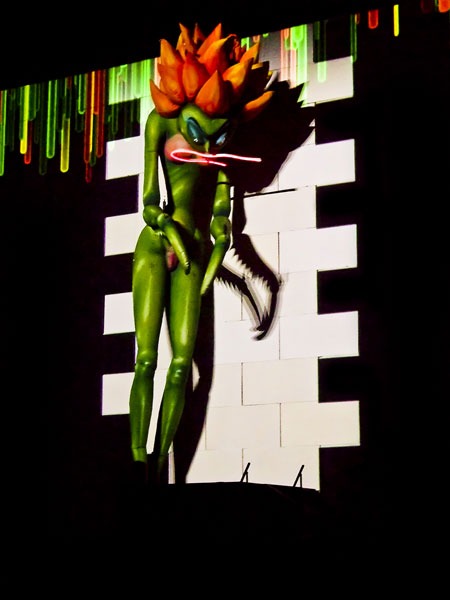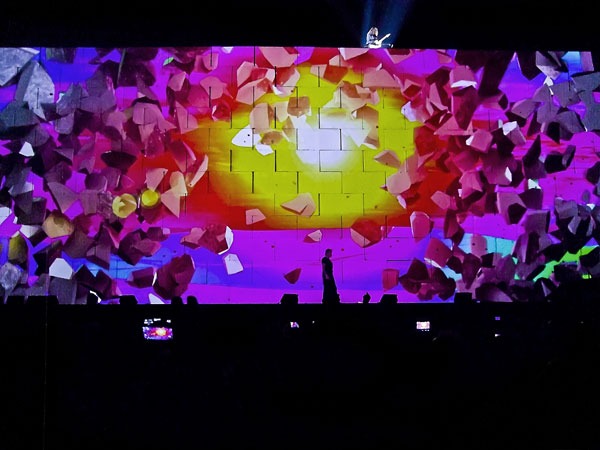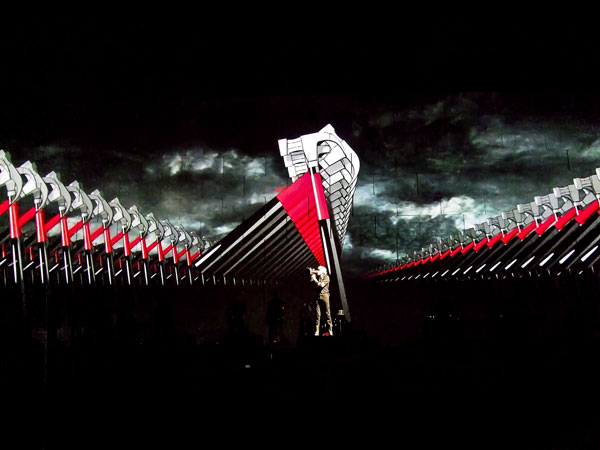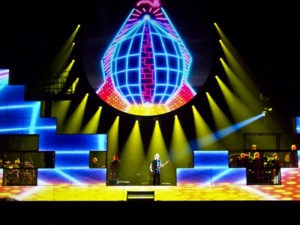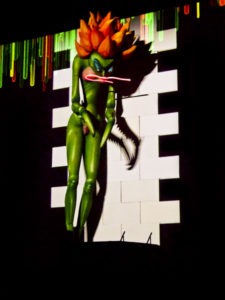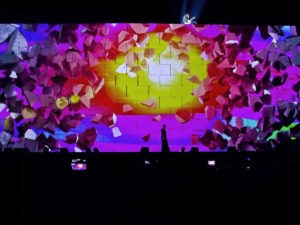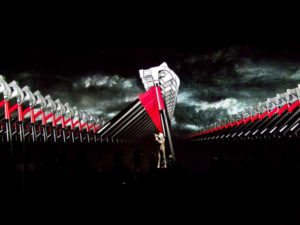 Above images thanks to Riley
---
Rehearsals 25th Jan 2012
What an amazing night I had. I met Dave K, Snowy, Graham and GE after watching them in full rehearsal mode. Felt like a personal Roger show. Mr. Waters couldn't jump in the car quick enough, although Mr. Kilminster was an absolute delight to talk too. so humble and mild mannered signing my programme, posing for a photo and chatting about the show. What I did find amazing was how Mr. Waters conducts his rehearsals like there is a full house, although no-one is there, from the clapping of arms continuous for R.L.H, too putting his arms up to get a reaction from the crowd as if they were there. Even doing the thing were he freezes like a statue during Numb. What other artist in the world would act as if its full, gesturing to the crowd, when there is none. Just another brief observation was how amazing the HD proj is. barely can you see the seams of the bricks and the picture is so clear and vibrant especially the marching hammers. such clarity. The biggest 'screen' I'll ever see is surely The Wall.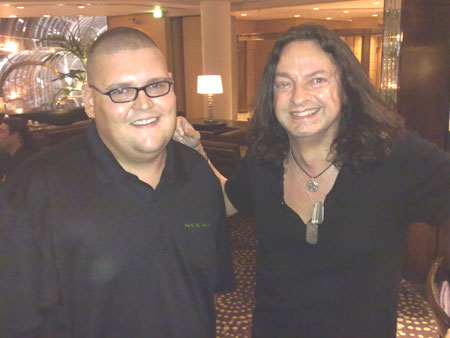 Mark Lennon of Venice is one hell of a nice guy too, it was he that took the above photo.
Report with thanks to Brad Noack
---
---
West Australian Newspaper Review

---
Videos from this concert have been removed as Pink Floyd claim copyright on them