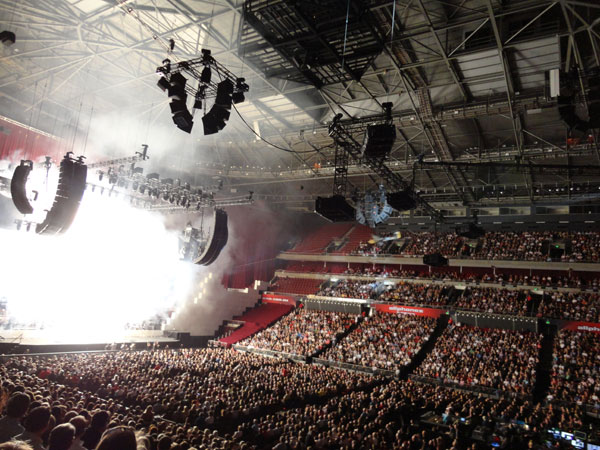 I have seen probably hundreds of concerts in my time (I don't mean all Pink Floyd & Roger Waters) and I have to say that some of the crowd in Sydney tonight were the worst I have ever come across. It seemed as if there were dozens & dozens with kidney problems and alcoholism!
We were sat stage right at the back of the first balcony, right near the aisle. I think this was a good show but couldn't really tell with the constant procession of idiots walking up and down the aisle on beer runs or to relieve their bladders. For gods sake, these tickets cost an arm & a leg, why on earth anybody would choose to walk out on a Roger Waters performance to grab a beer or 10 is beyond me. It's insulting to the performers and distracting to the audience. If you were one of those Sydney siders you should hang your head in shame.
Rant Over!
The sound tonight was the BEST I have heard so far. Acoustics in this arena are great and the bass was really cranked tonight, so much so that you could feel the vibrations right through your body. Snowy White had a bit of an off night with a few dodgy notes, but just about everybody else was on song, although Roger also found a few new notes on the guitar that he probably hadn't heard before either!
Robbie & the other singers were spot on once again, and GE's solo on Mother was sweet sweet sweet. Dave K nailed Comfy Numb (as he does every night) and the rest of the band were really putting out.
Another one under my belt. Let's hope that some of the Sydney crowds keep their drinking problems under control tomorrow night!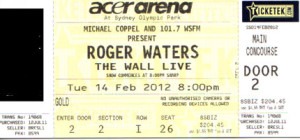 Above review, pictures & ticket scan thanks to Col Turner
---
---
The stunning pictures above are thanks to Michael Linke. Please note, this media is all copyright Michael Linke and should not be used on other web sites without permission.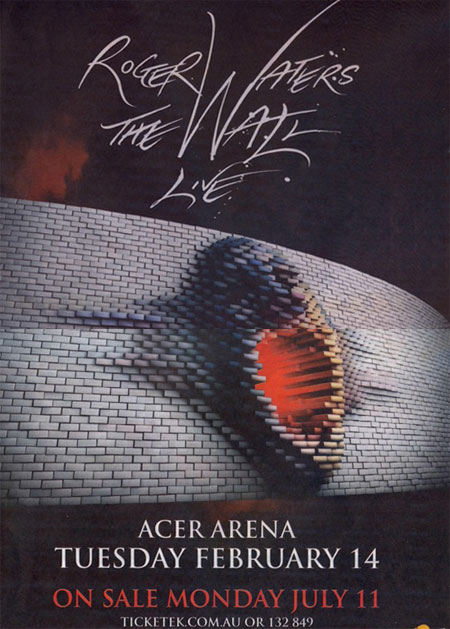 Sydney Daily Telegraph ad thanks to Michael Linke
Videos from this concert have been removed as Pink Floyd claim copyright on them