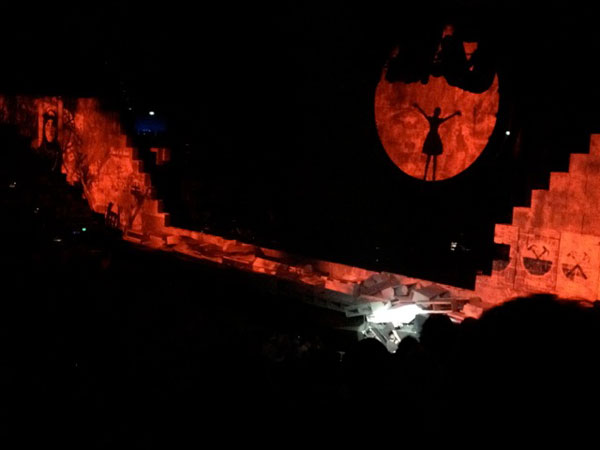 Last night I attended the third Wall show in Melbourne
For all three Melbourne concerts I had been in pretty much the same position, however each night they edged closer to the wall, and last night was going to be very unpleasant as I was basically eye line with the middle of the front stage (i.e. further in front than even the front row of the floor)
Explaining my unhappiness to the usher, she kindly upgraded my seats to the floor, 18 rows back. They had given her a swag of tickets as replacements for those even closer to the wall (for safety reasons) and when I got down to the floor I found a seat dead centre. The perfect place to take in the full spectacle of the wall, but still not to far back to have to squint to see Roger.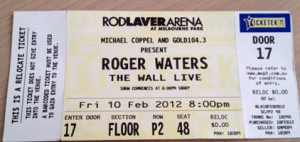 Show was the same as previous nights, although I did get to meet Roger before the show and have him sign some stuff.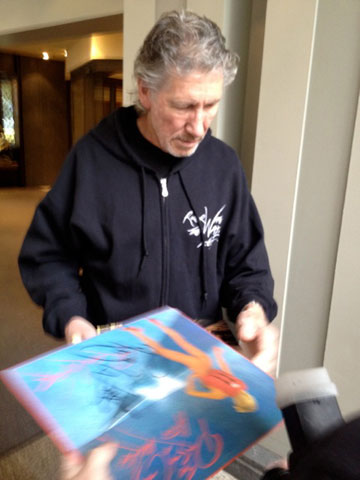 Couple of points. In an earlier review I made commentary of the attention to detail, and the graffiti artist that comes onto the stage (in video format) Here is a short video of that. Watch him walk across the stage when finished.
All this whilst the attention is on the kids or snowy
He commented on an Australian newspaper report that said one of the earlier shows was down on the 32nd birthday of the first performance of the Wall in LA. At which point I figure he realised the statement where he said they filmed Earls Court in 1980 was a mistake (the shows were filmed in 1981 happy to be corrected) so he just said they filmed Mother at an earlier gig. He did change the mother speech a bit saying the show had a lot broader meaning now than in 1980, when it was all about him. First time I had heard that line
He closed the show with Waltzing Matilda again, saying he had done it once before (twice actually) He walked off with words to the effect of "God Bless you all. if there was a God"
Review, video & above pictures thanks to Tim