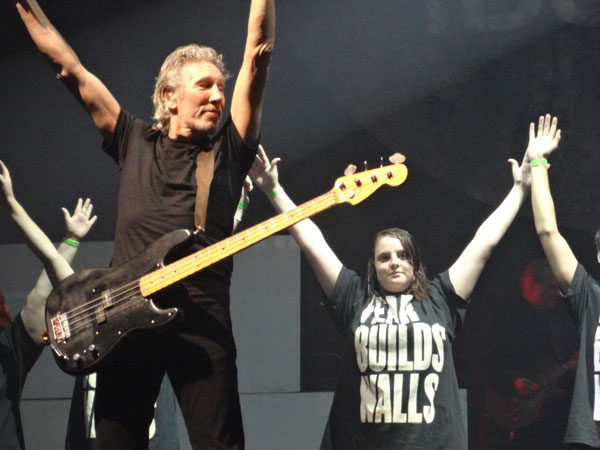 The more I think about this the harder it becomes. How can you write a new, fresh review of a show that's been on the road for a number of years, has been performed countless times and every show is almost identical!
This was my 4th Wall show (the others being Chicago UC twice and New York MSG once in 2010) and this one was the same as all the others, in that it was just simply perfect.
Not a bum note, no equipment malfunctions, it ran like a well oiled machine.
An old friend of mine (whom I met at a Roger Waters concert in 2002 & snuck him in to MEET Roger) named Michael Whitty had been in contact and offered to drive us to and from the show in his 66 red Mustang Convertible. That was a hard offer to resist.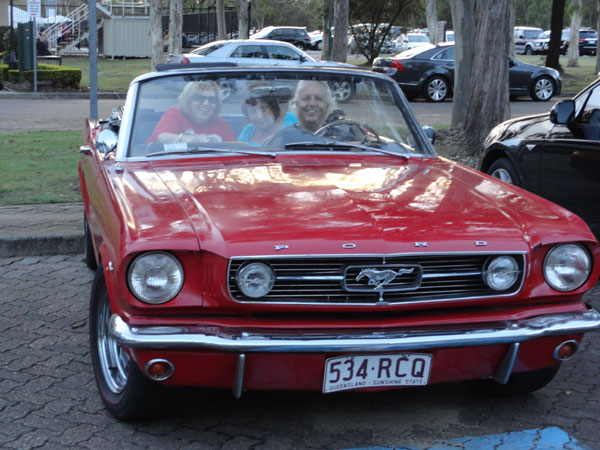 We arrived at the venue somewhat early as I wanted to get set up so that those attending from the AFG forum (and also visitors from this site) would know where we were at.
I located the Stars bar where we had arranged to meet and found a table to drape the AFG banner over. Well that turned out to be a waste of time because as people entered the bar they obscured the banner from view! The pre-show meet up was a bit of a shambles because the bar is fairly large (with few tables) and people who were supposed to be congregating ended up being scattered around the room. I did manage to catch up with a fair number though, so all was not lost.
A few friends & forum members
We were in the 2nd row, slap bang centre. I have to say that although I enjoyed being able to look up Roger's nostrils, it's almost impossible to see the top of the wall once built, you don't get the full effect of the projections (as you are so close) and the sound seemed to wash over our heads. The wind rush when the wall falls is a buzz though! Worth doing once, but 15 rows back or further is my choice.
Late in the show (Can't remember what song) Roger was walking front of stage and stopped directly in front of us, spotted me and gave me an acknowledgement. (a sort of hand gesture, hard to describe but definitely meant for me). Naturally I was delighted about that. (and this was witnessed by a number of people who remarked on it to me after the show).
I was sitting with my good buddy Ben Day (who had flown with me to the US in 2010 to see a couple of shows in Chicago). Ben & I had been trying to hold up the AFG banner a few times during the show, but didn't want to block the view of anybody behind, so we were a bit subdued about it. But when it came time for Outside The Wall and all the house lights were on and people were standing, Ben & I hoisted the banner aloft for the band to see. Wow, what a buzz, I think it was Robbie Wyckoff who first spotted it, and gave me a wave, and then nudged whoever it was next to him, who also looked and waved, and then nudged the person next to them and so it went down the line until EVERY member of the band had waved at me!
Then Roger stepped forward to say his usual 'Thank You', and I belted back as loud as I could 'thank you', then he looked at me and said 'no, thank you', and I shouted back, 'no, thank you' and we ended up doing that several more times before he laughed and walked off.
That was a nice adventure. Tomorrow I will be doing it all over again, this time from the back row and hopefully will have a big surprise in store.
Thanks to Col Turner
---
---
The YouTube videos from this show have been blocked by Pink Floyd Management.