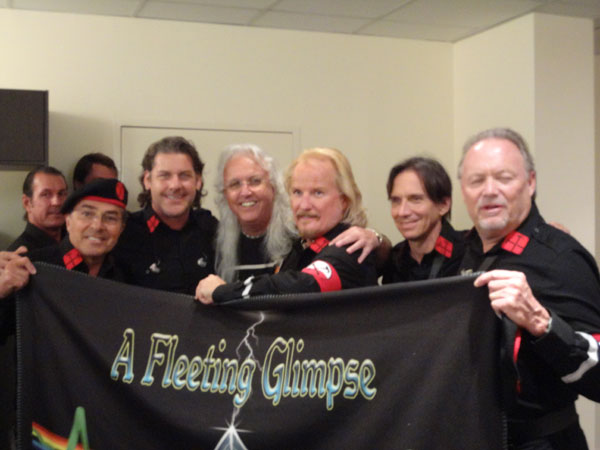 Here we are again. The third & final night in Brisbane and what a night!
As you can see by the above picture, I had been invited back stage again, so once again could only hang around for a short time for the pre-show meet up, again, sorry if I missed you if you turned up looking for me.
This time I took fellow forum member Les Bounds with me (there are advantages to be had by being a forum member) and we headed straight down to the hospitality room for a cold beer. We had arrived early and hardly anybody was around, so we grabbed the best seats and waited for people to arrive. Eventually others started to turn up but it seemed to take an age before the band members rocked up.
The Lennons were the first on the scene and we grabbed a few picture opportunities and then Jon Joyce arrived, made his way directly to me and said "Hello Col". This took me back somewhat, as I had only briefly met Jon on the Thursday night and was surprised he remembered me. Then Robbie Wyckoff came in. We were actually Robbie's guests for the night, although we were there to meet Dave Kilminster. (long story) Robbie & I had a brief chat (he's such a nice guy) and then Dave Kilminster came in. Dave & I had been emailing each other for weeks setting this up, so obviously I thanked him & Robbie for their hospitality.
Dave's first comment to me was to rib me about my encounter with Roger at the first Brisbane show He said everybody though it was hilarious the way we kept going back & forward with our 'thank you, no thank you' repartee.
Les & I chatted with all the band members that were there and all to soon it was time to make our way to our seats.
I was seated on the right hand of the stage on the second level. The view was pretty good as was the sound but we were on the same level as the centre speakers (which seemed to be solely for pumping out the pre recorded sound effects) and every time a sound effect was played it drowned out the band.
Here's a few pics from the first half.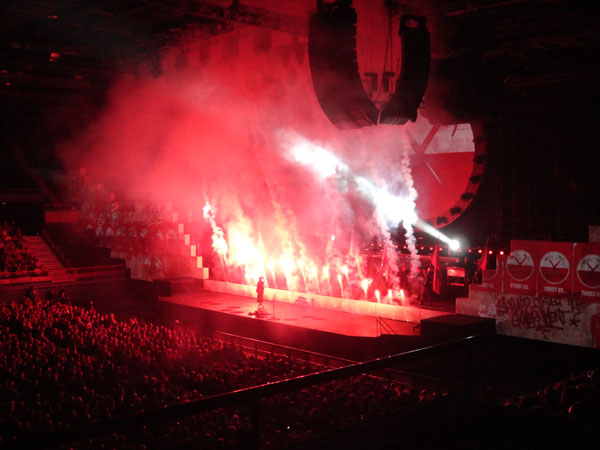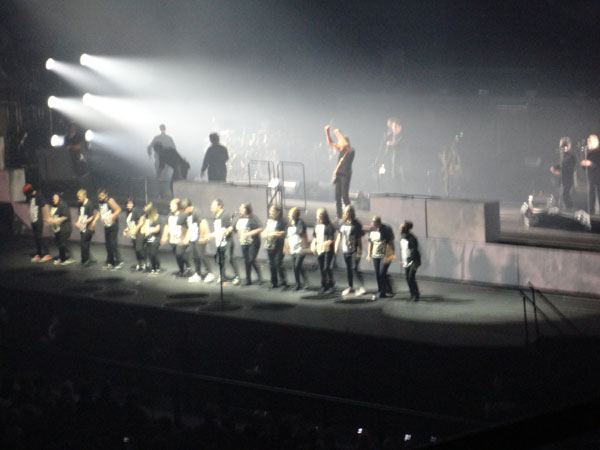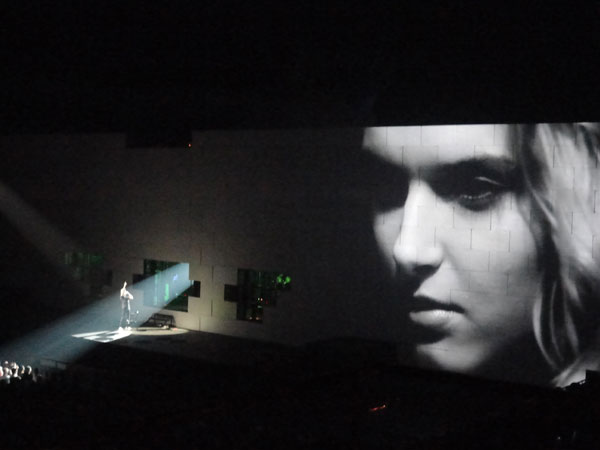 At interval I made my way back stage again and within seconds of arriving the guys from the band started to arrive in their uniforms.
I was very lucky in that I spent a good 5-6 minutes in conversation with Dave who I had completely to myself. The guys had been staying on the Gold Coast (which is where I live) and Dave said it's one of the nicest places he has ever visited and how lucky I was to live here.
We covered a stack of ground and I asked Dave if he thought the tour might go out again in 2013 (Roger had said a few weeks ago he might consider that). Dave said he didn't know, but if he was a betting man he thought there would be a 2013 tour. (Please bear in mind that this was a personal opinion so don't go looking for tickets just yet!)
Dave said that when on stage he needed total concentration and couldn't afford to let his thoughts wander even for a second. He said he would never have an alcoholic drink before or during a show.
I just had to ask him about how he felt when it was announced that David Gilmour was going to perform at one of the 2010 shows. Dave graciously said he was glad once it was all over, although he had tried not to dwell on that too much.
Robbie then joined us and we were chatting about what it was like on the top of the wall. Dave said it's really dangerous, in that if he fell off we wouldn't hear him play guitar again! Apparently the lifts they stand on are pretty unstable and can wobble around, making life interesting! He said he has to be careful about not trying to rock out too much as that starts the lift swaying around.
Both Robbie & Dave said they are enjoying the tour immensely.
Time was running out quickly but as Jon Joyce walked past he mumbled something about a surprise tonight. Dave had also been telling me a few things in private emails, but I confess I was not expecting what actually happened!
---
So back to our seats we went for the second half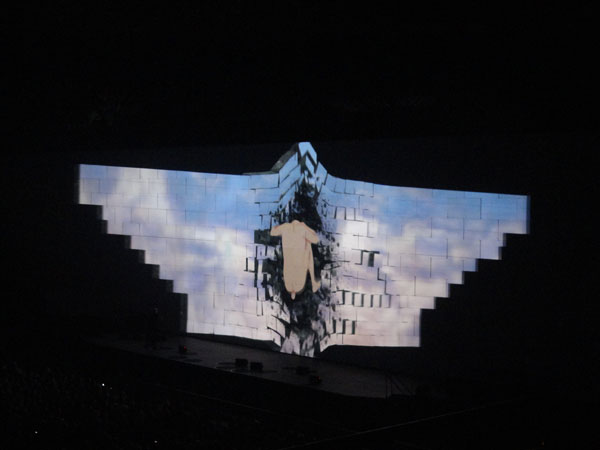 ---
And then after Outside The Wall was finished along came the surprise which you can view below.
New Song Added to This Show!
This is a high quality video filmed from closer to the stage, it is bit shorter than first version
(Thanks to Rick Dunstan)
---
Next off I will be at the Sydney shows but no back stage passes for there. I'm still going to have a brilliant time watching this brilliant show though!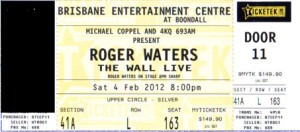 Report, pictures, ticket scan and first video thanks to Col Turner
---
Thanks to Jon Whitehead