RESPONSE TO THIS SHOW HAS BEEN FANTASTIC. WE HAVE MORE THAN ENOUGH MATERIAL – THANK YOU!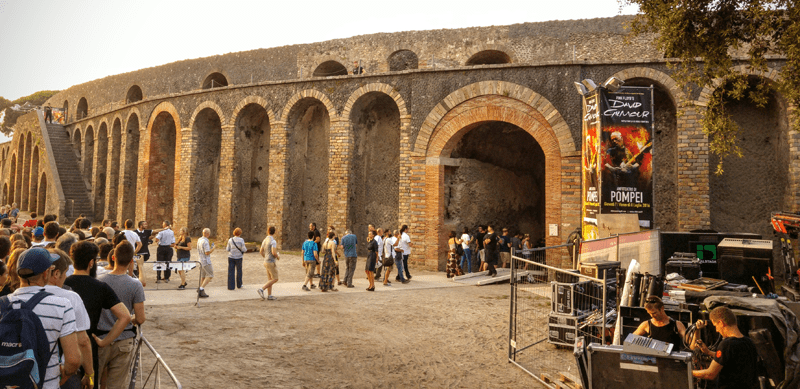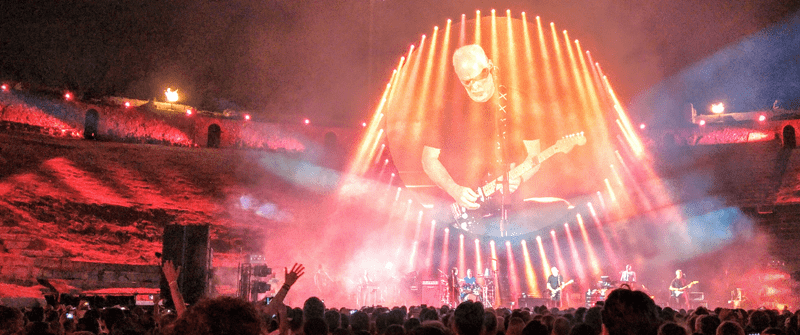 Above images thanks to Kevin Gauci
---
In brief, it was a bittersweet experience and definitely not one of my favorite DG/PF related concerts. I went to Pompeii in 2010 and entering the empty amphitheater was a very special moment. I could picture the band in there in '71 and I imagined the music echoing in the wonderful site.
It was something unexpected to me to be able to purchase two crazily expensive tickets to witness Gilmour's magic playing in here, so I did not hesitate to arrange a trip over there with my wife. I reckon I'm a bit of a PF nut and the last time I watched David playing live at the RAH in 2015 was magical, I was 6 rows away from him and could almost touch him during the encores. Believe me, watching his fingers bending the guitar strings and feeling the notes right in front of your face during Comfortably Numb solo was one of the best memories I will treasure.
This time I wasn't expecting Nick or Roger to appear in Pompeii or even a huge surprise in the setlist. I was just hoping to be surprised by a magnificent, intimate concert in a historical place.
The first bummer was the organization at the entrance. Doors opened at 19:00 and we were there at 18:30. Many people were there already and the queue overflew the site. What was a 4 people wide queue inside the venue became a 20 people wide queue outside and the entrance became a funnel at the main gates. And there we were, in the middle of the funnel, 35ºC and plenty of humidity. I was too excited (and 1,90 m tall) to care, but my wife almost fainted.

At around 20:00 we were able to enter inside the amphitheater. Wife was not feeling well, so we had to stay on one side, mid-way to the stage and below one of the recording cameras and ambient mics (yes, concert was recorded professionally, some of the pictures shared by Polly were taken by a drone that was also seen flying during the gig). Dusk came gradually and the amphitheater perimeter was lit by round lights that reminded me of the original concert. Colin Norfield and Phil Taylor were wandering around and there was a funny moment with one of them (will never say who) flirting with one of the very beautiful event hostesses.
There were only two small stacks of speakers on each side of the stage and I was a bit afraid, thinking that they sound quality could be impacted, but sound was perfect during the first part of the concert and then a bit louder than needed on part 2 and the encores. The wind machine was not there at the beginning (bit of a bummer as I thought One of These Days was not going to be played).
The ambient noises played during 1994 concerts were used this time as well. Not the same ones exactly, as together with the insect noises, planes, etc, some iconic song snippets were introduced (Castellorizon intro, On the Run… and the pings from Echoes!)
David's guitar sounded a bit "small" during 5 a.m., but that soon changed as soon as Rattle That Lock began to sound. Band was on fire and David's voice was in a better shape than last year.

The first surprise was The Great Gig in the Sky. The Blu-ray release may prove me wrong, but my personal opinion is that this may well have been the worst rendition of the song, even worse than Mica Paris's one. The last part of the ooohhhs was sang by Bryan Chambers and his voice did not do any justice to the song. And Louise Marshall and Lucita Jules were just average. David spoke to the crowd explaining that this was a tribute to Rick, to be followed by a Boat Lies Waiting and Wish you Were Here, the latter brilliantly played, to my liking.
Personal highlights of the first set were Money (full of renewed energy), the solo of In Any Tongue (a killer solo this time, astonishing) and the extended acoustic ending of High Hopes on the nylon string guitar. Goosebumps! David mistook High Hopes lyrics ("in a world of magic and miracles" instead of "magnets and miracles", much to Guy's amusement). A bit humorous as well was the "Italian" casual dressing chosen by Joao Mello, it'll be quite fun to see in the official release.
On the negative side: People did not stop talking, shouting, smoking, moving around and recording the concert with their mobile phones during the whole freaking concert! We even had to move to a different place a couple of times to have a bit of silence. Why the hell do people pay a fortune to attend a concert like this when they cannot behave during a couple of hours? This spoilt the concert to me; the general atmosphere was a complete disaster.
Part two began with One of These Days. Best lightshow of the concert to me and brilliant playing. Shine on was good as well, with Greg Phillinganes doing a decent work replacing Jon Carin from last tour. Joao Mello's sax at the end of Shine On was astonishing, really really good. The song ended with his extended solo fading away slowly but still full of energy. Another highlight of the evening. Coming Back to Life was the only other change to the regular setlist and, like TGGITS, quite a flat and forgettable version.
Band's introduction was a funny moment, as David introduced Bryan "Marshall" and Louise "Chambers" before realizing about his mistake and laughing aloud with the rest of the band.
The Girl in the Yellow dress, with a bit of a jazzy improvisation at the end was very well played, but failed to connect with the noisy audience. People did not stop asking David for Echoes and before Today he stopped and address the crowd: "Listen guys, Echoes is a kind of dialogue between two people and, let's face it, Rick is dead so Echoes will not be played anymore. The only thing that matters is Today". My jaw dropped with his comment as he emphasized: "Rick is dead". Then he angrily played Today and Sorrow and, on the bright side of things, what is it better that David playing irately? Sorrow was another highlight, even though the light show could have been much better, especially if ´94 lasers would have made an appearance.
Run Like Hell was ok and I liked a lot the blue lights in Mr Screen in the pause before the encores (I'll try to upload a pic). Time was another bummer as, with all due respect, Greg's voice did not fit the song at all. And, once more, people's noise was unbearable. Comfortably Numb was just ok (with Chuck Leavell singing Roger's verses) compared with the solos from last year (RAH, Chicago or Chile, to name a few). I may not be being fair, but I was very upset with the people around me and my wife was asking me to run way from the site as soon as possible.

My very last memory of the amphitheater is all the waste lying on the floor, which perfectly summarizes the lack of people's respect while being in a historical, protected venue. 2000 years have passed since last time the amphitheater held a public event and we're as barbarian and disrespectful as then.
Above review thanks to
César
---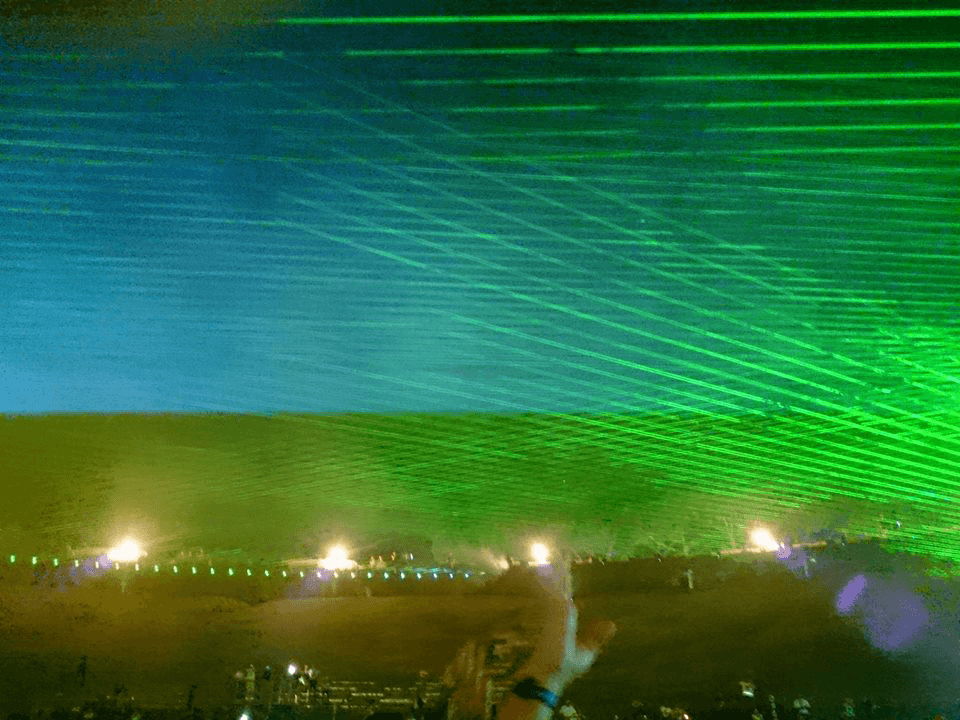 Above pictures sent in by azza200
---
If you wanted to stock up on some great memories then Pompeii on Friday, 8th July 2016 was the place to be. Just walking through that tunnel into the amphitheatre and seeing the stage at the other end was one of them.
Same set list as the previous night, so they have two versions of each song to choose from for the DVD/Blu-ray release. The day after the gig, I briefly met a guy who'd worked on their video set-up: he was cagey about answering any questions so I stopped asking but I did learn that they have footage from 18 separate cameras for both nights. Including the boom cam we all saw floating over the audience towards the front right and the drone hovering high up outside the edges of the amphitheatre for much of the show.
The ticket wristbands might help us work out which performances got chosen for the final video release: blue ones for Thursday, yellow for Friday. The wristbands were also handy when wandering around the town before and after the show, it was great to stop or be stopped by random people who were also wearing them, listen to stories of how far they'd travelled and what it meant for them to be there. It's four days since the show now and I still haven't cut mine off my wrist.
Around half an hour or so before the start of the show, tantalising little sound bites came from the sound system: some DSOTM spoken voices, the On The Run synth panning from one side to the other, that kind of thing. The single ping from Echoes at 20:41 got the biggest reaction, I know it was at that time because I was filming around the amphitheatre and captured it on my phone together with the cheers that followed.
At 9pm the band came on and they played until midnight. David's voice held out. Can't say I wasn't slightly worried about it, he sounded a little hoarse at times but then again he often does. His relaxed humour came through as usual with the now familiar little jig and sip from his cup before the Fat Old Sun solo, plus more dancing about during WYWH with bluesy keys from Greg turned up much louder than I remember ever hearing them before. Same songs as on earlier tour legs (the main changes being The Great Gig In The Sky and One of These Days replacing Us and Them and Astronomy Domine), plus several tweaks for the small amphitheatre whose sound was excellent to my ears, those Romans seem to have known a thing or two about acoustics: there were fewer speakers, flaming fire pots and white+coloured lights at regular distances all around the outer wall edges and some on the sloping grass-covered areas. Seats up above ground level were out of bounds apart from a VIP area low down on the right hand side. Some of those lucky people chose to move along and sit near to the two central mixing desks, just above the tunnel entrance where the audience came in. A hell of a vantage point.
I could just praise the show to the skies but this is supposed to be a balanced review and I ought get a few 'negatives' out of the way, even though it does feel slightly wrong saying that word when talking about this event. Others have already mentioned the blanket phone filming etc. so I'll not even bother going into that. Especially as I filmed one full song plus two of the solos myself. Because I could. Where I was standing there wasn't too much crowd chat, though a few people had their moments until told to stfu.
As an all-standing show it was a bit hit and miss as to how well the shorter people amongst us could see the band members on stage – one small Italian girl near me was going mental before she moved away in search of a better spot – though pretty good views were to be had most of the time ten rows back from the front where I found myself.
I don't think I saw a single close-up on the screen of Guy's fingers at work, or of his face for that matter which would have been at least as good to watch as some of the ones of Chester that popped up fairly regularly. There seemed to be some kind of Mr Screen pecking order which I haven't quite worked out yet, though Guy must have been right at the bottom of it. It reminded me of the glaring lack of Rick's screen time in the past. Given that Guy married Rick's daughter, maybe this was his little nod of respect to his father-in-law, not wanting to be seen to be getting more screen time than him perhaps.
I've tried, I really have, but I still can't fully connect with Yellow Dress. Don't get me wrong, I quite like it up to a point but I wish they would shorten the ending which does seem to go on with minimal musical variation.
Great that David dedicated Great Gig to Rick though it ended up being just an ok job. What threw me was the singers' interpretation, especially towards the end when they seemed to keep repeating the same phrasing. It was almost as though they'd forgotten how the original song went and that wonderful soaring Clare Torry atmosphere was pretty much lost. I'd have preferred them sticking to solo voices rather than two or three of them chipping in at the same time. Aside from this thoughtful honouring of Rick, I still feel Us and Them is a far better song choice than Great Gig, it was one of the highlights for me during the 2015 leg of the tour, I'm hoping they might swap it back in for their future dates. At least for the one show that I've yet to see.
They could also have done without that wind machine thing which suddenly materialised during the interval and opened OOTD for the second set – from where I was standing it sounded more like hand-winding a washing machine drum in need of a bit of oil. I wonder whether Steve felt the same way as he tried to crank it up to 1200 rpm with what I thought was a slightly sheepish smile on his face. It'll be interesting to see if/how they overdub that, though maybe I've got it all wrong and my ears were just playing up.
On the whole though, massive respect for a good job all round though I have to say I missed Jon Carin's singing of the Comfortably Numb verses.
In the live show environment, I noticed few major differences between this band and the last lineup. WYWH and Money sounded a lot more bluesy than last time and David seemed to be having great fun with the Money solo.
Memorable moments:
– One of These Days being played… AT POMPEII!
– Joao Mello was outstandingly true to the original albums on sax and to my mind far better suited to the music than Theo Travis when I last saw them.
– Breathtaking lights, pyros and fireworks around the whole arena for Run Like Hell to round off the second set, those few seconds of effects were perhaps the high point amongst many high points, though One of These Days lights and Comfortably Numb lasers+smoke also jostled for that top moment and might even have an edge because they lasted longer.
– Difficult to say what was the musical highlight: a great In Any Tongue solo, Money solo, CN is always good, Sorrow solo, Fat Old… dammit, all of the solos were pretty damn good.
– Laughs and an embarrassed head-slap from David when he announced his band and got their names wrong: seems they now have a new singer called Bryan Marshall. Can't see that making it onto the Blu-ray but it'd be fun to be proved wrong.
– Last but not least, the feeling of the book-end rumbles from the Sorrow guitar vibrating through the wooden board flooring and straight up through me.
There were big earthquakes during the days leading up to that 20km-high volcanic eruption in AD79. For me, the quakes came during Sorrow and the eruptions at the end of Run Like Hell, the next track played. It's almost as though they planned it like that even though those two songs were in that same order on last year's tour. Very poignant after I'd spent much of that afternoon in the sweltering heat wandering around the surprisingly intact old city ruins buried under all that ash, rock and mud centuries earlier.
So much could be said but the forthcoming Blu-ray/DVD will do a far better job than trying to put this show into words.
Worth mentioning (other than that there's a "Barrett Caffe" on the main road not far from the ruins/amphitheatre main entrance), is that from 18th July until "October", there's a new Pink Floyd at Pompeii Underground exhibition inside the actual amphitheatre. It's in two tunnels to the side of the entrance to the central arena. Possibly the same tunnels which that lucky group of kids apparently sneaked through to watch some of the original 1971 filming.
The exhibition
was opened early just for several days around the two shows. A screen at the end of the left-hand-side tunnel shows (I think) Pink Floyd At Pompeii Director's Cut and one at the end of the RHS tunnel shows a lot of previously unseen footage, mainly shot in Paris. A sign explains how director Maben discovered this film a few years ago and put it together: outtakes, interviews, smoke rings & party tricks, beer, oysters and all (Rick opted for a baguette). Quite raw, with hand claps instead of the clapperboard before takes and wobbly cameras occasionally losing focus, Roger in particular is a scream when answering the questions. Very much worth a look if you're over there then. The new video seemed to run for at least 45-50 minutes, so plan on spending a fair bit of time there if you want to see everything.
Review, video & pictures thanks to ET
---
It was magical. Something I'll never forget. The lighting around the edge of the arena worked so well and the flaming torches were a very nice touch. To my ears the sound got louder as the concert went on. The intro and outro of Sorrow sounded immense, the floor was vibrating to David's guitar.
One thing I did find surprising was the amount of chatter in the crowd during the concert. My wife and I had to move away from one small group of blokes who just wouldn't shut the fuck up. They were talking at the tops of their voices. They pretty much spoiled The Blue for me. We moved away from them only to have another pissed dick come over and start talking to his mate at full volume during Shine On. Some people I will never understand. You paid 300 quid to see this once in a lifetime event and then you talk through it!??
Thanks to Kink Dloyd
---
I'm home again and back at work which is very nice (although it's constantly raining in Denmark, as usual, which is actually nice and fresh )
I'm starting to reflect on my vacation to Italy with my girlfriend and a couple of friends, and especially the concert with David Gilmour on July 8th in the aphitheatre of Pompeii.
It's getting easier now to understand that it actually happened and that it's all over now. Had beed waiting for what feels like a year and suddenly it's in the past like a movie after the last titles has rolled over the tv screen.
We (my girlfriend and I) got into the theatre at about 8:20 P.M. and found a nice spot almost dead centre, and then she asked if I could go and buy a couple of bottles of water, which I then did (because I am such a good boyfriend ) Apparently I had misunderstood a staff member and thought it would be possible to buy water inside the theatre, which sadly was NOT the case. So I had to walk all the way outside and stand in line for about 25 minutes, constantly keeping an eye on my watch. I managed to get back with the water about 5 minutes before the show started, but too late to hear the famous Echoes "PING" (I compensated for that the next day by visiting the excellent Pink Floyd at Pompeii exhibition
1st set:
At almost exactly 9:00 P.M. the first notes of 5 A.M. started to fade in and I had troubles realizing that it was beginning, I looked around trying to think to myself that I was there and that it was really happening, but I was in some kind of a trance.
As the concert went on I got more and more relaxed and got in the mood.
David was on top of things, I didn't notice any flaws. I really enjoyed the new additions the the setlist compared to Pula in 2015 (What Do You Want From Me, The Great Gig In The Sky, Coming Back To Life and of course One Of These Days) Great Gig felt a little rough in the beginning, but the girls and the guy seemed to get it right after a little while, and WOW it was great!!! Really astonishing.
The Money solo was really great and so was In Any Tongue (which together with Faces of Stone is still some of my favorites on RTL)
Then High Hopes ended the first set in a beautiful way and we had a little break and a stroll around the arena.
I thought I spotted Polly on the left side just in front of a big light projector (or was it a camera??) but later when she got down and I told her to thank her husband for such a great show, I realized I was wrong when she responded that David wasn't her husband but many had asked her because she kinda looked like Polly. Then she thanked me for comparing the two of them because she thinks Polly is beautiful (and she is right) .
During the first set we were standing in front of a couple of Italians who was constantly talking which was quite annoying, I tried to give them "the angry look" a couple of times, but they seemed to not care at all. And a guy yelling "PUT THE FUCKING PHONES DOWN AND ENJOY THE FUCKING SHOW" during the first couple of songs. And yes, there were many with phones, but not as bad as I thought it would be actually. My girlfriend had a problem finding a spot where she could actually see what was going on on the stage because she isn't very tall, but she wasn't too annoyed.
I had brought my new Panasonic Lumix DMC-TZ80 compact camera with 30x optical zoom and got quite a few very nice crisp close ups of the various band members
2nd set:
We had found a new spot closer to the right side and a little closer to the stage, but most importantly, no annoying italian guys constantly chatting, and it was also a better spot for my girlfriend to see the stage
The big question all day had been whether or not they would be playing One Of These Days on the second night. We had been sitting outside the theatre the night before at a little sidewalk bar having a few beers and wine, while listening to the concert. We met a very nice bloke and his wife, he is a frequent contributor to the official Gilmour blog, username Amadeo (I'm trying to find him).
I was very relieved and happy when I finally discovered the wind machine on stage, and the first bass notes from Guy confirmed that we were about to be blown away.
What a fantastic and powerful performance it was. It was the perfect tribute to the original concert and it ROCKED!! I managed to film most of it with my phone. Minutes before the 2nd set started a security guard (or ninja as we called him) told me to put away my camera. Luckily he didn't force me to delete anything, although he tried to remove the battery or SD card, but in the end failed to do so and I just put the camera in my pocket and didn't use it until the very end of the show. A guy next to us, on the other hand, got caught filming and was asked to delete the video, and he was bithcing about it for a while!
The rest of the show was a blast! Shine on was beautiful as always, the extended intro was a nice touch and reminded me of the 1994 version. It was nice to finally hear Coming Back to Life live (one of my favorite songs off The Division Bell) and The Girl in the Yellow Dress was nice and relaxing and it's my gf's favorite song from the new album, so it was great Today was great as ever, that song has really grown on me! By the time he played Sorrow I was expecting the introduction of the lasers, but it didn't happen, although the lightning design was spectacular all during the entire show. But I was starting to get worried they wasn't gonna use them at all that night. But I had seen a brief purple laser beam a little earlier, so I was somehow confused.
Sorrow kicked ass btw. and the solo was a blast!
The lightning for Run Like Hell was truly magnificent and the pyros at the end blew everybody away!!! WOW! It was unbelievable and can't be described. Still no lazers though.
Time/Breathe reprise was great too (one of my favorites off Dark Side…)
Then it finally happened, as the first solo of Comfortably Numb started the arena got filled with green lasers that changed to blue and then multicoloured. I must have looked like an idiot with that grin on my face, but it was perfect and everything I ever hoped it would be, and I was so relieved because I really wanted to see the lasers! I never saw anything like it before And then there was the 2nd solo which was something out of this world. I was in a trance again and couldn't believe that what was going on around my ears and eyes was reality. I lack words for further describing the experience of attending such a historic concert, so I will stop here.
Now I can't wait for the official bluray to get a release so I can experience the whole thing all over again And I hope I will be able to spot myself among the audience. I did wave to a camera at one point  so there might be a chance haha.
I am so thrilled I have been a part of this.
Review & pics thanks to Lars Normann
---
That's just unlucky, there were loads of people filming on their phones and I saw plenty of fancy cameras also being used. I swore blind to myself before the show that I wouldn't film anything and just take some pics but I ended up filming WYWH for my wife and just had to get the In Any Tongue and CN solos in too. Bit gutted that I didn't get the amazing pyros and fireworks around the amphitheatre at the end of Run Like Hell though. Wow, just wow. To me, security guards telling people to delete stuff seems to help confirm that a DVD/Blu Ray will emerge eventually so it's all good really.
I agree that Sorrow was awesome tonight, I felt it through to my bones. David was truly in the zone for that one tonight, he just did his little lean to the right, seemed to not even be aware of the audience throughout and the magic came through.
Thanks stillshiningon
---
Absolutely great show tonight Mr Gilmour was right up for it having a little dance here n there lots of smiles too after he performed wish you were here. I think he had gotten a little emotional he look like he was almost in tears a few folk said that too the echoes announcements that was a wow moment I didn't expect that he never mention it Last night great gig and a boat lies waiting great Rick tribute emotions were running high place was electric bit for the most part every was sound I managed to score a set list too a nice bonus
What a fantastic band he's got too they were brilliant
Thanks to breakthrough
---
One of These Days, this time with pyro (but to me honest I didn't notice them yesterday,was too excited :)). Thanks to roaxch
---
Same set list for first half as last night. GGITS so no Us and Them. Place is fucking rocking. Fucking Italians. If it wasn't for their food, history, cars, sense of style etc they would have no use on this earth.
Dave got a bit narky tonight with the repeated demand for Echoes
Said "Echoes is a beautiful song, but it is a conversation between two people and Rick is dead so we don't play it anymore"
Another great show. One lyrical stuff up (magic and nice axles rather than magnets in High Hopes). And better fireworks at the end of RLH than last night
This is going to be a great BluRay
Thanks to wilberforce55
---
FIRST HALF: 5am, Rattle That Lock, Faces of Stone, What Do You Want From Me, The Blue, The Great Gig In the Sky, A Boat Lies Waiting, Wish You Were Here, Money, In Any Tongue, High Hopes
SECOND HALF:One of These Days, Shine On You Crazy Diamond, Fat Old Sun, Coming Back To Life, On an Island, The Girl In the Yellow Dress, Today, Sorrow, Run Like Hell,
ENCORE:
Time, Breathe (Reprise), Comfortably Numb
Tickets (On sale 22 March)
Capacity: Probably Standing. Probably 2000.
Address: Via Plinio, Pompei NA, Italy
In October 1971, Pink Floyd traveled to Pompeii, Italy for a live performance at the city's ancient Roman amphitheatre. Only there was no audience in attendance. Production took place over four days during which time director Adrian Maben captured the band performing "Echoes" and "One of These Days" from 1971's Meddle, along with the title track to A Saucerful of Secrets. After completing the film in Paris later in the year, Pink Floyd released Live at Pompeii to critical acclaim, and years later it remains one of the most popular concert films in rock history. Now, 45 years later, Pink Floyd's David Gilmour is set to return to Pompeii, but this time he'll be performing in front of an actual audience.
---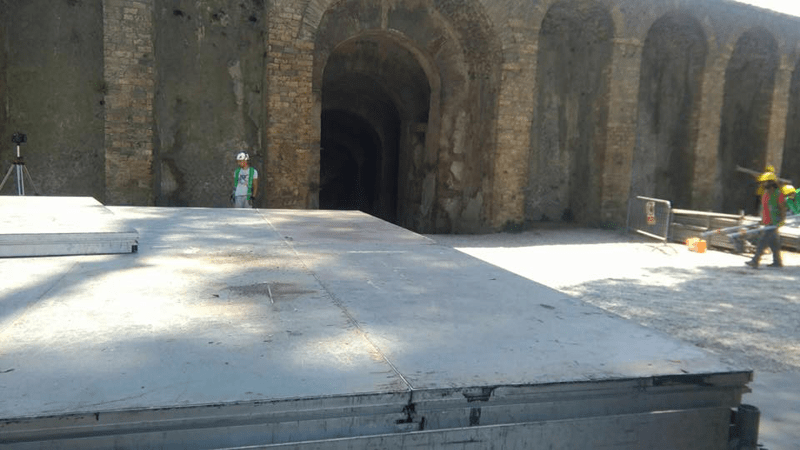 Construction shots including stage being built thanks to mattazing
---
Order the Pink Floyd Live At Pompeii DVD from Amazon USA | UK | Canada (Amazon ship worldwide)
---