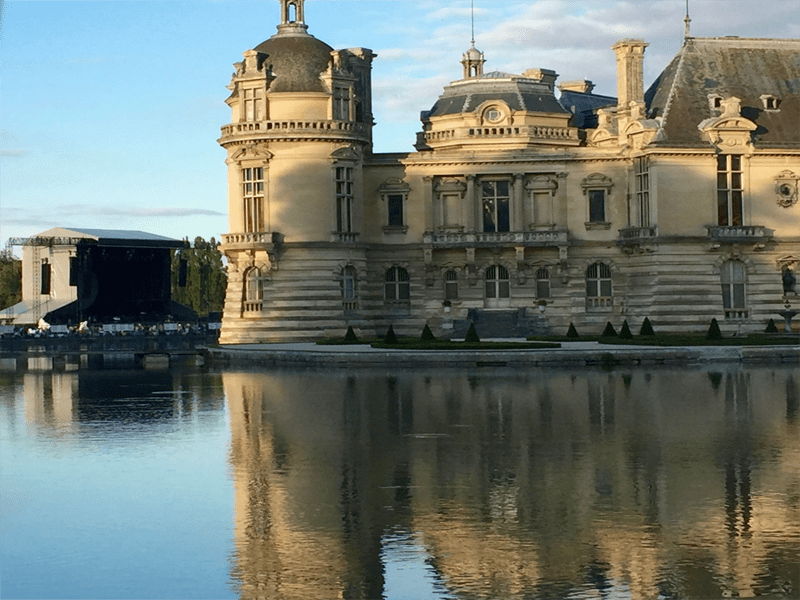 This was the sixth time I had seen David Gilmour on his Rattle That Lock Tour this year. Travelling from England, myself and my partner arrived in Chantilly Friday afternoon, found our accommodation and went out to explore. Having got our bearings (we were 15 minutes by foot from the Chateau) we retired to a bar.
Saturday was spent mooching around Chantilly, eating and drinking and at 18:45 we set off for the Chateau. Having studied the map I knew there were two entrances and we were closest to the one that wound around the back of the Chateau. The queing was good natured (surprisingly in the heat) but took us seventy minutes before we got to the ticket checking and bag search, this was due to the narrow entrance and barrier chicane we had to endure.
Not being fussy where we stood we settled down approx. fifty metres from the stage in front of the left speaker stack where there was space and no members of the Chantilly basketball team in sight. Five minutes before it started a female voice announced there would be a minutes silence for the victims of the Nice attack. This was very well observed and brought the crowd together as one before David took to the stage some forty five minutes later than the advertised 9pm start time.
There were no major changes to the setlist, we had GGITS instead of UandT and OOTD instead of AD. Though I am a non musical person I thought there were a lot of bum notes and mis timings (I could be wrong) but this didn't spoil my enjoyment.
David had trouble (it sounded like a bag of cats) with his 'workmate' guitar during the solo for Rattle That Lock, he looked over to Phil Taylor who must have been napping because David had to look twice more in his direction, beckoning each time. Phil eventually arrived with the black strat but it was too late for the solo and Dvid only just got to the mike in time for the final 'Lock' which he shouted rather than sung.
David's voice is straining on CBTL, to me it sounds 'husky' and one day I fear he will reach for a note and nothing will come out.
David seemed in a good mood throughout, speaking in French to the audience and dancing round the stage smiling at his band members.
I am sure the volume gets louder as the set progresses which is okay by me.
The lasers during CN were somewhat muted compared to those I had seen before (this may have been the location or French rules which I believe are strict regarding laser use).
 Above review & pics thanks to Beadle
---
CHATEAU DE CHANTILLY CHANTILLY FRANCE
---
[URIS id=17389]
The wait was worth it. Twenty-two years after he had produced two consecutive nights with Pink Floyd, David Gilmour made his return in the Chantilly Castle Park, Saturday, July 16, for a concert.
Certainly, his faithful sidekick keyboardist Richard Wright, who accompanied him on Pink Floyd and solo is gone (tribute has also been paid to him), but a show of David Gilmour and his band in such framework is sufficient in itself for the many people who have never been able to approach the legendary British band on stage.
Money , Time , Comfortably Numb and Wish You Were Here were discussed at a delivery menu in a princely setting where Pink Floyd has earned from the tiger. The enveloping voice and unique guitar playing of David Gilmour, like Dante lighting, have maintained the illusion of a concert of his former band, only extinguished when solo songs (of good quality).
To deserve such a show, the 24,000 fans had to first go through the minutes or even hours of waiting under the dodger, since the castle site has only two inputs.
After a minute of silence in tribute to the victims of the bombing of Nice, the concert also began with almost an hour late, for security reasons. Perfect gentleman, David Gilmour has quickly apologized for the inconvenience, in French please. Definitely a great man with whom spend an evening.
Review & pics thanks to Benjamin Merieau

A minutes silence was held before the start of this show in memory of the victims of the Nice massacre. The show was late to start due to security issues.
---
FIRST HALF: 5 am, Rattle That Lock, Faces of Stone, What Do You Want From Me, The Blue, The Great Gig In The Sky, A Boat Lies Waiting, Wish You Were Here, Money, In Any Tongue, High Hopes
SECOND HALF: One of These Days, Shine On You Crazy Diamond, Fat Old Sun, Coming Back To Life, On an Island, The Girl In the Yellow Dress, Today, Sorrow, Run Like Hell
ENCORE:Time, Breathe (Reprise), Comfortably Numb

Tickets (On sale 5 Feb)
Capacity: App 24000
The Château de Chantilly is a historic château located in the town of Chantilly, France. The site comprises two attached buildings: the Petit Château built around 1560 for Anne de Montmorency, and the Grand Château, which was destroyed during the French Revolution and rebuilt in the 1870s. Owned by the Institut de France, the château houses the Musée Condé. It is one of the finest art galleries in France and is open to the public.