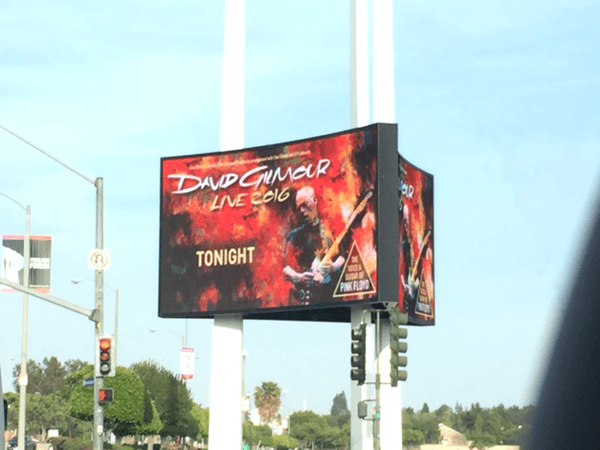 THE FORUM INGLEWOOD LOS ANGELES USA
I feel very fortunate to live in Southern California, as I was able to buy a floor seat (about 20 rows back) for $95 on StubHub and just drive an hour to the Forum at the spur of the moment.
The show was excellent, and the CN solo was one of the best I've ever heard; David didn't resort to many familiar riffs in the solo, but it still sounded amazing.
Some of my takeaways from the two shows I saw in LA:
– Gilmour sounds amazing at his age, and he may be a god.
– I don't like João Mello's sax playing. Judging by the audience reaction, I'm definitely in the minority. I'm not saying he has to sound like Dick Parry (although this makes me appreciate Parry even more), but his inelegant, noisy style just doesn't match the Floydian aesthetic. He sounds great on Yellow Dress, but that supports my point.
– The harmonizing in the beginning of IAT sounds awful and obscures the melody. I think it would sound better with just one singer (PP Arnold style). Surely I can't be the only one who thinks this.
– Set 2 doesn't have the oomph it should have. Personally, I'm not a fan of the "FOS/CBTL/OAI/Dress/Today" section, but there's not much of a better way to end a show than the final four songs.
– Sorrow should have a AD/RLH style light show to really draw in the audience (a la 94). It's a little underwhelming watching the solo with no light show whatsoever.
– I'm really glad I was able to see WDYWFM live!
Thanks to ryan2929
---
Just got back from the show. I was front row but damn cameraman was in my way most of the time. The audio blows in the front row. Audio was way better at both Hollywood Bowl shows that close
Pictures & review thanks to Chris (cheapfilm)
---
Thanks to Ben Day
---
Above pics thanks to Richard Ashton
First Set: 5 A.M.; Rattle That Lock; Faces Of Stone; Wish You Were Here; What Do You Want From Me: A Boat Lies Waiting; The Blue; Money; Us And Them; In Any Tongue; High Hopes.
Second Set: Astronomy Domine; Shine On You Crazy Diamond (Parts 1-5); Fat Old Sun; Coming Back To Life; The Girl In The Yellow Dress; Today; Sorrow; Run Like Hell.
Encores: Time/Breathe (reprise); Comfortably Numb.
Website
Capacity: 17,505
Address: 3900 W Manchester Blvd Inglewood CA 90305,
Situated on a former golf course, The "Fabulous" Forum, as it would become colloquially known to locals, was constructed in 1967 by Jack Kent Cooke, then-owner of the Lakers and founding owner of the Kings. It's a multi-purpose indoor arena in Inglewood, California, a city adjacent to Los Angeles. Located between West Manchester Boulevard, across 90th Street (re-dedicated as Pincay Drive in December 2003) and to the north of the former Hollywood Park Racetrack and casino, it is situated about three miles east of Los Angeles International Airport.