Grote Markt Tienen Belgium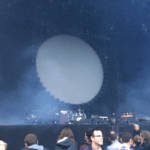 Arrived a bit late (well, 30 min before the show). But as I was in Golden Circle (which means, in front of the stage, the 10 first rows), we didn't have any problems finding a place right in front of Guy, 4th row…
About the show. Yep, Tienen is maybe not the most impressive historic place where he played this summer, but it's a nice place, a big typical market place, with the ancient City Council (nice building). What was nice, is the fact that the place is surrounded by pubs, bars etc. With Terraces.
So, when into the concert site, you could either buy tickets and plastic-can-beers, but also come to a pub and order your preferred beer in a glass (which you weren't allowed to take away, of course), or eat something and this, until 10 minutes before the show. the usual 2h waiting in Festival Sites or stadiums… Quite pleasing.
About the show.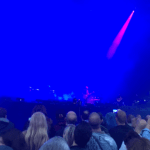 Frankly, the sound was amazing, and the performance was nice too. They all seemed in good shape and vibe. Lucita Jules is really the funny one, dancing and mimicking all along. The others seemed to enjoy themselves very much too. Guy, as always, was in pretty jolly mood.
I have to say David seemed tired. First half was perfect with the voice, and the solos were a bit adventurous, which means also a bit sometimes « out of place ». But hey, it's a music show, not a CD playing…
At first I felt he was inspired, and keen on taking risky solos. In Any Tongue was superb…
Crowd was singing along some tunes (Best crowd-singing tunes: Wish You Were Here, Shine On, Money, C'Numb).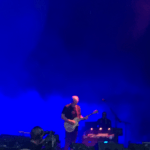 During the second half, David was even more « risky » with solos, which means even more « out of place » sometimes.
I mean, well, David ALWAYS play right, and if he make a mistake, he's able to assume it and carry on « incorporating the mistake » (Sign of a great musician). But he sometimes seemed not so much inspired.
His voice was perfect in the first set, but he seemed to have a few problems with it at the end of the second set. His voice seemed a bit rusty at the end of the show. It's not that noticeable, because, as they are professionals, they relay on each other when one voice is tired.
Anyway, good show, spontaneous, professional, but I felt « just a little bit hungry » after the end.
Above review & pictures thanks to Pierre-Alain Bernard
---
Above pictures thanks to Giannis Kantzios
---
First Set: 5 am, Rattle That Lock, Faces of Stone, What Do You Want From Me, The Blue, The Great Gig In the Sky, A Boat Lies Waiting , Wish You Were Here, Money, In Any Tongue, High Hopes
Second Set: One of These Days, Shine On You Crazy Diamond, Fat Old Sun, Coming Back To Life, On an Island, The Girl In the Yellow Dress, Today, Sorrow, Run Like Hell
Encore: Time, Breathe (Reprise), Comfortably Numb
---
Tickets: www.livenation.be and www.ticketmaster.be (On sale 5 Feb)
Capacity: Est 8000
Address: Grote Markt 3300 Tienen Belgium
Videos from this concert have been removed as Pink Floyd claim copyright on them