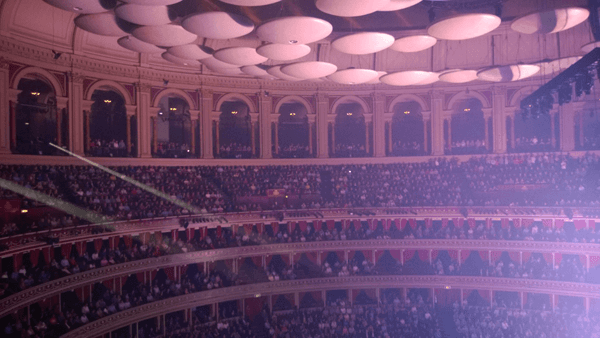 The set list was the same as the previous shows, but they skipped Coming Back To Life. I suppose this has to do with David's voice tonight, as this song is not really easy to sing.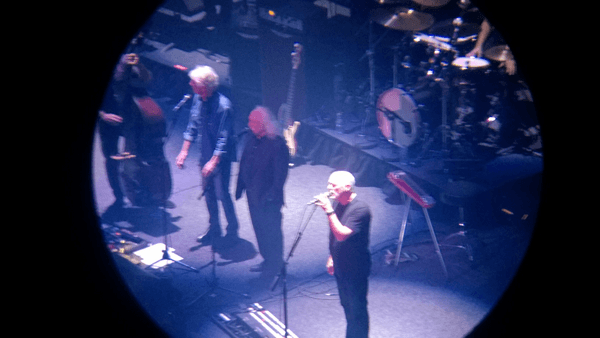 I never heard him sing so uncomfortably (even though it was still very good, but we're spoiled!). In the first song with lyrics, Rattle That Lock, it was already clear that his voice was tired. In a lot of the songs, you could hear that he had trouble getting the high notes right. This resulted in changing the singing melody sometimes to make it easier for David to sing.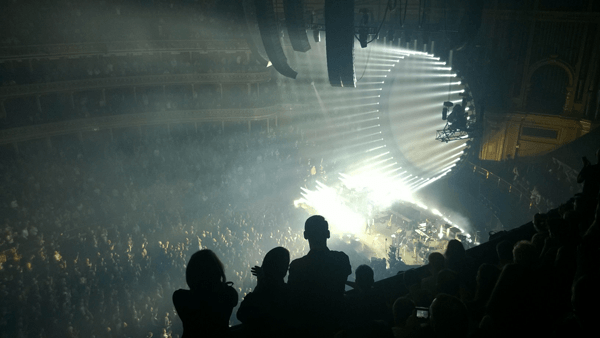 Compared to the other two shows I saw, Orange and Oberhausen, this was not the best one vocally. Then again, Graham Nash and David Crosby guested on "A Boat Lies Waiting", "On An Island" and "Comfortably Numb". The last one could have been rehearsed better by Nash and Crosby, but the epic guitar solo (best Comfortably Numb solo I heard on this tour) made me forget about the "strange" singing of the guests (especially the second verse sounded weird).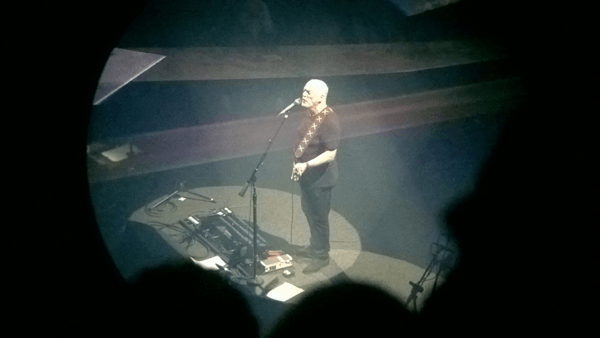 For the London shows, lasers were added for this song as well. They weren't there the last shows. Looked very nice, but I think they could have done more with them (look at Run Like Hell on Pulse tour…). The solo in "The Blue" was longer than usual I think, and the solo in Sorrow was clearly shorter than in the previous shows.
I would give this show a 8.5 out of 10. I hope David gets a good night of sleep so his voice is back to normal tomorrow!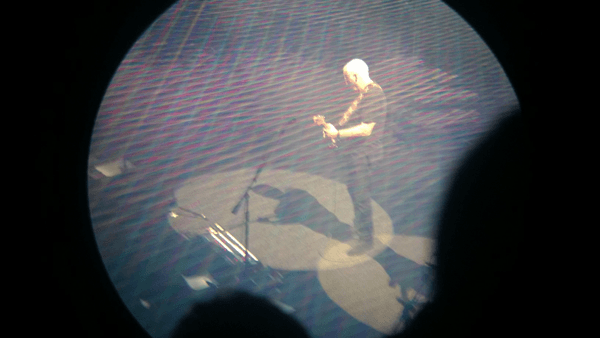 Review & above images thanks to Dieter Vanmarcke
---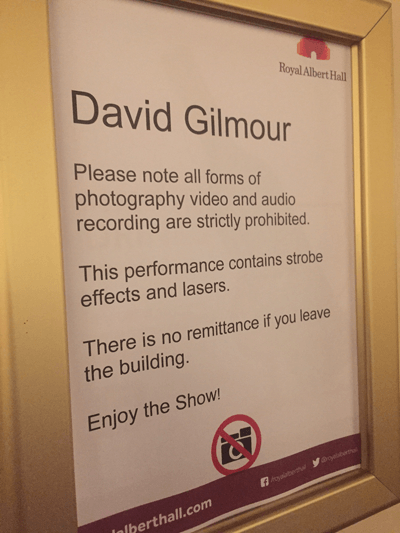 Above pic thanks to ghars
---
Above photos with thanks to Linda Heath which were sent in by RonToon
Above photos with thanks to PJ57
---
Lots of fumbles, a few mistakes, he asked Croz and Nash to leave the stage before he played The Blue, they were expecting to sing it I'm sure of that as DG walked up behind Croz and said something which could be heard but I was in shock as they obediently turned and walked off….so disappointed as The Blue with them is killer…and they didn't stay for the bow at he end….
Songs like WYWH that I've heard and played a gazillion times actually made me cry, it wasn't a DVD this time, it was him, right there….as was Money, great bit of improv in the middle… I'm glad someone else thought the sound was a bit average, the bottom end was ok where we were but no bass guitar, it was as if it was just from his amps on stage, the sax was harsh. The second half DGs guitar dropped in the mix for a bit and his sounds were not right, Time it seemed to me he had his Breathe sound on and left it like that, that was the only song I recorded so I'll check it out, he also buggered the intro up on that and the slide in High Hopes….
My god, he is human after all! Makes me feel a little better.
His singing was great, another sniffle for Us and Them.. I liked the new songs too and still haven't heard the album.
I got to meet Colin Norfield the FOH guy, nice bloke, let me in to the control area, Mark Brickman was there too bringing in family and friends
Thanks to H Timseel
---
Setting Up The Stage – Above photos with thanks John McCullagh
---
Above photos with thanks Peter Agnos