[metaslider id=10526]
Above pictures thanks to Jakub Zimoch
More Here
---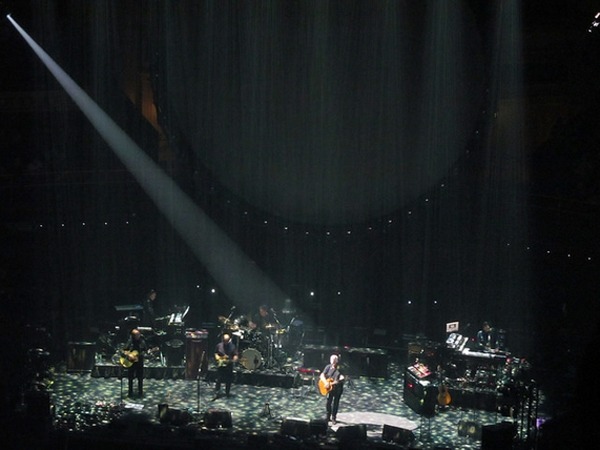 Remember That Night.
I used to think this day would never come. Every time I see David Gilmour I have to think it might be the last time. His touring is – at best – irregular – with only two tours in the past twenty years, his records are sparse, but elegant and perfectly phrased, his live shows are, at their best, rightly legendary, and epic in scope : for a seventy year old man to play for three hours, and for it to be equal in intensity – and volume – of bands less than half his age is no small achievement. This new tour is a rock show, and to all intents and purposes, is as close to latter day Pink Floyd as anyone can get these days. The only two elements missing that don't make this a Pink Floyd live show are the deceased Rick Wright, and drummer Nick Mason. A huge show inside an intimate setting, this is genuinely Pink Floyd in all but the name and the drum stool.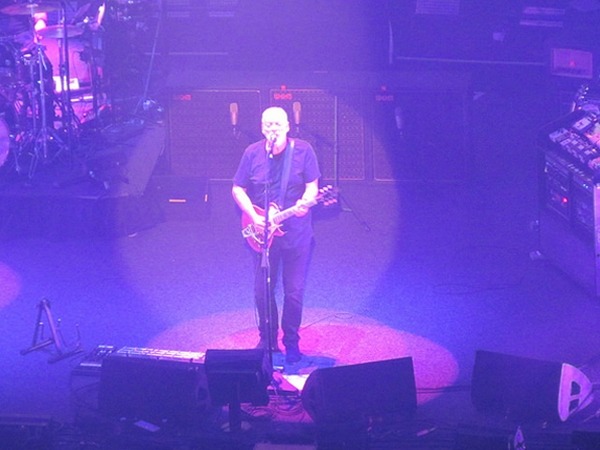 There's a moment – and there's always at least one in a David Gilmour show – where there's a sense of wonder, a sense of I-am-actually-seeing-this, of being in the same room as, and seeing one of Pink Floyd play songs that have become part of the cultural language. It's like seeing The Rock Pope.
After all, there was a time, and not long before I was born, when there was no Pink Floyd song called "Money" and nobody knew it. There's a moment, when I'm watching him alone in front of 5,782 people in a Victorian Ballroom, playing "Sorrow" – a song I never thought would ever be played live again, let alone in front of me, and for long over twenty years, this song was one of the ones that I thought would never be real. Seeing David Gilmour, who will – at some point, wether we like or not, pass from actual into historical, is a rare treat. I've indulged myself to see him several times in my life, but that's because chances are rare and rewards are great.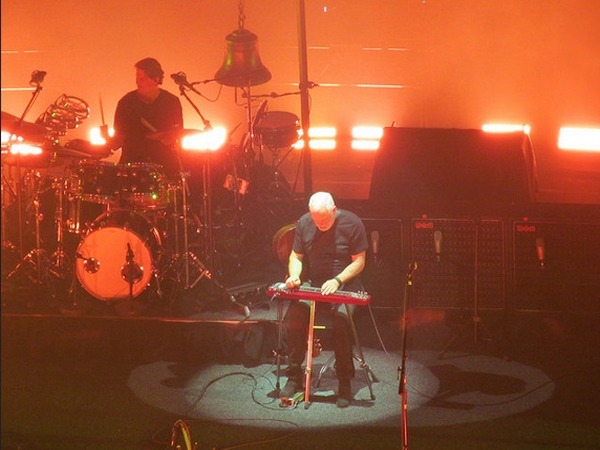 On the back of his fourth solo album, "Rattle That Lock", Gilmour and his band – who are largely identical to his 2006 touring lineup aside from illness and death – are now a refined and experienced live unit, with Jon Carin and Guy Pratt from latter-day Pink Floyd, Phil Manzenera from Roxy Music, Kevin McAlea (last seen with Kate Bush), exercise their way through a three hour show that matches near enough anything else I've seen. It is weird seeing that band, and not having Rick Wright on keyboards – being the first time I've seen him in 15 years without him on stage – but in a way, Jon Carin, being not only Wrights understudy, but also his replacement in Roger Waters band, steps into the role ably. You can't tell by sound alone his absence, as the deftness of touch is all over the night.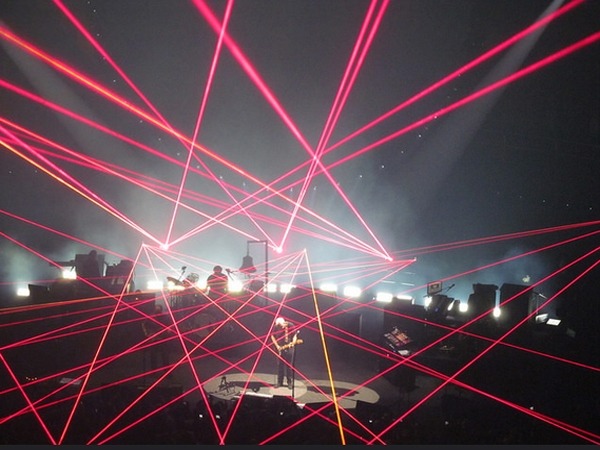 It opens at 7.49 with a short, but extended instrumental interpretation of "5 A.M." and a reworked, and complete "Rattle That Lock". It's slightly premature for Gilmour to execute "Wish You Were Here" at 8.20pm, ; but in an evening of highlights, sometimes the big guns get fired at the beginning. As ever, hearing David Gilmour on record is an incomplete experience, for the shows somehow expand the music that was already there. There's a sense that this isn't so much music you lose yourself to, but music you find yourself in, music you experience in your head and inside yourself. There's little in the way of obvious, demonstrative enjoyment, but instead a hall of largely rapt attention, lost in thought and sound.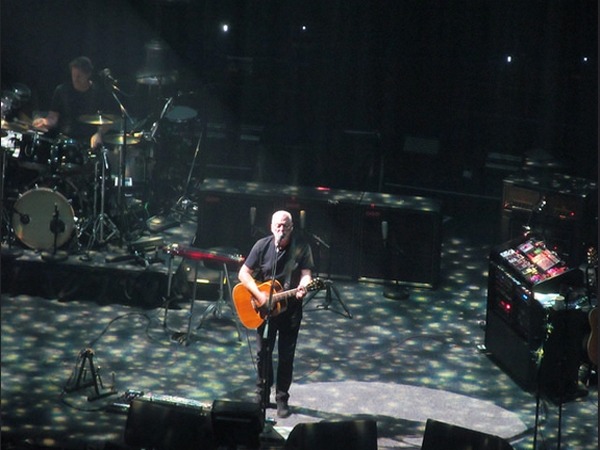 Aside from the eight-pints-in-three-hours wanker in front of me who acts like he's seeing Slayer instead of something more …. measured. He punches the air with a single outstretched finger at random points, before wandering off for constant refills and misses probably a quarter of the three hour show queuing for plastic bottles of lager.
The show is also well paced, with a very fresh new record, most of it is played across the evening, and you're never far from a more familiar song. After all, "Money" / "Us And Them" are placed early in the first half, with an assurance and confidence that belies experience and a back catalogue any band would be proud to have.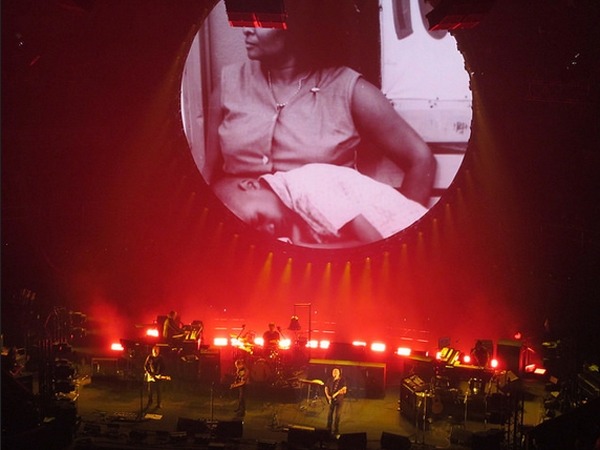 Inside the relatively intimate confines of the enormous Albert Hall, we're probably two hundred feet from the stage – but it feels like inches. Gilmour peels out his trademark tone and sound with the kind of random precision and perfect timing that has stood him in good stead his whole life. The new material fits in without hesitation around the rest of the older, Pink Floyd songs. The staging – that of the revived 'Mr Screen' circular projection and lights that became a trademark of latter-day Pink Floyd shows – coupled with the band including most of the final live Pink Floyd lineup – makes this the nearest thing you can get to seeing that band these days. Spiritually, when the band open up something like "High Hopes", the lights, sound, and songs are all … there. I suppose it must be like seeing The Beatles or something.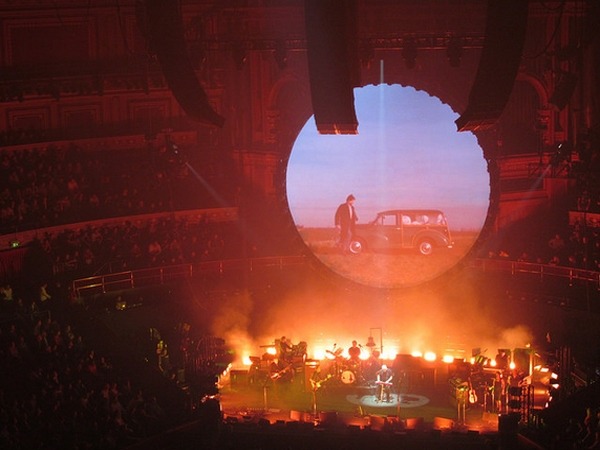 The songs themselves, be they Gilmour solo songs or Floyd material, are so longlasting, and so effective, because in some way, they are so vaguely specific that we can all relate to the core themes, lyrically, or musically. Whilst sonically, tonights show is slightly muddy at points, there's no hint that the band leader is 69, no fatigue in playing or performance, and no sign of a gentle fading towards mortality, with a show louder and brighter than many I have seen – especially around the time kick in with a huge and powerful take on Floyd's "Astronomy Domine" which is the musical equivalent of an epileptic fit, and louder – yes, louder, than Motorhead.
ii. Yes, Gig Wanker, I know about Setlist.fm too – stop being a dick and showing people your phone.
"Fat Old Sun" follows – the venue bathed in a huge sun-effect on the screen – and I don't think it's ever sounded better, being drenched in Gilmour's trademark style, with a live solo that transforms the song into an epic of classic proportions. The rest of the set is a huge journey through three hours – the main set itself climaxing in the freshly resurrected "Sorrow" (which is simply enormous in volume and effect), and "Run Like Hell", from "The Wall", which used to end almost every Pink Floyd live show ; the venue bathed in blinding light and smoke is more than just a gig. It's a Bucket List moment.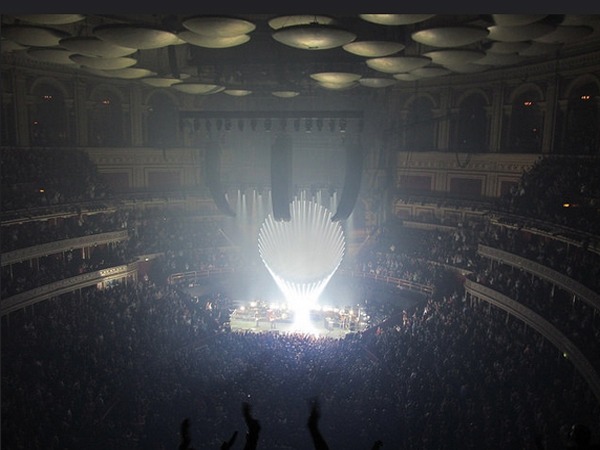 Bassist Guy Pratt (who joined Pink Floyd in 1986, and now plays with Gilmour), saw a number of Pink Floyd shows, and to see him enthusiastically living out his childhood dream is a joy. Because I too, grew up listening to this stuff, and seeing Pratt 'fall' into his old stage moves without really thinking about it.. those were the same moves I used to watch on VHS as a 16 year old and think I'd not get to experience that at all.
Gig Wanker decides it's time to leave early and avoid the crush during the solo of "Comfortably Numb". (Honestly).
It's already one of the best gigs I've seen, in a lifetime of mine blessed with riches of lives shows. By encore time, the venue roars, and it's a short 20 minutes to execute "Time", "Breathe", and finally, gorgeously, "Comfortably Numb." Gilmour presses an effects pedal, and there's a collective gasp, as the venue is suddenly festoned in waves and waves of complex lasers, Gilmour shilouetted in fog and smoke as he peels out – in short succession – two of the finest guitar solos of all time, and boy, they are perfect, and his band locks in as perfect moments are made, flower, exist for minutes at a time, then disappear forever. We were here, this happened, and whilst none of us know if we'll ever see him again, or if he'll tour once more, but we had this. Remember that night.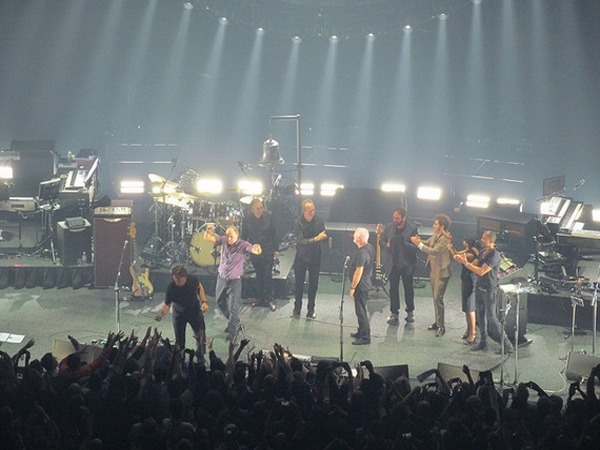 Review and above pictures thanks to Mark Reed.

Set One
5Am
Rattle That Lock
Faces Of Stone
Wish You Were Here
A Boat Lies Waiting
The Blue
Money
Us And Them
In Any Tongue
High Hopes
Set two :
Astronomy Domine
Shine On You Crazy Diamond
Fat Old Sun
On An Island
The Girl In The Yellow Dress
Today
Sorrow
Run Like Hell
Time
Breathe
Comfortably Numb
---
Having seen the whole tour less Florence, I really expected him to shake things up here in London.
For you fellow connoisseurs of Gilmour soloing watch for "In Any Tongue". "Money" which was messed at the start but brought home brilliantly, the second solo on "On an Island" and of course "Sorrow".
"Time" album version as well as "Comfortably Numb", but those are pretty much givens at this point.
Gabriel played with daddy on "In Any Tongue" btw. Interesting that he wasn't announced until after the song was finished and he left the stage. Possibly a little stage fright and easy to understand.
Graham Broad was sat 4 rows in front of me, he seemed to be having a good time.
And so end the tour for me. Have a great time if you're going next week or in December. I'll be counting the days until the Hollywood Bowl.
Thanks to fanofallfive
---
I was at the show last night (25th) and must say It was the best I've seen with DG, better than
Gentofte -88 and Ullevi -94, of course a smaller scaled show but so good playing from the whole band and a beatiful vintage raw sound in DG:s guitar, really suprised by the good singing from David.
But I wonder if he was a little bit sick because on CN when he sang the fever line he pointed at himself.
BTW the audience I mean the whole RAH sang the whole song, never heard that on a Floyd concert. Gilmour looked like he just run the London marathon after the show.
Thanks to mulle
---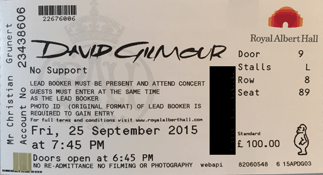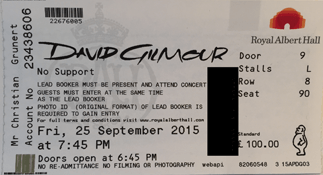 With thanks to Christian Rantorp