David Gilmour Setlist - Arena - Pula - Croatia - 12 September 2015
I was there in pula last night. Fabulous show!! David shone in sorrow and cn and throughout the show. About The Blue. My theory is that his whammy pedal was mistakenly set to a fifth rather than an octave up and played along with it for a while, however when he returned to the heel position he found himself in the wrong key and fucked it up. Very tricky situation indeed, I felt sooo sorry. He made it up by finishing it off without the whammy pedal. He looked very embarrassed. I saw him kneeling down to fix his pedal settings on the fly but that didn't help apparently. His guitar tech came out during the intermission to check what had happened, hopefully this won't happen again.
Anyways, he's human and can make mistakes but when the guy warms up and closes his eyes and gets into it, he can throw you into another dimension, like he did last night with "sorrow". Probably one of the best versions I've heard of it.
His voice was in a very good shape and his guitar tone very defined. He should add up a little delay on the guitars as he used to in the 88-94 tours, but that's just according to my taste.
The new album sounds very promising live and can't wait til I get my copy on the 18th!
Cheers from Pula!
Thanks to floyd0987
---
I went to the Pula concert and it was really amazing.
Great setlist, great surprises, incredible lightshow and the evening was just so beautiful.
Looking up there were visible stars. It was perfect.
I spent 3 days with my girlfriend in Pula and 1 day in Venice ☺ what a beautiful place it is. We went to the amphitheatre a few days before the concert to feel the atmosphere.
We didn't have the best seats, we were placed to the left of the stage, but I did manage to walk up to the front of the stage a few times to get a better view and some good pictures. At one point I stood about 5 or 6 metres from David, it felt totally unreal to be so close. The whole concert seemed a little unreal actually, but I enjoyed it so much. My girlfriend enjoyed it too even though she's not a fan like me. She had a really good time and she especially loved Girl in the Yellow Dress. ☺
Sadly I didn't bring my camera so I only too pictures with my phone. I'm hoping that the whole concert has been recorded and filmed so a DVD/Bluray can be made, or just the audio recording. I'd love to watch it and hear it again. I listened to the Brighton concert from Brain Damage podcast on the travel home to Denmark. Great concert too. I hope there will be changes to the setlist along the way though.
Thanks to Lars Normann ……..Who later added this
Re The Blue. He really fought bravely to rescue that solo, but it was pretty hopeless.
Other than that the concert seemed more or less flawless, and what a concert it was!!
I was practically in tears the first 30 minutes. It was just so big to be there and finally experience the Voice and Guitar of Pink Floyd in person.
I have no doubt that the new album is gonna be epic. Songs like 5 A.M., A Boat Lies Waiting, Faces of Stone, The Girl in the Yellow Dress and In Any Tounge are masterpieces no less (in my book anyway) even Today rocked live and I like it more now.
The cartoons on Mr. Screen are mind blowing, especially the ones for In Any Tongue and The Girl in the Yellow Dress.
There were some nice surprises in the setlist, but also many from the last tour. It was great to hear Us and Them and Sorrow live! I was hoping to hear a couple of more pre dark side songs one or two Syd songs and Louder Than Words, but I really can't complain at all, though I hope that the setlist will change a bit during the tour like in 2006.
The lightshow was beautiful, even without the Lazers. Brickman is a real master!
Even my girlfriend loved the show, even though she isn't really into Pink Floyd. She especially loved The Girl in the Yellow Dress, which I think will be one of my favorites on the album.
I'm not sure what else to say. I wish I could go again, but I am so happy I experienced this show.
Above review & pictures thanks to Lars Normann
---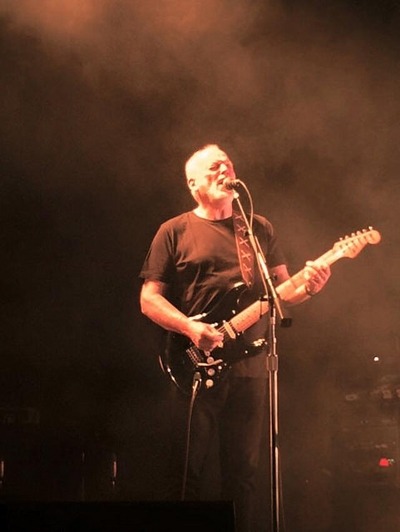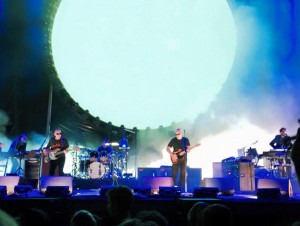 THE SHOW
The very first note of "5 A.M." played on his Les Paul let us know that God's guitarist was on stage, but we had very bad seats far right at the back of the floor. General sound at that position was clear but with reduced low frequency and not loud enough for my taste. With relatively poor visual production, it did not promise. Let me clear this at once: apart from Mr. Screen, lights were not on expected level, nor was the sound except from the section that was directly in front of the stage, including tribune at the back, as I was told by a friend who has been there (and had made some sensational photos and videos later on, btw). Set list was the same as it was in Brighton. In first part, absolute highlight for me was "A Boat Lies Waiting", the only song David performed without instrument, just standing by the microphone. The band also sang it along and did they blow our minds… Fantastic! Crowd awarded it with very intensive, long applause. Unfortunately, next song, "The Blue", was ruined by David's pedal failure which caused complete solo to be played out of tune. He was fighting bravely but it was rather embarissing for David. On the other hand my friend's comment was "Yes, he is only a human, I like that!" as David did make minor mistakes on other songs from time to time. Mistakes that did not shade his general playing, it sounded really like Gilmour at his best, especially when he used Telecaster. (I still wish he played his Red Strat instead of Black). His voice is better than ever. That was the most positive surprise for me, perhaps because I didn't expect it to be so good. Set ended with "High Hopes" just like my high hopes of enjoying the show completely ended at my seating position. During the break I moved in the middle towards front of the stage: space between two seating rows quickly became occupied by fans, not removed by security as we were all seated down on the ground, not disturbing anyone. It was very good move: sound and vision were perfect there. Set two started with Astronomy Domine, excellently performed with the band in fantastic mood. Complete set was very well played with David in superb vocal shape. "Today" was played when someone gently pushed me and said "Excuse me…" trying to reach the stage with camera. Only when she managed to position herself right in front of the stage I realised that it was Polly Samson. Set ended with "Run Like Hell" when everybody on the stage have had black sunglasses on. Thus far in the audience everyone stood up and I managed to reach almost to the edge of the stage right in front of David. Crowd was enthusiastic but fair and polite so we were allowed to reach the line just one meter from the stage. Polly was three meters away taking photo's of the band and the crowd. David and band waited for more than 5-6 minutes to come back to the stage and play Time, Breathe Reprise and Comfortably Numb. David's solos on Comfortably Numb were KILLERS. He played very inspired and audience awarded it with huge ovations.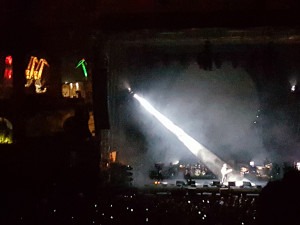 THE BAND
Phil Manzanera – Very effective second guitarist with superb sound especially with Les Paul.
Guy Pratt – You got to love that guy. Brilliant musician with tons of positive vibrations.
Jon Carin – He is genius! Second to none as Floydian keyboardist, but brilliant also as a guitarist and vocalist. He played guitar much more than before, even had a solo in one song (it was "Today", I think).
Stevie DiStanislao – Excellent player. My friend who is a drummer described him as typical American style drummer incredibly adjusted to Floydish (Masonish) drumming.
Kevin McAlea – I wish I was at his place to supplement Jon. I think it was Rick's Hammond B3 on the stage, but did not sound like that.
Theo Travis – Hm, I was not impressed. Correct but nothing more.
Bryan Chambers – Fantastic in every way.
Louise Marshall – Also fantastic in every way. And HOT!!!
David Gilmour – David Gilmour.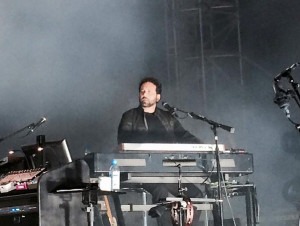 AROUND THE SHOW
I went to the show with my wife, my daughter Sara (the biggest female Floydian I know) and a friend, famous Croatian drummer. Our three tickets were floor back right (very bad position), and friend was on a tribune well positioned in the middle, so he was able to make some great pics and videos. Before the show we ran into black van with a man with big TV camera on front seat entering Arena. I instantly recognized David Gilmour behind the driver. Couple of minutes later the band came with another van and then some other people with Paul Loasby in third. Arena Pula is very special venue with unusual outside view of shipyard cranes coloured during the night which made unbelievable additional Floydian scenery.
Above review & photos thanks to Mimo
---
Above photos thanks to Giannis Kantzios
Above photos thanks to Hrvoje Karalic
---
Paul Loasby arriving to Arena Pula
Videos thanks to Mimo
Pre Show
Preparations under way! – With thanks to Lars Normann