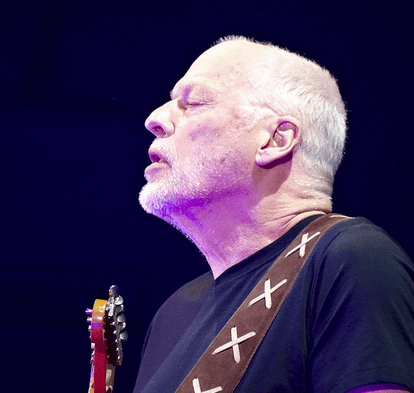 HOLLYWOOD BOWL – HOLLYWOOD – LOS ANGELES USA
'What Do You Want From Me' – played tonight.
For me last night's show was the best of the tour. I don't think anyone could have guess What Do You Want From Me was coming and my jaw it the floor as the first few bars got pounced into my ears. The version tonight seemed much more electric than my memory of the 94 shows, he really tears it up! The sound was night and day from the Thursday show…much much louder. David's voice was better and the solo's to my ears seemed much more adventurous
Thanks fanofallfive
---
I thought last night was a better as well for variety of reasons – it was truly a stunning show.
Part of the benefits of seeing a show multiple times is that expectations aren't as uncertain as they were first night, and first impression quibbles, rants, and raves in general are temporarily put aside. I was able to sit back and enjoy the show as a whole, and felt blessed to be able to see one of my all time favorite guitar players live again! It seemed Gilmour was more relaxed in the Bowl setting, and any first night jitters (however minor they might have been), were nowhere to be seen. My vantage point in section F had a great perspective and the sound was good. Watching a sea of people in unison taking in the show with the atmospheric haze floating above and all around was a sight to behold. One highlight among many was the piercing solo on In Any Tongue which was epic, and while I've always thought the tune itself was a bit bombastic and melodramatic, it works great in a live setting in a theatrical kind of way. I've always been a bit indifferent towards the post-Roger Floyd era (as I mentioned in first night review), but will say there's a certain charm to it, and perhaps it's best to appreciate on it's own terms for what it is rather than critique for what it isn't, and I'll leave it at that. All in all, I was overcome by a peaceful vibe throughout the show, and I kept thinking to myself how historical these performances are in the big scheme of things. Once again, I felt completely lucky and grateful to witness these shows, and they will always be remembered fondly. Looking forward to seeing it again, and again…
Thanks Eric DiamondHead
---
I loved guy pratts droning bass tones during 'In any Tongue'. Added some more tension to the song. Just incredible!
Thanks John Floyd
---
Sorrow is very much like the versions from 1987-90 the version from last night is excellent one of the best from the tour so far the solo is great
Thanksazza200
---
What i missed last night was the delay effect in the middle jam on Money. He just didn't use the effect last night… prior night that part was pretty much like played it live in 77… They screwed up that part anyways… but sounded fantastic !
His guitar tone nowadays is on par to his sound from late 70's – early 80's. His best tone, IMHO.
Thanks bgmww
---
Superb performance of Shine On in the 2nd Bowl show. David appeared to make a very slight error on the opening guitar intro and, instead of just keeping to the (truncated) solo arrangement he'splaying this tour, he did a *&*%ing Animals Tour and improvised a bluesy version. Yes!
Thanks mikec32001
---
Images above thanks to cheapfilm (Chris M)
MANY MORE
---
First Set: 5 A.M.; Rattle That Lock; Faces Of Stone; Wish You Were Here; What Do You Want From Me: A Boat Lies Waiting; The Blue; Money; Us And Them; In Any Tongue; High Hopes.
Second Set: Astronomy Domine; Shine On You Crazy Diamond (Parts 1-5); Fat Old Sun; Coming Back To Life; The Girl In The Yellow Dress; Today; Sorrow; Run Like Hell.
Encores: Time/Breathe (reprise); Comfortably Numb.
Capacity: 17,376
Address: 2301 Nth. Highland Ave Hollywood CA 90068
The Hollywood Bowl is a 1920s amphitheater in the Hollywood area of Los Angeles, California, that is used primarily for music performances. The Hollywood Bowl is known for its band shell, a distinctive set of concentric arches that graced the site from 1929 through 2003, before being replaced with a somewhat larger one beginning in the 2004 season. The shell is set against the backdrop of the Hollywood Hills and the famous Hollywood Sign to the Northeast.