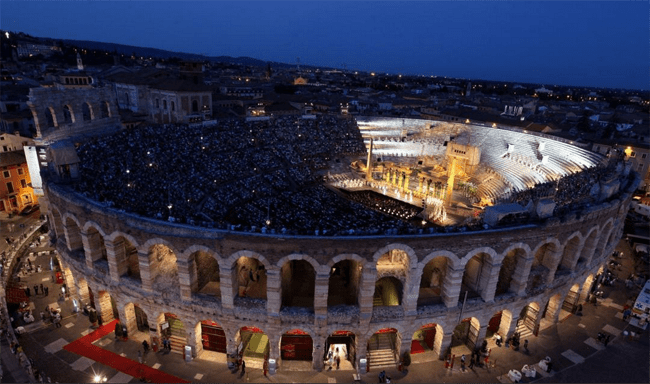 ARENA DI VERONA – VERONA – ITALY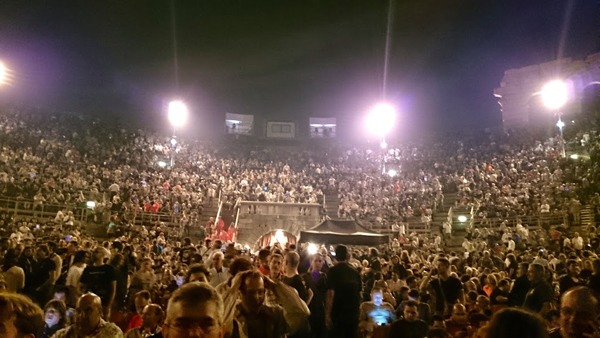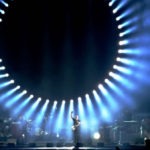 When I started my journey to Verona from Switzerland my biggest concern was not the setlist or sound quality, but the weather. Morning in Zurich was awful and wet and further south I was going worst it got. Fortunately, as soon as I changed the trains and direction in Milan weather got better and Verona welcomed all Pink Floyd fans with summer weather and clear skies. Couldn't be better for the first show of David Gilmour for me.
Italian public was amazing and show hasn't event start yet. The banks of ancient Roman theatre full of enthusiastic people started with Mexican wave, and we all already knew that acoustic of Arena di Verona is more than great. Concert started on time and public went nuts immediately providing warm southern welcome to Gilmour. I have no doubts that he repaid this treatment during the show.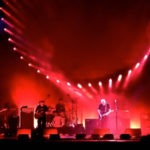 As you may already know setlist is a mixture of new songs from Rattle That Lock with older pieces from On An Island and Pink Floyd years. New songs are really good and tittle track and Today are real rockers. I wasn't big enthusiast of the latter one, but listening it live is a complete different story. For me the setlist was perfect, but I know that some of the fans with bigger Floyd concert experience than me would love to hear some rarities instead of the great hits. Concert is going way too fast and new and old stuff melts well. The only concern I have is about The Girl in Yellow Dress. It's a very nice song supported by a fantastic cartoon animation, but it's played in quite odd place during the concert. From the other hand it's still is so different from style we're used to that it's probably impossible to find a place where it would fit.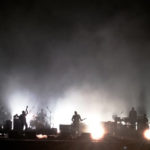 Sound in Verona was absolutely perfect – I have not noticed any single feedback or other cracks and noises. When his guitar was crying from despair during Sorrow one could literally feel this vibrations – in chest, on the chair, through the floor. It was stunning experience and highlight of the show, but you won't be able to listen this track again on you home sound system ever again. I can guarantee this to you.
Many people were disappointed by the lack of lasers – but cry no more. This light-work that Mr Brickman created is working phenomenally and Run Like Hell is the top for their capabilities. Nice to have Mr Screen above the stage as well.
It was a fantastic show with enthusiastic and warm audience. I simply cannot wait another week and so to see The Man again in London.
Above pictures & review thanks to Jakub Zimoch
---
An absolutely great show in Verona this evening.
For me Brighton was great, Pula was a let down not only from the blown bits such as "The Blue" solo but so many other times during the show seemed off to me, uninspired if you will.
Tonight was redemption. The show kicked off well with the Italian audience serenating the band before hitting the stage but you could tell something was up once he got to the solo for "The Blue". To back track having seen David play so many times I always say the best thing that can happen in a concert is for David to f something up. He knows it right away but instead of getting frustrated he ALWAYS makes up for it by adding something spectacular. After blowing The Blue in Pula I'm sure he made up for it later that night in "Sorrow" but still the feel from that show never did it for me.
Flash forward to tonight, The Blue comes on and as it works to the solo I'm wondering has it will go. True to form he blows out maybe his best effort inclusive of 2006, wait for the recordings, you will see. From there off we go. The voice was tremendous and the guitar even better. The "Faces of Stone" and "In any tongue" solos are getting better by the night. Strangely I've now noticed that David doesn't sing any of chorus on "In any tongue", I thought he did in Brighton but could be wrong.
AD, SOYCD and FOS still seem a bit tired to me in that I've seen them all played better in the past. That said AD seemed special tonight but it may have been the environment causing some bias, I will have to hear the recording to be sure, it seemed like he added some pieces. Problem is these three is that they are all fan favourites and receive ample applause.
What has flown under the radar imo is On an Island. I'm a big fan of the album but know many fans that dislike it. Played in the middle of set two versus last tour as second to the entire album this song shine. The guitar due in the first solo is beautiful, first leading to Phil's bit and then with Phil playing under David. David of course bringing it home in the end with the final solo.
Weird to me is Girl in the yellow dress. I don't like jazz so I want to dismiss it. But man is this song growing on me. It is really catchy and the crowd seem to enjoy it. That all said, the number of songs I wish he would play that could take this ones place are immeasurable…
today, I said it from the first time I heard it that there is lots going on, it grows every time I hear it. I believe it will be a monster.
sorrow, me favouite since 94. every night a new beautiful trip of which Verona is easily the best to date.
Run Like Hell, interesting light effect. They have some sort of flash bulb light effect built into the front of the stage. If you look at the pictures from the shows these are these little 1.5 foot or so units that run along the front perimeter of the stage. Funny enough they are dormant all night until RLH so I assume Brickman must be a big fan because I'm sure it must be $$$$ to have these things built in and to only employ them one…
Time, the solo was blown which meant we got the best CN of the tour.
Conclusion, the best of the tour thus far imo.
Review thanks to fanofallfive
---
Photos with thanks to Michele Panzera Fotografo which were sent in by Torsten
---
Just got home from Verona (its 5:30 in the morning now) What a show, what a sound and what an audience singing along.
There were so many people with high end cameras worth a used car around me, that I asked them to mail me some pictures they made. Hope they will remember, and I will post it here.
BTW: David said as a welcome. "We've been here last in 1988, well at least some of us" 😉
I need to sleep now for some hours. Good night.
Thanks to Abnormaler
---
What a terrific night. This has to be one of the most special concerts I've ever been to. Besides a few hickups, they were all spot on. Amazing! And I would have never believed that Sorrow would be my personal highlight of a Dave concert, but it truly was. Those first notes hit me like nothing else.
Everything hurts, but it was all worth it!
Thanks to Hankster
---
---
Capacity: 15,000
Address: Piazza Brà 1 Verona 37121 Italy
The Verona Arena (Arena di Verona) is a Roman amphitheatre in Piazza Bra in Verona, Italy built in 1st century. It is still in use today and is internationally famous for the large-scale opera performances given there. It is one of the best preserved ancient structures of its kind.
The building itself was built in AD 30 on a site which was then beyond the city walls. The shows staged there were so famous that spectators came from many other places, often far away, to witness them. The amphitheatre could host more than 30,000 spectators in ancient times.