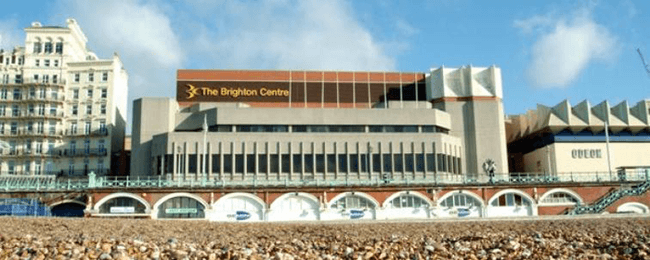 Preview Show
BRIGHTON CENTRE – BRIGHTON – ENGLAND
The Brighton appearance is a special 'Preview show' before a short run of European & USA concerts.
Above pictures thanks to Vince Cater
---
Well… I saw? Mr. Gilmour last night.
Fantastic sound and the band where incredibly tight.
The new vocalists answer sax did their job admirably.
Four new songs I think, plus old favourites and to my delight, Astronomy Domine. One of the new songs is basically jazz!
DGs voice is holding up well. Teeny bit of a stretch for some of ghetto higher notes but it sounded rocky, rather than problematic.
Light show very much per OAI but no lasers, maybe because the layout of Brighton had no backstop for the beams.
Review thanks to Mike Lacey
---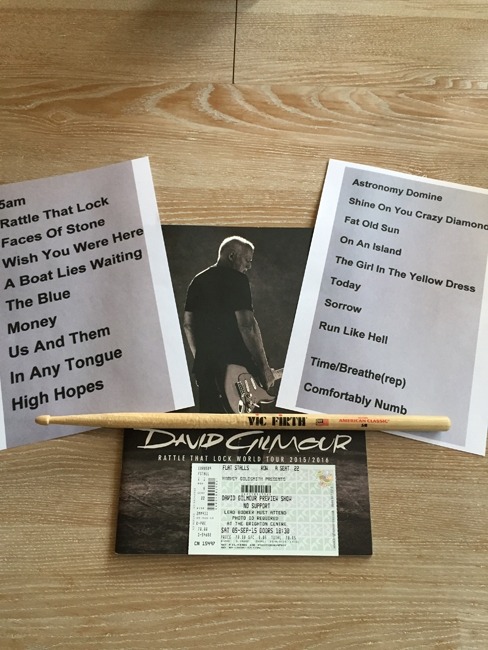 They were very very strict with anyone taking pictures and videos throughout the show. Security were up and down everytime a flash went off. The only time it relaxed was the encore during time and comfortably numb did cameras come out and it became relaxed. Strange there was one lady roaming about taking snaps that wasn't challenged but I suppose being married to the main man helped.
Review & above photos thanks Stuart Brooks
---
There were no cameras taping the show so there won't be an official video of any sort. The acoustic ending to high hopes was indeed played but seemed abbreviated compared to 2006, perhaps David grew tired of people clapping over it.
He did blame fuck ups for the show coming before the album which for the life of me I don't get. The album release date was announced shortly after the the tour dates so surely the album could have been put out by now. The sound was incredible. It seemed to my ears that he is using a pa made for arenas versus in 2006 where he uses a much smaller system for the theatres. You could feel the sound and my ears still haven't 100% recovered
Thanks fanofallfive
First Set
5am
Rattle That Lock
Faces of Stone
Wish You Were Here
A Boat Lies Waiting
The Blue
Money
Us And Them
In Any Tongue
High Hopes
Second Set
Astronomy Domine
Shine On You Crazy Diamond
Fat Old Sun
On An Island
The Girl In The Yellow Dress
Today
Sorrow
Run Like Hell
Time / Breathe Reprise
Comfortably Numb
---