I set off from my hometown for my third David Gilmour show with my father – person who infected me with love to Pink Floyd. For him it was going to be first ever Gilmour show. When we reached Wrocław city was desserted, absolutely nobody was on the streets – no cars, no people. Poland was playing against Switzerland, but we didn't care. For us the best was still to come later.
With empty streets we smoothly reached The Freedom Square. It was of a surprise that just half an hour before the opening of gates we're around 10 place in line. When we entered the venue we deliberately moved towards the front of the mixing table. To get perfect view and perfect sound as well.
Long wait was finally broke by a short concert of Leszek Możdżer. I am a fan of him, but never had a chance to listen him playing live, I saw many people enjoying his piano concert. After Lutosławski's "Etiuda" there was another 30 minutes of wait… Thankfully dark storm clouds passed Wrocław on the side.
David started punctually at 21.45 with his recent opener 5 AM. After this set list was as we knew it from previous shows, but every solo was played just better and longer. And of course there was an orchestra conducted by Zbigniew Preisner. David seemed to be very relaxed and enjoying the show. If anyone had doubts with the new band, they wiped them off with a blast. I might be not the best judge, but the band sounded much better than the previous one. Solo in "Money" was just one of many proofs!
The second set started with "One of These Days". During the break Poly came to the mixing desk and when I turned back during the solo I can swear that I saw big grin on her face. Next came SOYCD played as it should always be. Many Floyd fans complained about "The Girl in Yellow Dress" – I was never a fan of it, but also never complained about its place during the concerts. After the Wrocław's version I am a fan. Leszek Możdżer did a great job on piano, orchestra with Preisner added much more space and vibe and David was jamming. I think at some point they just turned off the animation as it no longer corresponded to what they were playing.
At our spot sound was stunning – loud and crisp clear. And the band did a great job, he didn't save himself for the rest of the tour. Fantastic show.
Above review & pictures thanks to Jakub Zimoch
---
Wroclaw 25.6.2016
The next stop of the tour was beautiful Wroclaw. A historical Polish city, currently a capital of culture of 2016.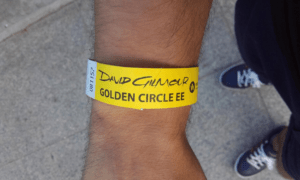 I was lucky enough to get to the market square where the concert was to be held on Thursday and I managed to watch part of the soundcheck. I was able to catch two pieces – Shine on and Dancing right in front of me, which was a nice surprise! I took a few pics as well.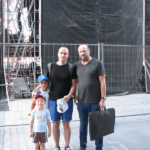 I went behind the stage and saw the band leaving, but they clearly went the other way. The only one who was walking towards me was the conductor, great Zbigniew Preisner with the bag full of notes. I admire his contributions to the On an island and Rattle that lock. I've asked him for a photo and he happily agreed. My two sons insisted to be on it as well while my wife pressed the button.
The only thing I was afraid of was the weather. It was extremely hot throughout my stay, but the Saturday forecast wasn't that pleasant. Before the gig it looked like it was going to rain, but as the start approached dark clouds and wind disappeared. So what we've experienced was a a lovely summer night with stars above us. And one would sense it was not only because of the weather we were about to remember that night.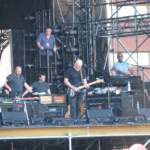 It was the first gig for the new band members, but you couldn't tell. The band played so tight! They all were enjoying it and the overall feeling and energy was immense. This, combined with the fine sound quality gave everybody what they came for. Perfect musical experience and simply the great show!
I cannot stress enough how terrific the sound quality was! All respect to Colin Norfield and everybody who was involved in the project. It's never easy when the orchestra is involved. But despite all difficult aspects of it the result was outstanding! I've witnessed myself some fine big name artists playing acoustically good places and still having mediocre sound.
There were few changes to the set list. First of all, the goods thing was On an island wasn't replaced by What do you want from me, because the band played both. Then, Astronomy Domine and Fat old sun were left off and replaced by One of these days (!!!) and Dancing right in front of me (!). Coming back to life stayed. Wonderful!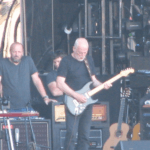 The encore was Time/Breathe reprise and C numb, during which lasers showed up. For these two pieces Guy Pratt wore a blue Tshirt with EU logo. Speaks for itself. He also threw all of his guitar picks into the audience at the end. Too bad I wasn't able to approach him so he could sign his book for me. Exquisite musician and fine man.
To conclude, I must say music is the best form of art. It's powerful, strong and emotional. There is nothing else like it. You simply cannot get the same feeling just by looking at some picture or beautiful sculpture no matter how wonderful that might be.
You experience it with all of your senses, your whole body.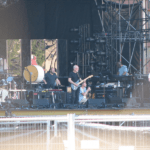 David Gilmour is an example of an extremely talented artist who's blessed to be able to share his gift during his whole life. Retirement is not an option as he once said. Hence one thing's for sure. David's certainly no #randomman at all. He's a legend.
I want and must thank to David and his band as this was one of the lifetime experiences. Thank you very much!
Review & above sound check pictures thanks to Vlado Marcinek
---
First Set:
5 A.M. (with orchestra)/ Rattle That Lock (with orchestra) / Faces of Stone (with orchestra) / Wish You Were Here / What Do You Want From me  / A Boat Lies Waiting (with orchestra) / The Blue (with orchestra) /  Us and Them / In Any Tongue (with orchestra) / High Hopes (with orchestra)
Second Set:
One of These Days / Shine On You Crazy Diamond / Dancing Right In Front of Me (with orchestra) / Coming Back To Life / On an Island (with orchestra) / The Girl In the Yellow Dress (with orchestra and featuring Leszek Możdżer) / Today (with orchestra) / Sorrow / Run Like Hell / Time / Breathe (Reprise) / Comfortably Numb (with orchestra)
---
Info live from show: One Of These Days was wild and the video on the screen was too. Also confirmed "Dancing Right In Front Of Me"
---
Rehearsal report from Christian Grube
On Friday he played an Afternoon rehearsal with Lot of RTL Stuff and one of These days, sorrow, US & them, cn, cbtl.
In the evening at 20:30 was a dress rehearsal with all of the cameras: aprox. 15-20 Cams. 2 on stage, 3 direct in Front, then one cam on a little techstage on the right side. At the foh are 8 cameras, one crane, one camera on a dolly at the Front of Zone A. And one at the very back of the location to oversee the concert.
One of These days was played instead of Astronomy Domine. Great day for freedom was Not played. It was all without orchestra. Laser only at CN.
---
Koncert Davida Gilmoura w TVP2!
Below pics thanks to Krzysiek Kalinowski
---
Soundcheck – Video used under fair usage policy.
Above Stage construction in Wroclaw thanks to nesto
Official. This concert  will be broadcast on TVP2 on Saturday 21.45 Polish time (GMT+1). Concert will be around 2:35 hours long
Capacity: LOTS!
Address: Freedom Square Wroclaw Poland.
The concert was planned to take place at the Main Square, but David Gilmour was convinced that it wasn't big enough and the gig was moved to the Freedom Square. The Square is located between National Music Forum and Opera. On the merch T-shirts they used picture of the Main Square.