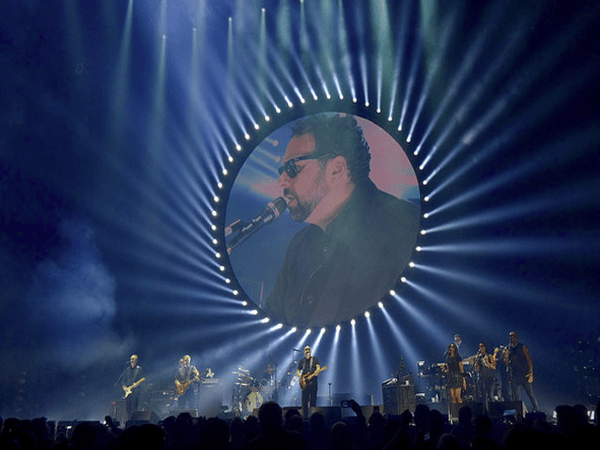 Night 2 in Toronto was great. It felt much better than the first night. The crowd was way livelier than night 1. David was relaxed. I too love the dance he did in Money. During comfortably numb the spot was on him when it shouldn't. You can see him motion to the spot operator it shouldn't be on and it was promptly turned off.
Review & above pics thanks to Chris M (cheapfilm)
---
Another fantastic show. I thought David sounded better last night compared to tonight, not complaining, was still amazing!!!
The crowd tonight was night and difference from last night. Tonight's crowd was loud from the start and extra loud once the 2nd set started.
This crowd was LOUD, so loud that Dave had to tell us to basically stfu!
Had great seats again, section 107, was really able to fully appreciate the light show tonight.
You could really tell Gilmour was having fun tonight, more than last night. Loved his back to back dance moves during money
Sad to be heading home tomorrow, had a great time in Toronto, I would make the 7000km drive again in a heart beat if it meant seeing Gilmour.
Thanks to MoeFugger
---
First Set: 5 A.M.; Rattle That Lock; Faces Of Stone; Wish You Were Here; What Do You Want From Me: A Boat Lies Waiting; The Blue; Money; Us And Them; In Any Tongue; High Hopes.
Second Set: Astronomy Domine; Shine On You Crazy Diamond (Parts 1-5); Fat Old Sun; Coming Back To Life; The Girl In The Yellow Dress; Today; Sorrow; Run Like Hell.
Encores: Time/Breathe (reprise); Comfortably Numb.
---
Website
Capacity: 19,800
Address: 40 Bay Street Toronto M5J 2X2
The Air Canada Centre (ACC) is a multi-purpose indoor sporting arena located on Bay Street in the South Core district of Downtown Toronto, Ontario, Canada. It is the home of the Toronto Maple Leafs of the National Hockey League (NHL), the Toronto Raptors of the National Basketball Association (NBA) and the Toronto Rock of the National Lacrosse League (NLL). In addition, the Toronto Marlies of the American Hockey League play occasional games at the arena, and the Raptors 905 of the NBA Development League plan to play occasional games at the venue as well. The area was previously home to the Toronto Phantoms of the Arena Football League (AFL) during their brief existence. The arena is popularly known as the ACC or the Hangar (the latter nickname came from its sponsorship by Air Canada).